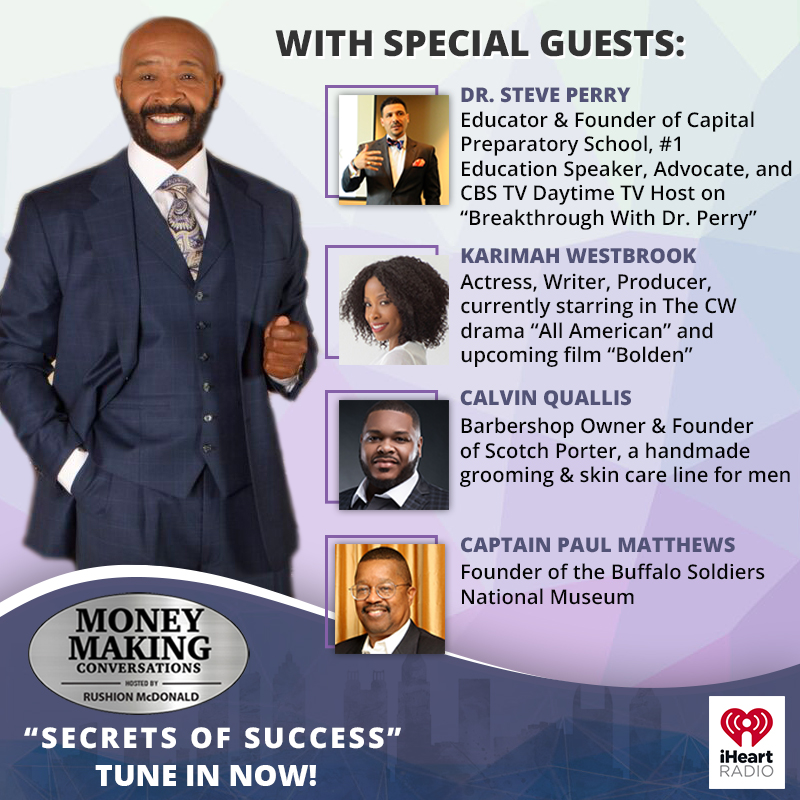 Appearing on this episode of Money Making Conversations is Dr. Steve Perry (https://www.drsteveperry.org/), Educator & Founder of Capital Preparatory School, #1 Education Speaker, Advocate, and CBS Television Daytime TV Host on "Breakthrough With Dr. Perry"; Captain Paul Matthews, Founder of the Buffalo Soldiers National Museum; Calvin Quallis, Barbershop Owner & Founder of Scotch Porter, a hand made grooming & skin care line for men; Karimah Westbrook, Actress, Writer, Producer, currently starring in The CW drama "All American" and upcoming film "Bolden".
Each Money Making Conversations show hosted by Rushion McDonald is about entrepreneurship and entertainment. We provide the consumer and business owner access to Celebrities, CEOs, Entrepreneurs and Industry Decision Makers. They, in turn, deliver information about career planning, motivation, financial literacy and how they lead a balanced life.
Don't miss Money Making Conversations with host Rushion McDonald streaming LIVE every Monday at 10AM-12PM EST on biz1190 (www.biz1190.com), on our Facebook fanpage at Facebook.com/MoneyMakingConversations, anytime through our iHeartRadio Podcast, which can be found under the Business/Finance Section, Fridays at 10AM ET on SiriusXM Channel 141: H.U.R. Voices and Fridays at 7PM ET on SiriusXM Channel 142: HBCU. We want to keep you Winning with your Career and your Life!
facebook.com/MoneyMakingConversations
twitter.com/MoneyMakeConvo
instagram.com/moneymakingconversations