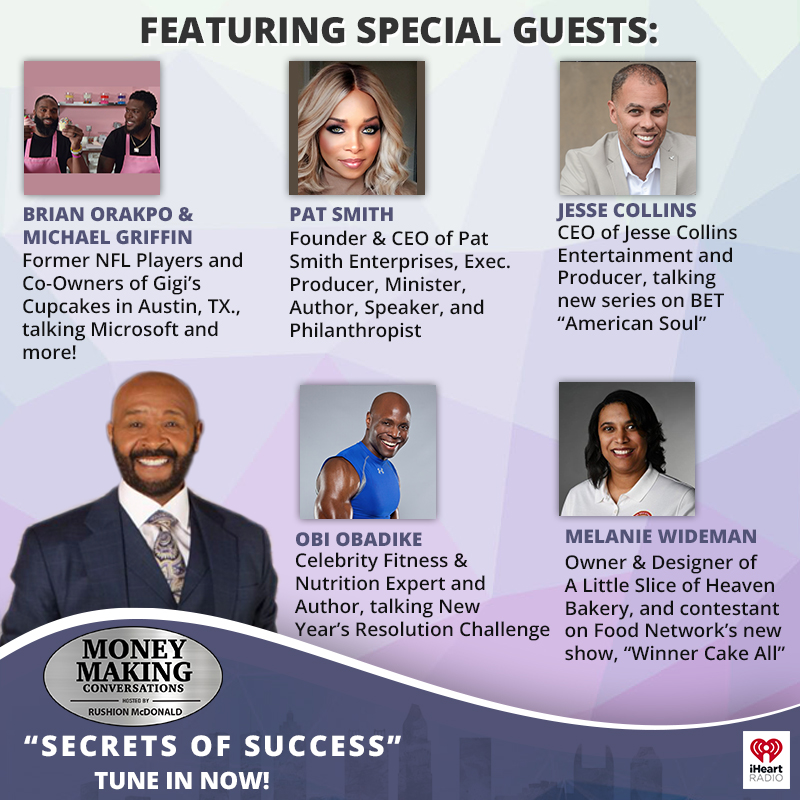 Appearing on this episode of Money Making Conversations is Former NFL Players Brian Orakpo & Michael Griffin from those cupcake commercials on T.V., they are the owners of Gigi's Cupcakes in Austin, TX; Pat Smith, Minister, Author, Executive Producer, Speaker, Entrepreneur & Philanthropist and CEO of Pat Smith Enterprises; television producer Jesse Collins, Exec. Producer of the BET series, American Soul, the story about the struggle to make the dream of Soul Train come true, CEO of Jesse Collins Entertainment & has produced award-winning programming including the BET Awards, BET Honors, UNCF's An Evening of Stars, ABFF Awards, Soul Train Awards & the BET Hip Hop Awards; Fitness & Nutrition Expert Obi Obadike checking in on your progress with his 60-day New Year's Resolution Challenge; and cake designer, Melanie Wideman owner of A Little Slice of Heaven and contestant on Food Network's "Winner Cake All".
Each Money Making Conversations show hosted by Rushion McDonald is about entrepreneurship and entertainment. We provide the consumer and business owner access to Celebrities, CEOs, Entrepreneurs and Industry Decision Makers. They, in turn, deliver information about career planning, motivation, financial literacy and how they lead a balanced life.
Don't miss Money Making Conversations with host Rushion McDonald streaming LIVE every Monday at 10AM-12PM EST on biz1190 (www.biz1190.com), on our Facebook fanpage at Facebook.com/MoneyMakingConversations, anytime through our iHeartRadio Podcast, which can be found under the Business/Finance Section, Fridays at 10AM ET on SiriusXM Channel 141: H.U.R. Voices and Fridays at 7PM ET on SiriusXM Channel 142: HBCU. We want to keep you Winning with your Career and your Life!
facebook.com/MoneyMakingConversations
twitter.com/MoneyMakeConvo
instagram.com/moneymakingconversations