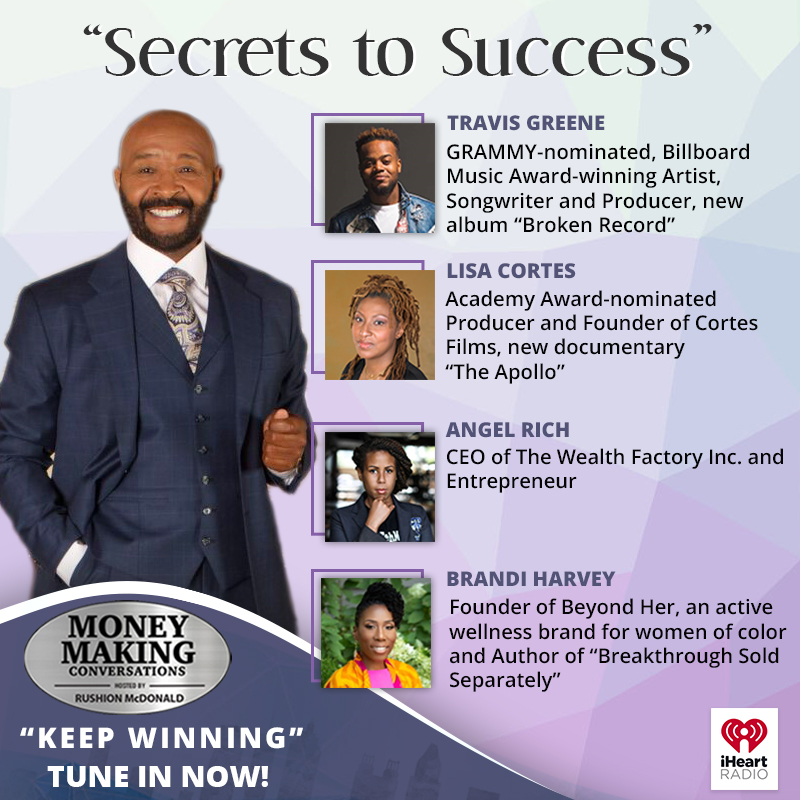 Appearing on this episode of Money Making Conversations is Travis Greene, GRAMMY-nominated, Billboard Music Award-winning Artist, Songwriter and Producer, new album "Broken Record"; Lisa Cortes, Academy Award-nominated Producer and Founder of Cortes Films, new documentary "The Apollo"; Angel Rich, CEO of The Wealth Factory Inc. and Entrepreneur; and Brandi Harvey, Founder of Beyond Her, an active wellness brand for women of color and Author of "Breakthrough Sold Separately".
The Money Making Conversations talk show is about entrepreneurship and entertainment. The interviews give the consumer and business owners access to Celebrities, CEOs, Entrepreneurs, and Industry Decision Makers. They provide relatable information to the listener about career and financial planning, entrepreneurship, motivation, leadership, overcoming the odds, and how to live a balanced life. Listen to Money Making Conversations on Apple Podcasts, iHeartRadio, Stitcher, Spreaker, Spotify, Castbox, and more.
Rushion McDonald is a two-time Emmy Award-winning and three-time NAACP Image Award-winning television and film, producer. He is a sitcom writer, social media influencer, brand architect, entrepreneur, and award-winning baker.​
https://www.moneymakingconversations.com
https://www.youtube.com/MoneyMakingConversations
https://www.facebook.com/MoneyMakingConversations/
https://twitter.com/MoneyMakingConv