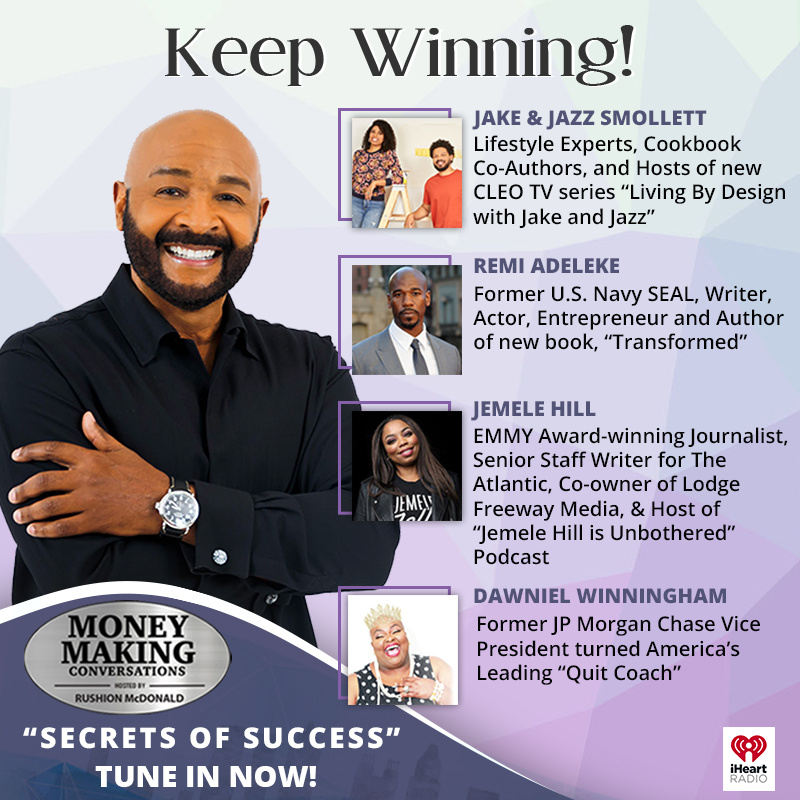 Appearing on this episode of Money Making Conversations is Jemele Hill, EMMY Award-winning Journalist, Senior Staff Writer for The Atlantic, Co-owner of Lodge Freeway Media, & Host of "Jemele Hill is Unbothered" Podcast; Remi Adeleke, Former U.S. Navy SEAL, Writer, Actor, Entrepreneur and Author of new book, "Transformed"; Dawniel Winningham – Former JP Morgan Chase Vice President turned America's Leading "Quit Coach"; Jake & Jazz Smollett, Lifestyle Experts, Cookbook Co-Authors, and Hosts of new CLEO TV series "Living By Design with Jake and Jazz".
Each Money Making Conversations show hosted by Rushion McDonald is about entrepreneurship and entertainment. We provide the consumer and business owner access to Celebrities, CEOs, Entrepreneurs and Industry Decision Makers. They, in turn, deliver information about career planning, motivation, financial literacy and how they lead a balanced life.
Don't miss Money Making Conversations with host Rushion McDonald streaming LIVE every Monday at 10AM-12PM EST on biz1190 (www.biz1190.com), on our Facebook fanpage at Facebook.com/MoneyMakingConversations, anytime through our iHeartRadio Podcast, which can be found under the Business/Finance Section, Fridays at 10AM ET on SiriusXM Channel 141: H.U.R. Voices and Fridays at 7PM ET on SiriusXM Channel 142: HBCU. We want to keep you Winning with your Career and your Life!
facebook.com/MoneyMakingConversations
twitter.com/MoneyMakeConvo
instagram.com/moneymakingconversations