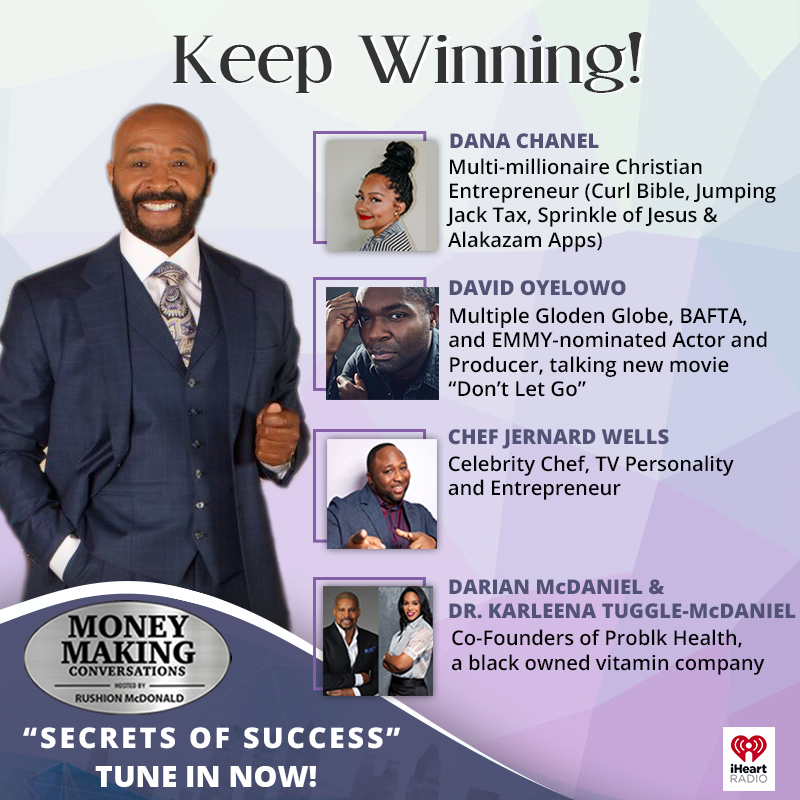 Appearing on this episode of Money Making Conversations is Dana Chanel, Multi-millionaire Christian Entrepreneur (Curl Bible, Jumping Jack Tax, Sprinkle of Jesus and Alakazam Apps); David Oyelowo, Multiple Golden Globe, BAFTA, and Emmy nominated Actor and Producer of the new movie "Don't Let Go"; Chef Jernard Wells, Celebrity Chef & Food Network Star, CEO of Le'Chef Amours Cuisine Inc., also talking new cooking show on Cleo TV, "New Soul Kitchen"; and Darian McDaniel & Dr. Karleena Tuggle-McDaniel, Co-Founders of Problk Health, a black owned vitamin company.
Each Money Making Conversations show hosted by Rushion McDonald is about entrepreneurship and entertainment. We provide the consumer and business owner access to Celebrities, CEOs, Entrepreneurs and Industry Decision Makers. They, in turn, deliver information about career planning, motivation, financial literacy and how they lead a balanced life.
Don't miss Money Making Conversations with host Rushion McDonald streaming LIVE every Monday at 10AM-12PM EST on biz1190 (www.biz1190.com), on our Facebook fanpage at Facebook.com/MoneyMakingConversations, anytime through our iHeartRadio Podcast, which can be found under the Business/Finance Section, Fridays at 10AM ET on SiriusXM Channel 141: H.U.R. Voices and Fridays at 7PM ET on SiriusXM Channel 142: HBCU. We want to keep you Winning with your Career and your Life!
facebook.com/MoneyMakingConversations
twitter.com/MoneyMakeConvo
instagram.com/moneymakingconversations