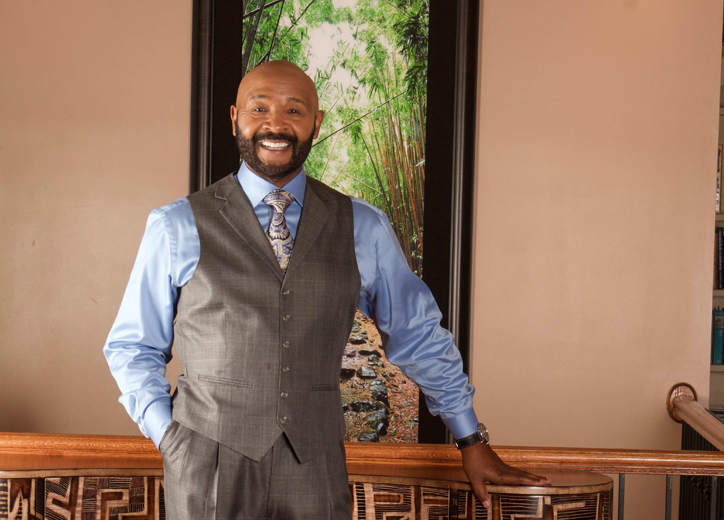 By Thao Vo | Sheen Magazine
Rushion McDonald, a native of Fifth Ward, Texas is a man in the entertainment industry that everyone knows! When asked about his upbringing, he notes that his environment growing up plays a big role in the values he stands for today. An obvious hard-worker, Rushion has tapped into many different areas whether its writing, comedy, producing, he's pretty much done it all. We sat down with Rushion McDonald aka 'The Leading Voice for Entrepreneurship & Entertainment' to discuss his success, being a vet in this field, and what it has all taught him in life.
Tell us about yourself. What made you want to become a writer, producer, branding architect, entrepreneur, and baker?
I come from Fifth Ward, Texas. I come from the inner city. I come from an environment that the only thing that changed in my environment was, what I saw on TV. I move from one black neighborhood to the next neighborhood, but it was the same neighborhood. We all had the same values and we all had the same income and we all went to the same school. All our parents were blue collar workers, so that means nothing changed outside my life. But on television and the movies, things changed, imagination. I wanted and become a writer because the opportunities presented itself. Mind you I've been a stand-up comic. I've been on Def Jam. I've shared the stage with a lot of the comedy greats from Chris Rock, to Chris Tucker, to Martin Lawrence. I've taped Def Jam. I've taped BET's Comic View, so I've been in pursuit. I also appeared in movies like "Jason's Lyric" and appeared in a lot of opportunities as actual, physical talent. So, to go behind the scenes, that's where you really make a difference. That's when you can shape lives and tell a story. You can make individuals feel respected about what they see on TV and that's what attracted me to writing.
I'm a renaissance man, that's what they call me when I talk about my writing experience, my life of managing high profile talent, being a podcast host and being an award-winning baker. I feel that in life you should have multi-levels of opportunity. My multi-levels of opportunity are tied to the gifts that God has given me. And that means that there are 24 hours in a day, I've learned to use each hour in a day. My wife marvels at the fact that I can go coast to coast step off the plane and keep working. I enjoy my life! There is nothing in my life I DO NOT like. If I don't like what I do, then I change because I got options. Multiple options, which leads to multiple levels of incomes. Which allows you not to feel uncomfortable in any environment that you are participating in. I enjoy my life. Do you enjoy yours?
How are you able to juggle so much on your plate and what was it that made you want to tap into so many different areas?
People always ask me, "why am I so busy?" "Why aren't I so tired?" Or they say, "just looking at you makes me tired". And I laugh, and I say, "I am tired." How about that…(laughs) If I stop moving, I would probably fall asleep. My wife, I was driving her to the airport the other day and she said, "You never get tired?" I said, "I'm tired right now, but it's my job to not let you know that." So, I don't allow that to be an excuse. I don't drink coffee; I don't use any supplements to stay awake. I don't say that as a negative to coffee drinkers, I'm just telling you this is Rushion McDonald. I mentally prepare myself to do things in life that most people can't do, so I've achieved success that most people don't achieve.
You are a vet in this industry! Is there anything you believe this business has taught you about yourself that you may not have known beforehand?
I think that this business taught me not to trust what you see. It's taught me to not trust the relationships that you feel can exist long term. It's taught me to hustle. It's taught me to understand that the door that's open, can close real quick. The door that closes real quick, can open equally as fast. That is your 20s you learn and shape what you can make in your 40s and 50s with the experience that you've gained. Most people fail in life because their searching is currently what they're doing and only using the talents they currently feel they've achieved.
Your life and your future are tied to the enthusiasm, to the blessings, to the focus that you had when you were in your early 20s. What changed that? Marriage, good or bad boyfriend, children, job you like or don't like, bad credit, credit, debt. That can change the focus of anybody's dream, but if you hold to your dream and hold on to your focus, then you wade through that. I wade through that every day and I will continue to wade through that and tell people and grant people the opportunity to be successful base on my teachings. My teaching is that you can win if you stay focus. You can win if you understand that theirs a plan for you. Not a plan for me. Not a plan for the guy next door. Not a plan for someone you worship on tv. A plan for you! You develop that plan. You build that plan. You can win with that plan.
You have accomplished so much in your career, is there anything else on your list of goals?
My list of goals is to change lives, continually, till I die. Any information that I've gained along the way, I have to share, and I have to mentor people to success. If you make a million dollars off one of my ideas than I have successfully achieved my goal in life.