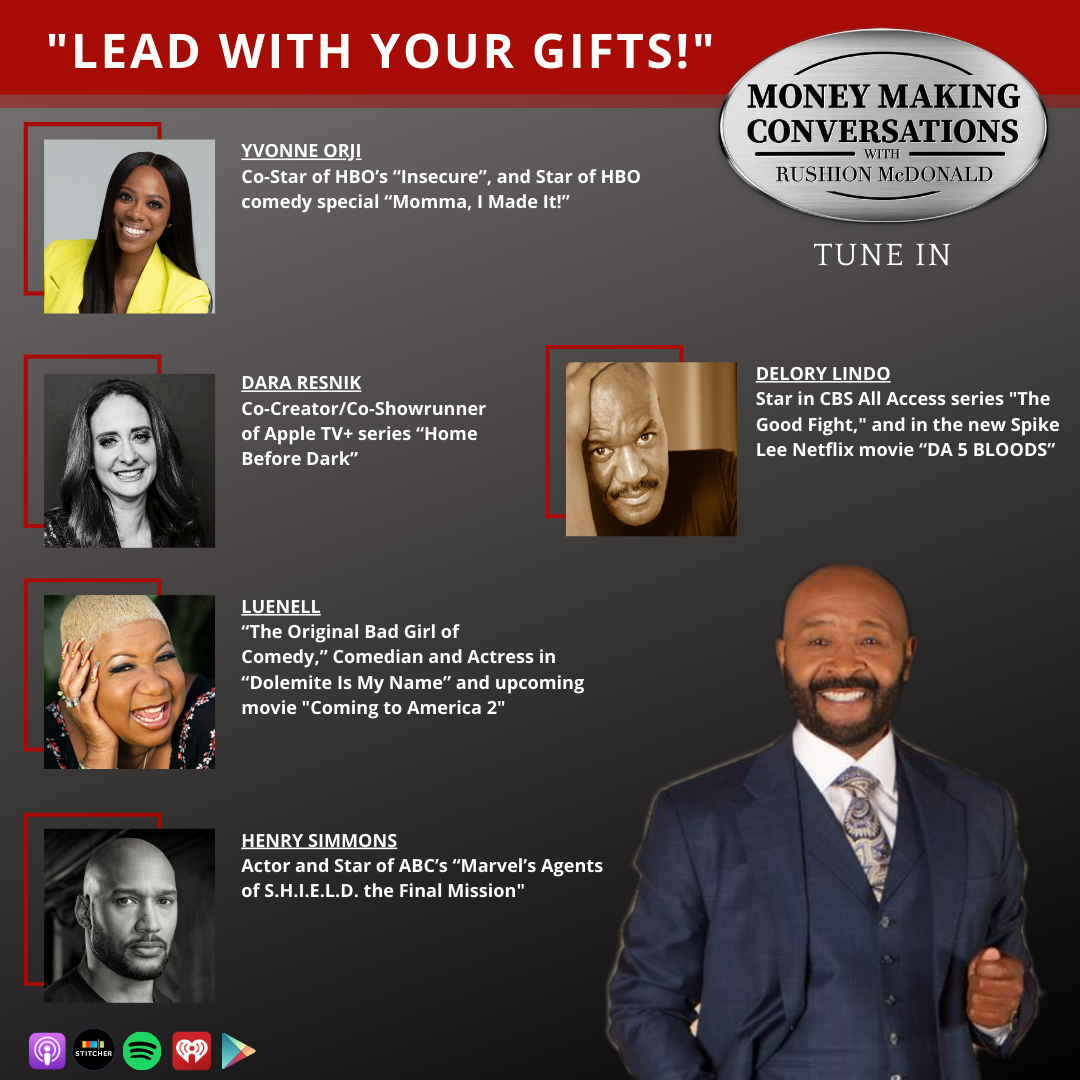 Rushion welcomes Yvonne Orji, Co-Star of HBO's "Insecure", and Star of HBO comedy special "Momma, I Made It!"; Dara Resnik, Co-Creator/Co-Showrunner of Apple TV+ series "Home Before Dark"; The Original Bad Girl of Comedy, Luenell, Comedian and Actress in "Dolemite Is My Name" and upcoming movie "Coming to America 2″; Henry Simmons, Actor and Star of ABC's "Marvel's Agents of S.H.I.E.L.D. The Final Mission"; and Delroy Lindo, Star in CBS All Access series "The Good Fight," and in the new Spike Lee Netflix movie "DA 5 BLOODS."
Yvonne Orji is a Nigerian-American actress, comedian, and writer. She will be discussing starring as "Molly" on HBO's critically acclaimed comedy series "Insecure," and her first one-hour stand-up comedy special for HBO, "Momma, I Made It." Please welcome to Money Making Conversations Yvonne Orji.
Dara Resnik is on the show for Apple T.V. +'s new series HOME BEFORE DARK (starring Jim Sturgess and Brooklynn Prince), which has been renewed for a second season. A mystery inspired by the reporting of a real nine-year-old journalist. Please welcome to Money Making Conversations Co-Creator/Co-Showrunner/Executive Producer Dara Resnik.
Henry Simmons kicked off his career portraying N.Y.P.D. Detective Baldwin Jones on the A.B.C. police drama N.Y.P.D. Blue, from 2000–2005, He is on the show to talk about his career, being a Black actor in Hollywood and he doesn't know he being interview by a fanatic for the Marvel cinema universe, so lately, I've been able to see him play the role of Agent Alphonso "Mack" MacKenzie on A.B.C.'s Marvel's Agents of S.H.I.E.L.D. Please welcome to Money Making Conversations Henry Simmons.
Delroy Lindo is a writer, director, film, and T.V. star. He currently appears in C.B.S.' The Good Fight (which is a sequel to The Good Wife), which has just been renewed for a fifth season on C.B.S. All Access, which C.B.S.' streaming service. He will be next seen in Spike Lee's new Netflix film "Da 5 Bloods." DA 5 Bloods is a movie about 5 guys who served together in Vietnam but is also a movie about Black history. DA 5 Bloods consistent of Stormin Norman (Chadwick Boseman) Paul (Delroy Lindo) Eddie (Norm Lewis) Otis (Clarke Peters) Melvin (Isiah Whitlock Jr) also on this journey you have Paul's son David, played by Jonathan Majors. Please welcome to Money Making Conversations Delroy Lindo.
The Money Making Conversations talk show is about entrepreneurship and entertainment. The interviews give the consumer and business owners access to Celebrities, CEOs, Entrepreneurs, and Industry Decision Makers. They provide relatable information to the listener about career and financial planning, entrepreneurship, motivation, leadership, overcoming the odds, and how to live a balanced life. Listen to Money Making Conversations on Apple Podcasts, iHeartRadio, Stitcher, Spreaker, Spotify, Castbox, and more.
Rushion McDonald is a two-time Emmy Award-winning and three-time NAACP Image Award-winning television and film, producer. He is a sitcom writer, social media influencer, brand architect, entrepreneur, and award-winning baker.​
https://www.moneymakingconversations.com
https://www.youtube.com/MoneyMakingConversations
https://www.facebook.com/MoneyMakingConversations/
https://twitter.com/MoneyMakingConv