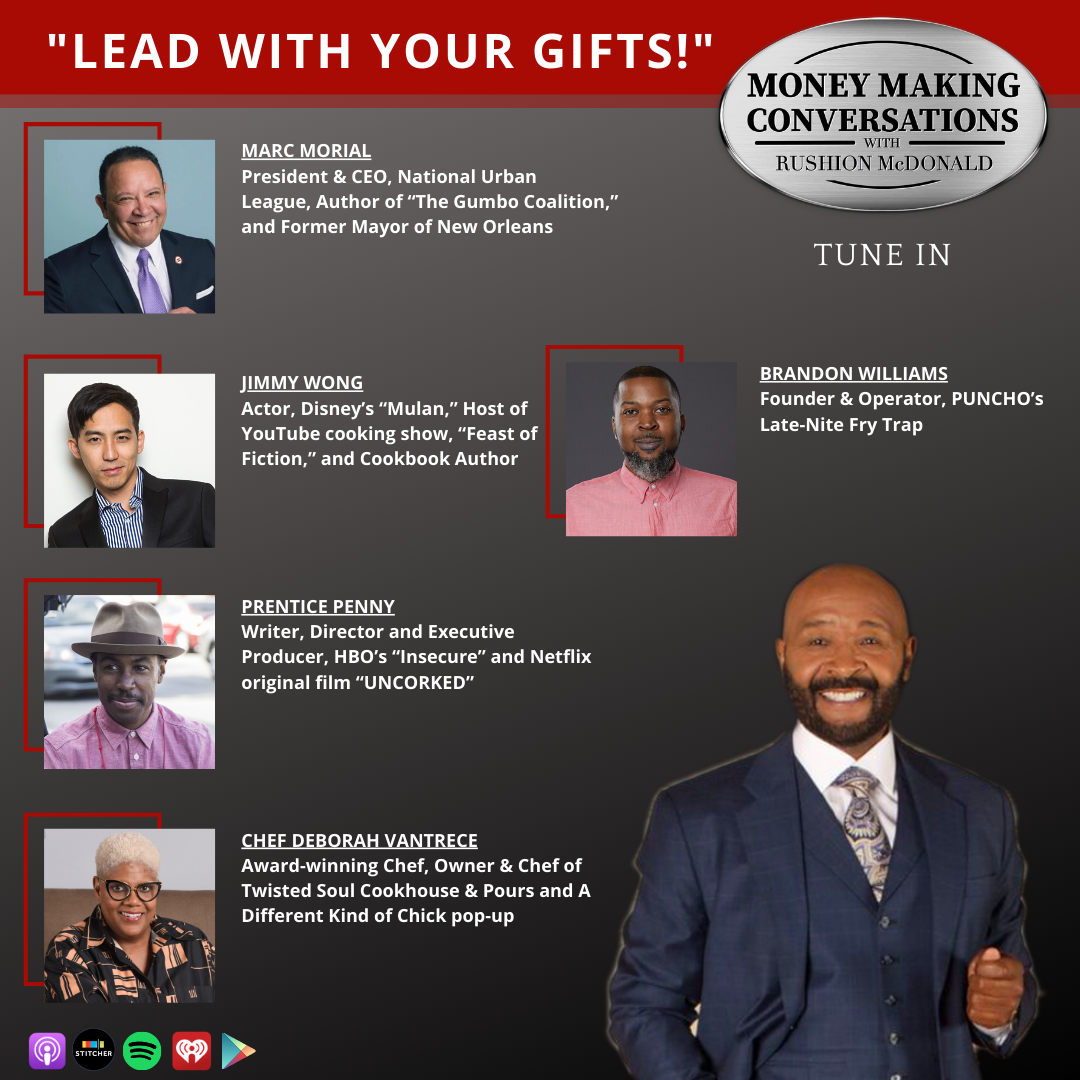 Rushion welcomes President & CEO, National Urban League, Author of "The Gumbo Coalition," and Former Mayor of New Orleans, Marc Morial; Actor, Disney's "Mulan," Producer, Writer, Host of YouTube cooking show, "Feast of Fiction," and Cookbook Author, Jimmy Wong; Peabody & Golden Globe-winning Writer, Director and Executive Producer, HBO's "Insecure" and Netflix original film "UNCORKED," Prentice Penny; Award-winning Chef, Owner & Chef of Twisted Soul Cookhouse & Pours and A Different Kind of Chick pop-up, Chef Deborah VanTrece; and Founder & Operator, PUNCHO's Late-Nite Fry Trap, Brandon Williams.
Marc Morial is currently the C.E.O. of the National Urban League, the nation's largest historic civil rights and urban advocacy organization. He has authored a new book, "The Gumbo Coalition: 10 Leadership Lessons that Help You Inspire, Unite, and Achieve", now available wherever books are sold. Please welcome to Money Making Conversations, the leader of The Gumbo Coalition, Marc Morial.
Jimmy Wong is a Chinese American actor, host, chef, singer-songwriter and who hosts a top-rated YouTube cooking show, Feast of Fiction with his co-host Ashley Adams. They create their real-life interpretation of fictional dishes to pay homage in a genuine, geeky, and lively way. He is on the show to talk about their new cookbook, THE FEAST OF FICTION KITCHEN, their of Feast of Fiction youtube. He is a cast member of Disney's Mulan (2020) playing the character Ling, one of Mulan's friends in the army. Please welcome to Money Making Conversations Jimmy Wong.
Prentice Penny is on the show today to discuss his Netflix original film, "Uncorked," where he is the writer and director, the film tells the story of a young man, fueled by his love of wine, torn between his dream of becoming a master samalee-a and his father's expectations. We will also be talking about HBO's "Insecure," where he is the showrunner and Executive Producer. Please welcome to Money Making Conversations, Prentice Penny.
Brandon Williams long-term mission is to become an Atlanta institution in the realm of The Varsity, Zestos, and Waffle House. Please welcome to Money Making Conversations the Owner of Puncho's Late Nite Fry Trap, Brandon Puncho Williams.
The Money Making Conversations talk show is about entrepreneurship and entertainment. The interviews give the consumer and business owners access to Celebrities, CEOs, Entrepreneurs, and Industry Decision Makers. They provide relatable information to the listener about career and financial planning, entrepreneurship, motivation, leadership, overcoming the odds, and how to live a balanced life. Listen to Money Making Conversations on Apple Podcasts, iHeartRadio, Stitcher, Spreaker, Spotify, Castbox, and more.
Rushion McDonald is a two-time Emmy Award-winning and three-time NAACP Image Award-winning television and film, producer. He is a sitcom writer, social media influencer, brand architect, entrepreneur, and award-winning baker.​
https://www.moneymakingconversations.com
https://www.youtube.com/MoneyMakingConversations
https://www.facebook.com/MoneyMakingConversations/
https://twitter.com/MoneyMakingConv