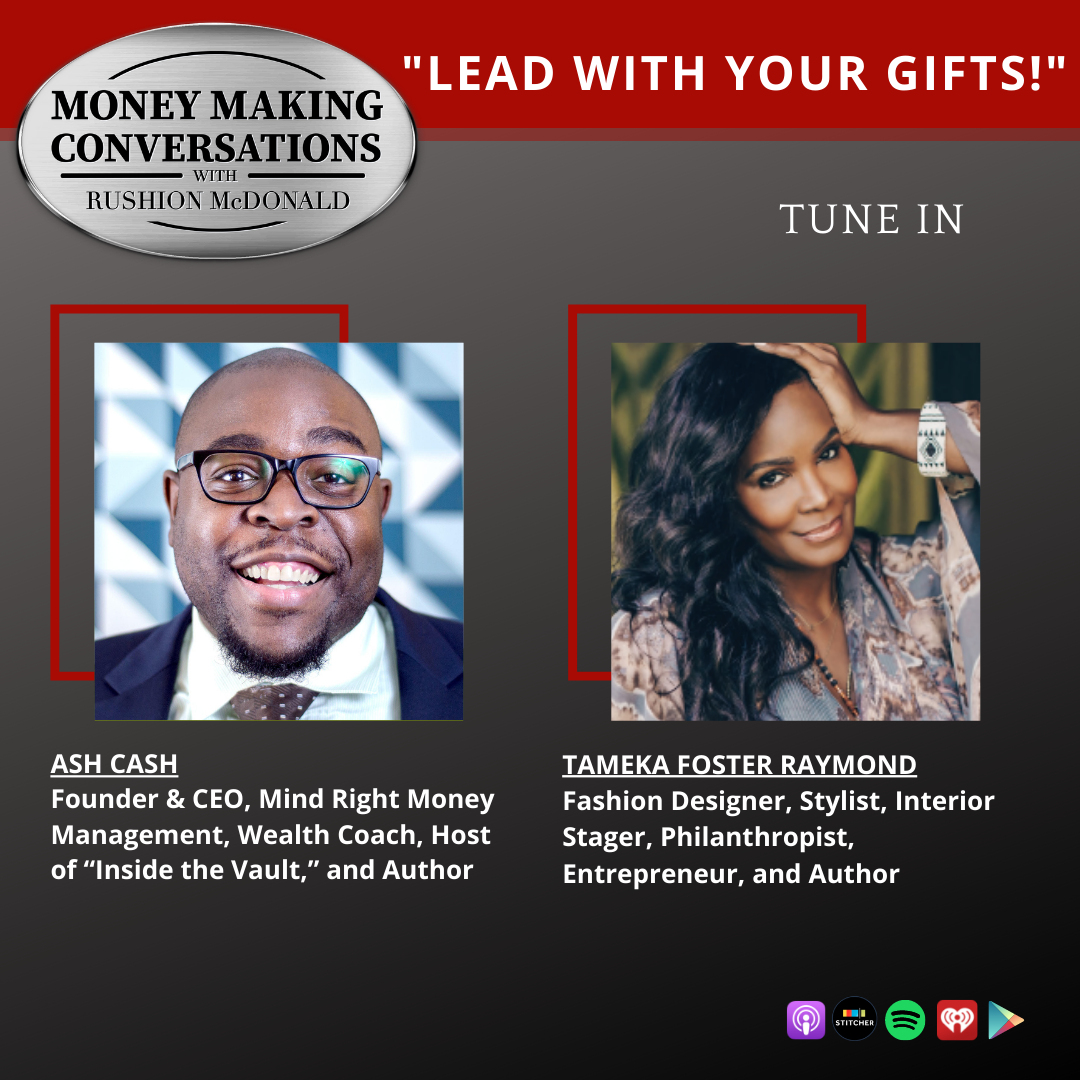 Rushion McDonald talks to Ash Cash, a Founder & C.E.O., Mind Right Money Management, Wealth Coach, Host of "Inside the Vault," and Author. I was born to an immigrant mother who spoke no English; my father didn't want me, my brother didn't like me, and my sister beat me up. My neighborhood was filled with crack and poverty, the church despised me, the schools thought I was dumb and wanted to put me in special ed, and my basketball coaches didn't think I was good enough. Today, I am The Greatest Money Mindset Coach on the Planet and One of the World's top Financial Educators.
Rushion McDonald talks to Tameka Foster Raymond; she is Usher's ex-wife, discussing her memoir, "Here I Stand." She is a trend-setting celebrity stylist, lending her creative talents to legendary soul singers like Patti LaBelle, Chaka Khan, and Aretha Franklin to chart-toppers such as Jay-Z, Usher, Chris Brown, Mary J. Blige, Ciara, The Fugees, Nas, Dr. Dre and more.
The Money Making Conversations talk show is about entrepreneurship and entertainment. The interviews give the consumer and business owners access to Celebrities, CEOs, Entrepreneurs, and Industry Decision Makers. They provide relatable information to the listener about career and financial planning, entrepreneurship, motivation, leadership, overcoming the odds, and how to live a balanced life. Listen to Money Making Conversations on Apple Podcasts, iHeartRadio, Stitcher, Spreaker, Spotify, Castbox, and more.
Rushion McDonald is a two-time Emmy Award-winning and three-time NAACP Image Award-winning television and film, producer. He is a sitcom writer, social media influencer, brand architect, entrepreneur, and award-winning baker.​
https://www.moneymakingconversations.com
https://www.youtube.com/MoneyMakingConversations
https://www.facebook.com/MoneyMakingConversations/
https://twitter.com/MoneyMakingConv