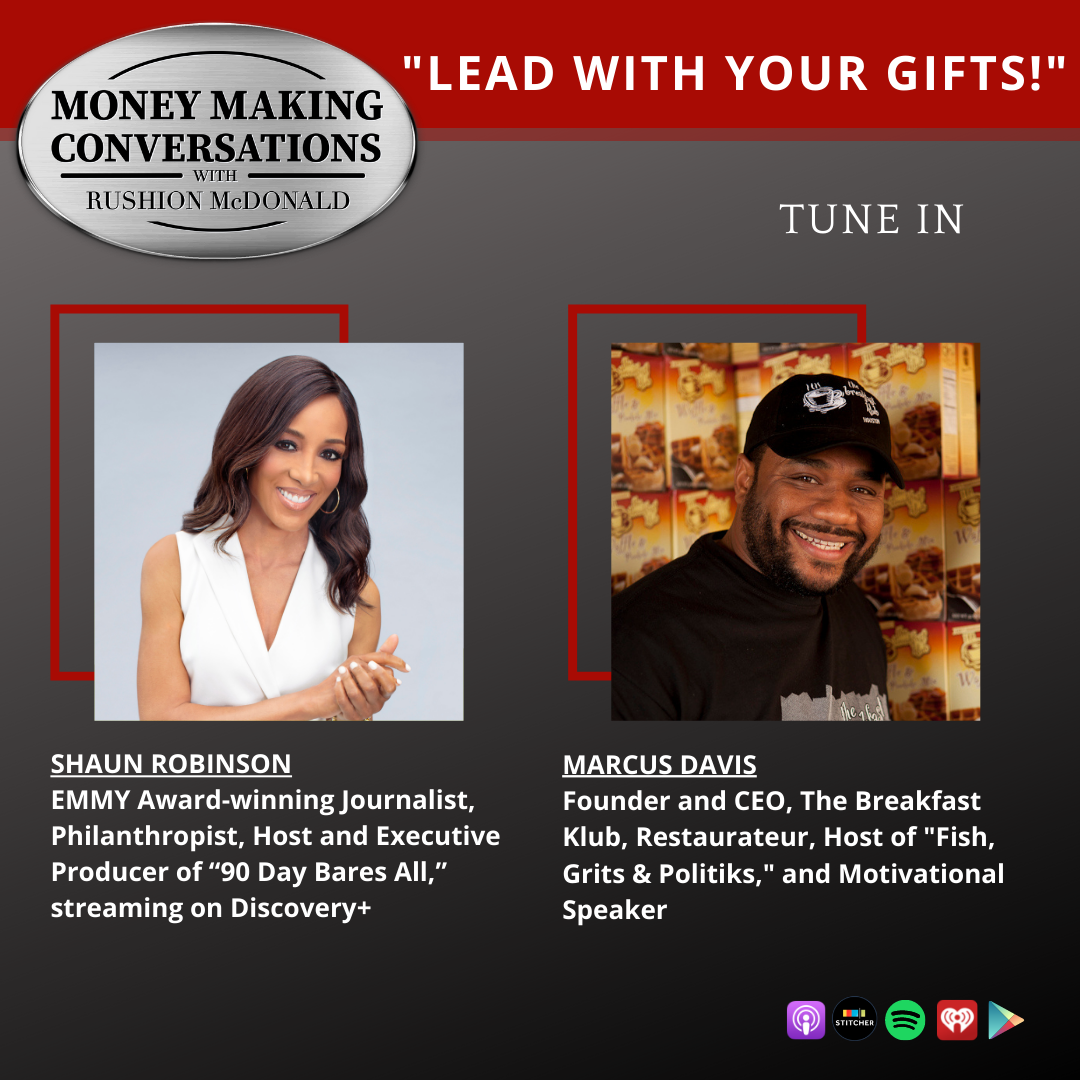 Rushion McDonald talks to Shaun Robinson, the E.M.M.Y. Award-winning Journalist, Philanthropist, Host, and Executive Producer of the behinds the scene "90 Day Bares All," streaming on Discovery+. She is a proud graduate of an H.B.C.U., Spelman University in Atlanta, GA. Shaun established the S.H.A.U.N. Foundation for Girls, which nurtures and supports under-served and underrepresented girls and young women in the areas of Stem, Health, Arts, Unity, Neighborhoods.
Rushion McDonald talks to Marcus Davis, the Founder and C.E.O., The Breakfast Klub, Restaurateur, Host of "Fish, Grits & Politiks," and Motivational Speaker. Marcus Davis restaurants are rooted in principles of faith, family, kommunity, and empowerment; they treat every customer like family and believe that family is the cornerstone of any community, emphasizing supporting activities and causes that enrich and strengthen families. He has created one of the most phenomenal restaurant success stories in the country.
The Money Making Conversations talk show is about entrepreneurship and entertainment. The interviews give the consumer and business owners access to Celebrities, CEOs, Entrepreneurs, and Industry Decision Makers. They provide relatable information to the listener about career and financial planning, entrepreneurship, motivation, leadership, overcoming the odds, and how to live a balanced life. Listen to Money Making Conversations on Apple Podcasts, iHeartRadio, Stitcher, Spreaker, Spotify, Castbox, and more.
Rushion McDonald is a two-time Emmy Award-winning and three-time NAACP Image Award-winning television and film, producer. He is a sitcom writer, social media influencer, brand architect, entrepreneur, and award-winning baker.​
https://www.moneymakingconversations.com
https://www.youtube.com/MoneyMakingConversations
https://www.facebook.com/MoneyMakingConversations/
https://twitter.com/MoneyMakingConv