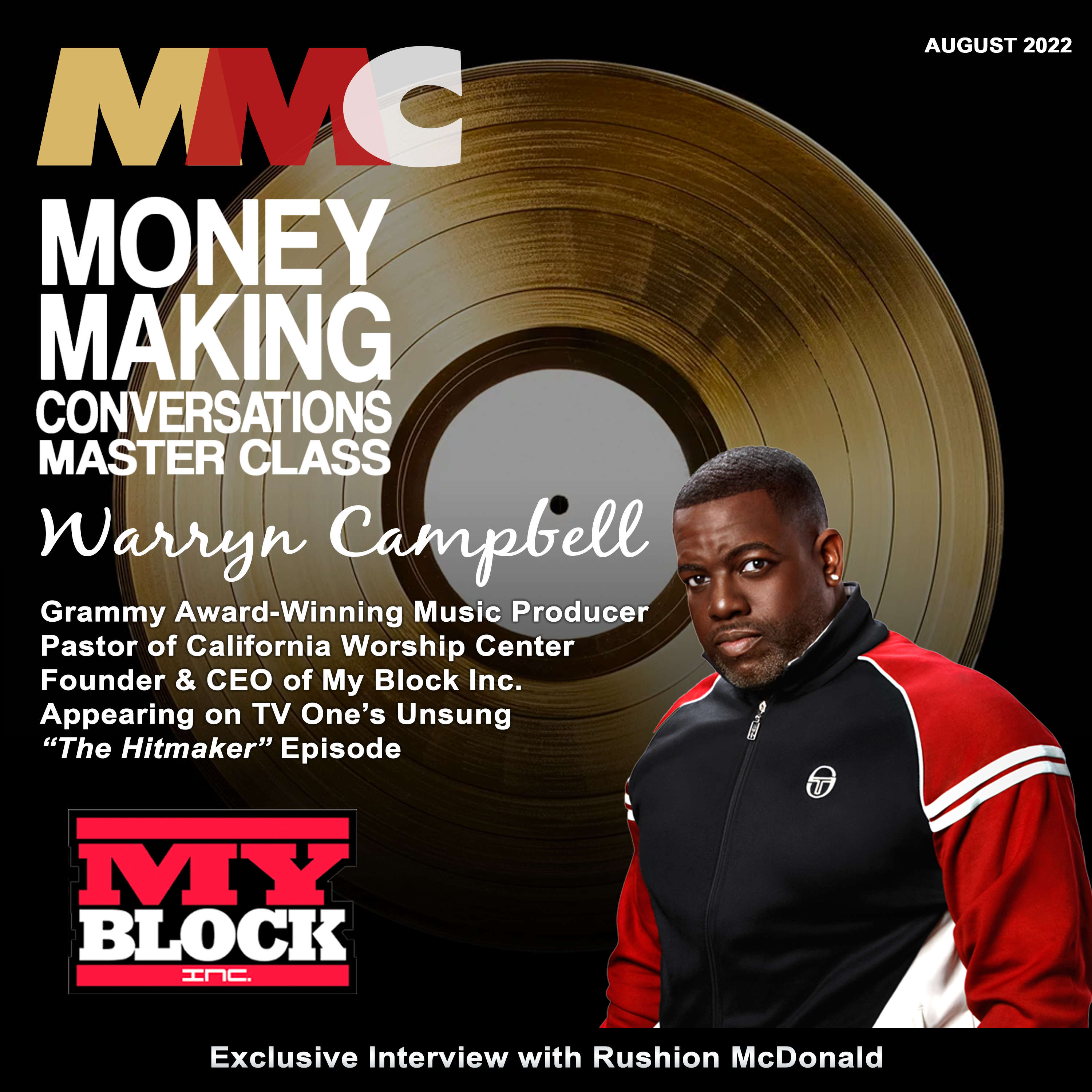 Warryn Campbell is a music visionary, executive and leading producer of R&B, gospel and hip-hop music. Campbell's mastery to create chart-topping hits across a multitude of genres has made him critically acclaimed as one of the most prolific record producers of our time. Campbell's Grammy award-winning body of work includes projects with global icons from Mary Mary, Kanye West, Yolanda Adams to Jennifer Hudson, Stevie Wonder and MC Lyte.
Topics Covered
– Marriage, fatherhood and being a first-year college dad; Warryn's and Erica's daughter Krista is a freshman at Spelman
– His career as an entrepreneur (music producer, record label head, television, film)
– Warryn's clothing line, Ernest Paul
– Recently scored and produced BET+'s "Kingdom Business" Soundtrack
– My Block artists releasing albums in the coming months- Erica Campbell, Lena Byrd Miles, The Walls Group; Erica Campbell's latest single, "Positive," is currently #1 at Gospel Radio; Lena Byrd Miles' debut album is releasing in September
– Currently in the studio working with major artists including Kanye West, Stevie Wonder
More on My Block, Inc.
My Block Inc. is an independent record label founded by Grammy-winning producer and music virtuoso Warryn Campbell. As a veteran producer, Campbell has successfully built My Block Inc. in the tradition of influential Black record labels and has developed a talent roster rooted in family values. This rings true for its artists including Mary Mary, Erica Campbell, The Walls Group, Lena Byrd Miles, JoiStaRR, Jason McGee & The Choir, and more. Whether it's R&B and hip-hop or contemporary and traditional gospel, My Block Inc. offers a diverse portfolio of music created to inspire.