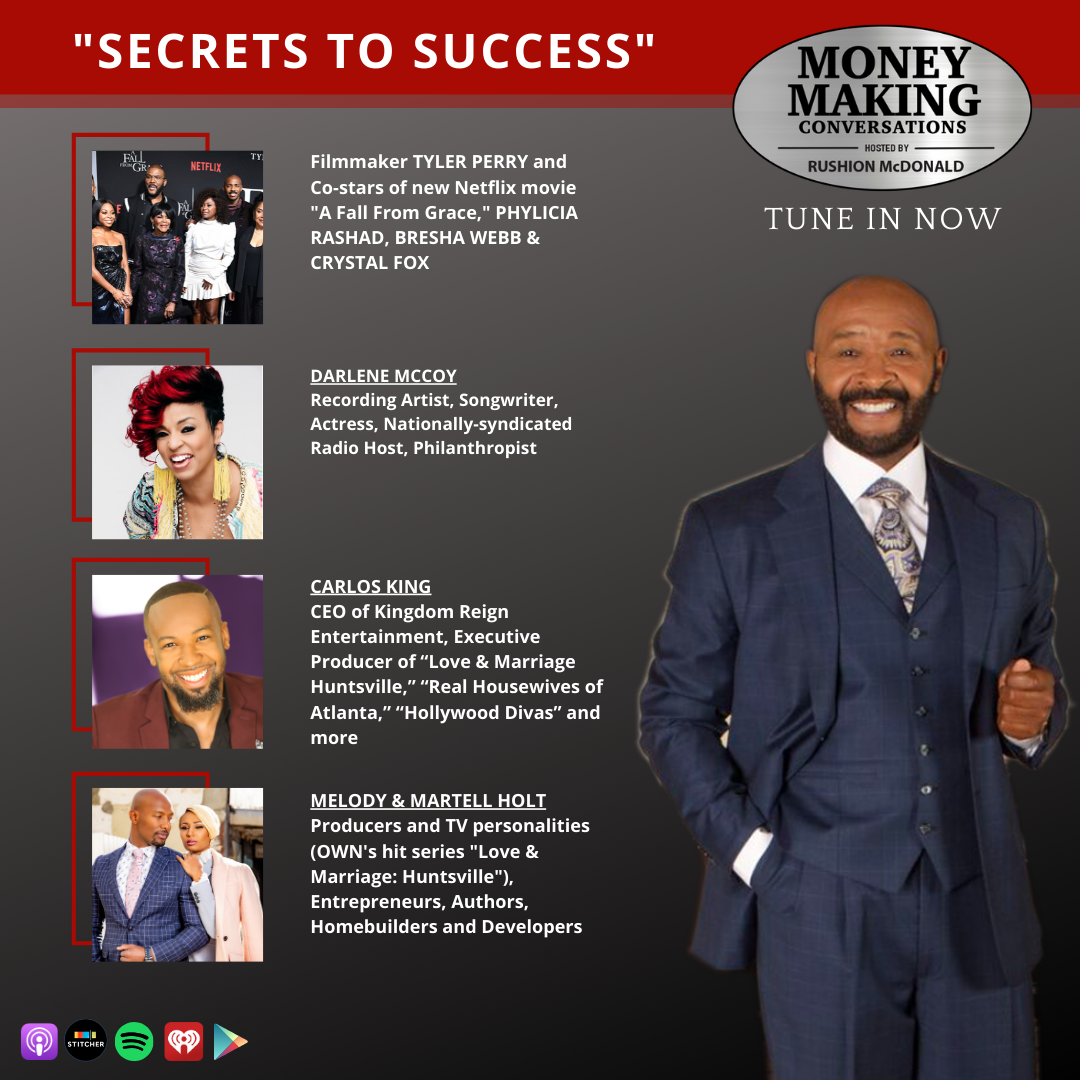 Please welcome Filmmaker Tyler Perry and co-stars of new Netflix movie, "A Fall From Grace," Phylicia Rashad, Bresha Webb and Crystal Fox; Darlene McCoy, Recording Artist, Songwriter, Actress, Nationally-syndicated Radio Host, Philanthropist; Carlos King, CEO of Kingdom Reign Entertainment, Executive Producer of "Love & Marriage Huntsville," "Real Housewives of Atlanta," "Hollywood Divas" and more; and Melody & Martell Holt, Producers and TV personalities (OWN's hit series "Love and Marriage: Huntsville"), Entrepreneurs, Authors, Homebuilders and Developers.
Tyler Perry's story telling had me all messed up. I went to a special screening in a movie theater. People were engaged watching this movie. People sitting next to me was slapping me… applauding… and talking to the screen. You are seeing actors and actress that very different from the roles that have made them famous. Before I start the interview here is a quick recap on the characters.
Tyler Perry, actor, writer and director
Crystal Fox, middle aged lady woman, guarded with her emotions, she lets the snake in her house. You have seen her in Tyler Perry's "The Haves and Have Nots"
Mehcad Brooks, handsome stranger and lover – You have seen him in the Supergirl TV series
Phylicia Rashad, best friend her role deserves a nomination – You know her from the Cosby series and the Creed and Creed II
Bresha Webb – Lawyer (Queen of the Plea Deals) – You know her from Meet the Blacks (2016), Night School (2018) and Ride Along 2 (2016).
Here is my Money Making Conversaitons interview with Tyler Perry, Phylicia Rashad, Crystal Fox and Bresha Webb.
Darlene McCoy was introduced to the world as a National Recording artist on the soundtrack to Tyler Perry's first Movie "Diary of a Mad Black Woman". She is a comedian and has written and co-produced a project with Rickey Smiley appeared in Las Vegas at the Flamingo on George Wallace's Stage and teamed up with George Wallace and J. Anthony Brown on a show called "Two Devils and an Angel". She is the first African American woman to be syndicated on a night time gospel radio show. 6 million listeners and is heard in 46 Radio One cites. Please welcome to Money Making Conversations Darlene McCoy.
Carlos King production company Kingdom Reign Entertainment, LLC is recognized as one of the leading entertainment companies in television. – His credits include: Executive Producer – Love and Marriage: Huntsville (OWN), Styling Hollywood (Netflix), The Real Housewives of Atlanta (Bravo), Hollywood Divas (TV One), The Next 15, and Gucci Mane & Keyshia Ka'Oir: The Mane Event (BET). Please welcome to Money Making Conversations Carlos King.
Melody and Martell Holt are educators turned entrepreneurs, are the epitome of the term "power couple". This dynamic duo started a business together in their early 20's, and within 3 years grew it to a million dollar business, and only two years later, a multimillion dollar business. They are owners of Holt & Holt Entrepreneurship. They are also owners of Holt Custom Homes. They are working real estate in the thriving city of Huntsville, AL, Melody and Martell Holt are featured on the OWN series "Love & Marriage: Huntsville." Please welcome to Money Making Melody and Martell Holt.
The Money Making Conversations talk show is about entrepreneurship and entertainment. The interviews give the consumer and business owners access to Celebrities, CEOs, Entrepreneurs, and Industry Decision Makers. They provide relatable information to the listener about career and financial planning, entrepreneurship, motivation, leadership, overcoming the odds, and how to live a balanced life. Listen to Money Making Conversations on Apple Podcasts, iHeartRadio, Stitcher, Spreaker, Spotify, Castbox, and more.
Rushion McDonald is a two-time Emmy Award-winning and three-time NAACP Image Award-winning television and film, producer. He is a sitcom writer, social media influencer, brand architect, entrepreneur, and award-winning baker.​
https://www.moneymakingconversations.com
https://www.youtube.com/MoneyMakingConversations
https://www.facebook.com/MoneyMakingConversations/
https://twitter.com/MoneyMakingConv