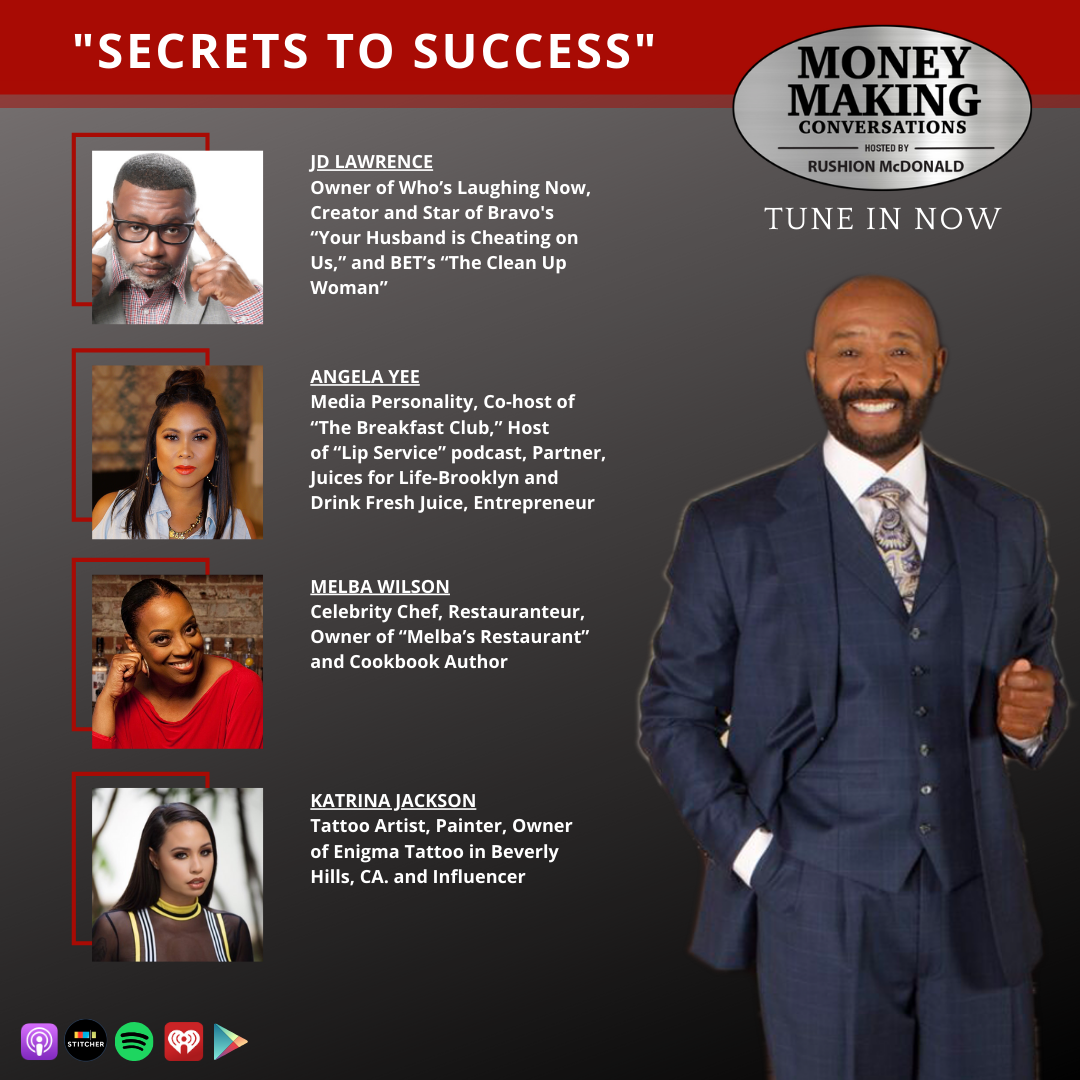 Please welcome JD Lawrence, Owner of Who's Laughing Now, Creator and Star of Bravo's "Your Husband is Cheating on Us," and BET's "The Clean Up Woman"; Angela Yee, Media Personality, Co-host of "The Breakfast Club", Host of "Lip Service" podcast, Partner, Juices for Life-Brooklyn and Drink Fresh Juice, Entrepreneur; Melba Wilson, Celebrity Chef, Restaurateur, Owner of "Melba's Restaurant" and Cookbook Author; and Katrina "Kat Tat" Jackson, Tattoo Artist, Painter, Owner of Enigma Tattoo in Beverly Hills, CA and Influencer.
JD Lawrence production company Who's Laughing Now, has been producing hit dramedies for the past 25 years. To date, he and his family have launched more than 20 productions, debuting to sold-out theaters across the country. In addition to TV shows on GMC, Aspire, UMC, BET and Bravo. Please welcome to Money Making Conversations, JD Lawrence.
Angela Yee is world renown. Last year, the Mayor of New York City and First Lady awarded the Brooklyn native with her own day in NYC. She is a Co-Host of "The Breakfast Club" – "The Breakfast Club" has transcended hip-hop and pop culture to become a popular stop for both rising and established politicians, community activists, and business leaders. The Breakfast Club guests have ranged from Hillary Clinton to Jennifer Lopez to Dave Chapelle to Stephen A Smith and everyone in between. In her spare time, she has her book club "Angela Yee's Book Club," her running club "Run With Yee," and her "Wealth Wednesdays" series with financial expert Stacey Tisdale. Please welcome to Money Making Conversations Angela Yee.
Melba Wilson's restaurant is the premier comfort food destination in New York City. As you will see from her Instagram page @melbasharlem, celebrities like Nas, Nick Canon, her cousin CNN's April Ryan, DL Hughley and many more, all enjoy her "American comfort food." She is always seen on the Food Network whether she is a judge on Beat Bobby Flay, cooking with the amazing host on The Kitchen or trying to pick the winner in the finale of the Worst Cooks in America. Please welcome to Money Making Conversations Melba Wilson.
Katrina Kat Tat Jackson is a tattoo artist, business owner, painter, philanthropist, social media influencer, and reality television star. She is the first African-American woman to own a tattoo studio in Los Angeles. Achieving notice after being discovered on VH1's hit series "Black Ink Crew: Chicago," her artistic and creative handiwork has included doing tattoos for countless celebrities and athletes. Please welcome to Katrina Kat Tat Jackson.
​The Money Making Conversations talk show is about entrepreneurship and entertainment. The interviews give the consumer and business owners access to Celebrities, CEOs, Entrepreneurs, and Industry Decision Makers. They provide relatable information to the listener about career and financial planning, entrepreneurship, motivation, leadership, overcoming the odds, and how to live a balanced life. Listen to Money Making Conversations on Apple Podcasts, iHeartRadio, Stitcher, Spreaker, Spotify, Castbox, and more.
Rushion McDonald is a two-time Emmy Award-winning and three-time NAACP Image Award-winning television and film, producer. He is a sitcom writer, social media influencer, brand architect, entrepreneur, and award-winning baker.​
https://www.moneymakingconversations.com
https://www.youtube.com/MoneyMakingConversations
https://www.facebook.com/MoneyMakingConversations/
https://twitter.com/MoneyMakingConv