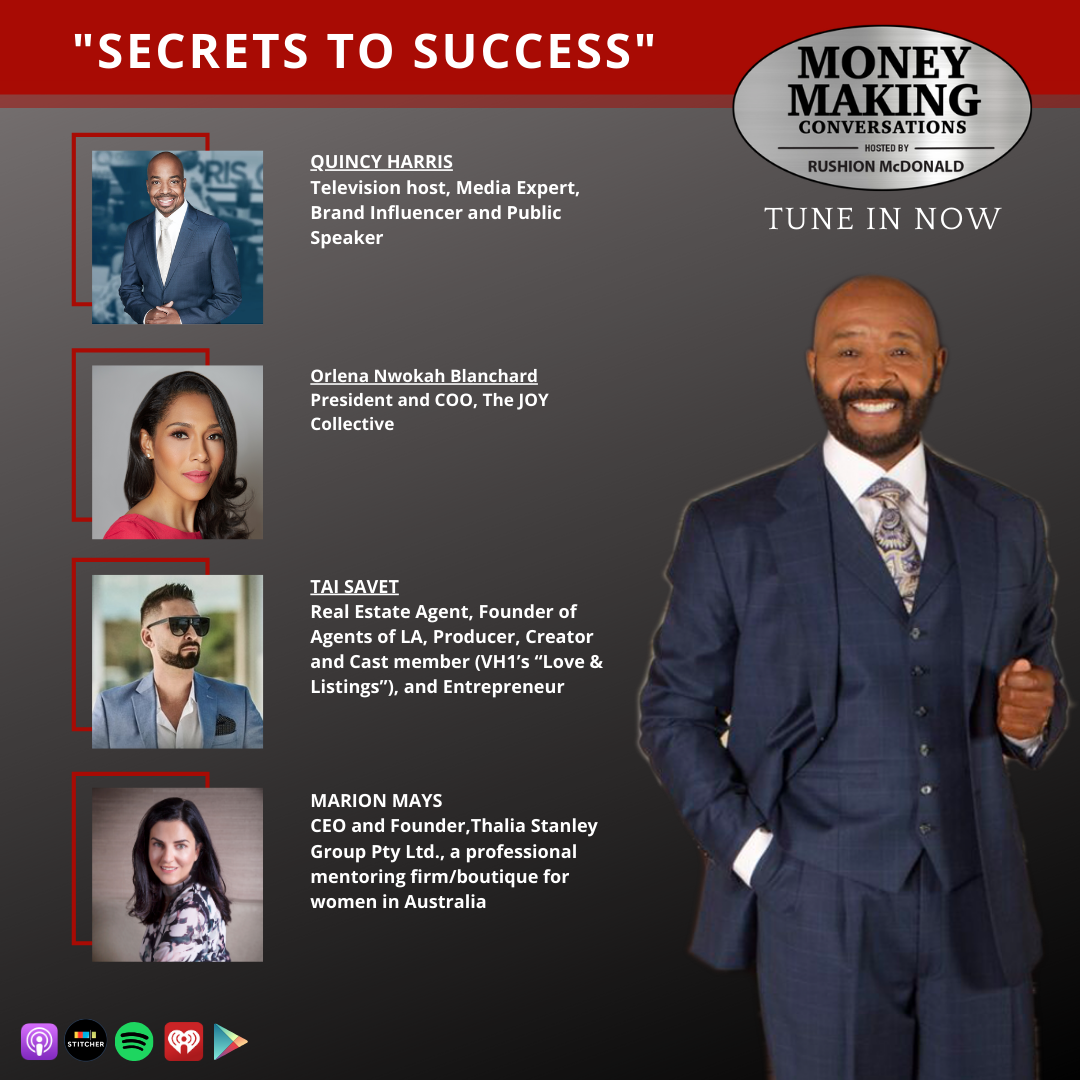 Please welcome Quincy Harris, Television host, Media Expert, Brand Influencer and Public Speaker; Orlena Nwokah Blanchard, President and COO, The JOY Collective; Tai Savet- Real Estate Agent, Founder of Agents of LA, Producer, Creator and Cast member (VH1's "Love & Listings"), and Entrepreneur; and Don & Phor Brumfield, Don is a Piercer (9Mag); Phor is a Tattoo Artist (9Mag), and Hip Hop Artist, both are TV Personalities (VH1's Black Ink Crew Chicago) and Influencers.
Quincy Harris hails from the great city of Philadelphia. He is a television and radio host, media expert, brand influencer, and public speaker. Quincy is vocal, witty, entertaining and on his way to the top. He has been a trailblazer from coast to coast in the radio sector for 15 years. Please welcome to Money Making Conversations Quincy Harris.
Orlena Nwokah is a business leader, media executive, and multicultural marketing expert with over 25 years of experience building value for Fortune 500 companies and start-ups. She is President and COO of JOY Collective, where she leads marketing strategy and operations for a diverse portfolio of clients. Please welcome to Money Making Conversations Orlena Nwokah Blanchard
Tai Savet is the founder of the real estate brokerage firm Agents of LA, a luxury real estate group. He is a Real Estate Agent, Founder of Agents of LA real estate brokerage firm, Producer, Entrepreneur and TV Personality. Please welcome to Money Making Conversations Tai Savet.
Don and Phor Brumfield are brothers on the very popular TV series Black Ink Crew Chicago.
In its season 6th season, Don Brumfield, a piercer and manager of 9MAG in Chicago is focused on growing his acting career, but his wife's health scare may become a major distraction for him and his family. His older Phor Brumfield, a tatoo artist at 9MAG is making his mental health, which is depression a priority and using his platform to spread the word about his experiences, he also a very talented hip-hop artist and helping Ryan, the owner of 9MAG deal with his personal struggles along the way. Black Ink Crew Chicago airs every Wednesday, 8E/7C. Please welcome to Money Making Conversations, Don and Phor Brumfield.
The Money Making Conversations talk show is about entrepreneurship and entertainment. The interviews give the consumer and business owners access to Celebrities, CEOs, Entrepreneurs, and Industry Decision Makers. They provide relatable information to the listener about career and financial planning, entrepreneurship, motivation, leadership, overcoming the odds, and how to live a balanced life. Listen to Money Making Conversations on Apple Podcasts, iHeartRadio, Stitcher, Spreaker, Spotify, Castbox, and more.
Rushion McDonald is a two-time Emmy Award-winning and three-time NAACP Image Award-winning television and film, producer. He is a sitcom writer, social media influencer, brand architect, entrepreneur, and award-winning baker.​
https://www.moneymakingconversations.com
https://www.youtube.com/MoneyMakingConversations
https://www.facebook.com/MoneyMakingConversations/
https://twitter.com/MoneyMakingConv