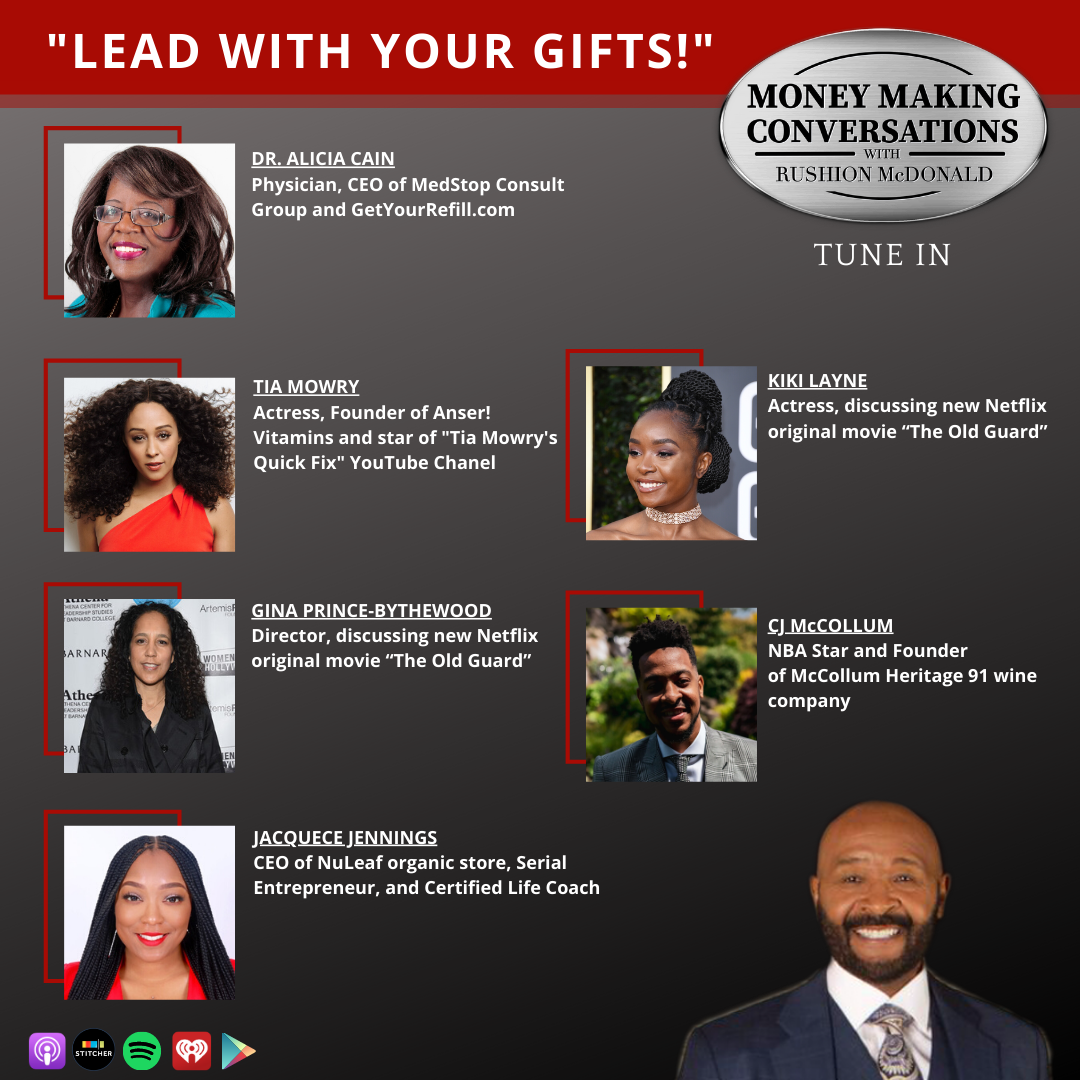 Rushion welcomes Physician CEO of MedStop Consult Group and GetYourRefill.com, Dr. Alicia Cain; Actress, Founder of Anser! Vitamins and star of "Tia Mowry's Quick Fix" YouTube Chanel, Tia Mowry; Actress, discussing new Netflix original movie "The Old Guard," KiKi Layne; Director, discussing new Netflix original movie "The Old Guard," Gina Prince-Bythewood; NBA Star and Founder of McCollum Heritage 91 wine company, CJ McCollum; and CEO of NuLeaf organic store, Serial Entrepreneur, and Certified Life Coach, Jacquece Jennings.
My guest was born and raised in New York City and graduated from Tennessee State University and Meharry Medical College. Always interested in the African American Community, She was an active member of the Black Panther Party during the late 1960s, early 1970s. She is currently the Physician/C.E.O. of MedStop Consult Group, C.E.O./Publisher of Empeccable Magazine, C.E.O. of GetYourRefill.com and Veteran's Claims Services. GetYourRefill.com is an online prescription service and she will tell us how it works. Please welcome to Money Making Conversations the C.E.O. of GetYourRefill.com, Dr. Alicia Cain.
Tia Mowry is a serial entrepreneur, social media influencer, launched a vitamin company called Anser, a range of vitamins that she co-founded after having health and fertility issues. She wanted to create a line that connected with people who didn't feel represented or included and encourage them to take charge of the health. She cooks, she bakes, she is all over YouTube will over 800K subscribers and happily married with a beautiful child. Please welcome Money Making Conversations, the star of Netflix's #1 most-watched family show, Family Reunion, Tia Mowry.
I just saw the new Netflix movie The Old Guard. Wow! Netflix has done it again and they are using some talented and outstanding Black Girl Magic this time in Gina Prince Bythewood and KiKi Layne! Nile (played KiKi Layne from "If Beale Street Could Talk" and "Native Son"), she the newest soldier to join their ranks, to help the group eliminate the threat of those who seek to replicate and monetize their power by any means necessary. Based on the acclaimed graphic novel by Greg Rucka and directed by Gina Prince-Bythewood (she directed "Love & Basketball" and "Beyond the Lights"), The Old Guard is a gritty, grounded, action-packed story that shows living forever is harder than it looks. Please welcome to Money Making Conversations the director Gina Prince Bythewood and one of the stars KiKi Layne.
CJ McCollum was drafted 10th overall in the N.B.A. draft as a guard for the Portland Trailblazers. He is on my show today to discuss his new wine venture, playing basketball during the pandemic and his community work outside of professional sports. Please welcome to Money Making Conversations CJ McCollum.
Jacquece Jennings is going to tell us how she started her business, what are motivations and you s can be purchase her products without a prescription. Please welcome to Money Making Conversations, the founder of Nuleaf #1, Jacquece Jennings.
​The Money Making Conversations talk show is about entrepreneurship and entertainment. The interviews give the consumer and business owners access to Celebrities, CEOs, Entrepreneurs, and Industry Decision Makers. They provide relatable information to the listener about career and financial planning, entrepreneurship, motivation, leadership, overcoming the odds, and how to live a balanced life. Listen to Money Making Conversations on Apple Podcasts, iHeartRadio, Stitcher, Spreaker, Spotify, Castbox, and more.
Rushion McDonald is a two-time Emmy Award-winning and three-time NAACP Image Award-winning television and film, producer. He is a sitcom writer, social media influencer, brand architect, entrepreneur, and award-winning baker.​
https://www.moneymakingconversations.com
https://www.youtube.com/MoneyMakingConversations
https://www.facebook.com/MoneyMakingConversations/
https://twitter.com/MoneyMakingConv