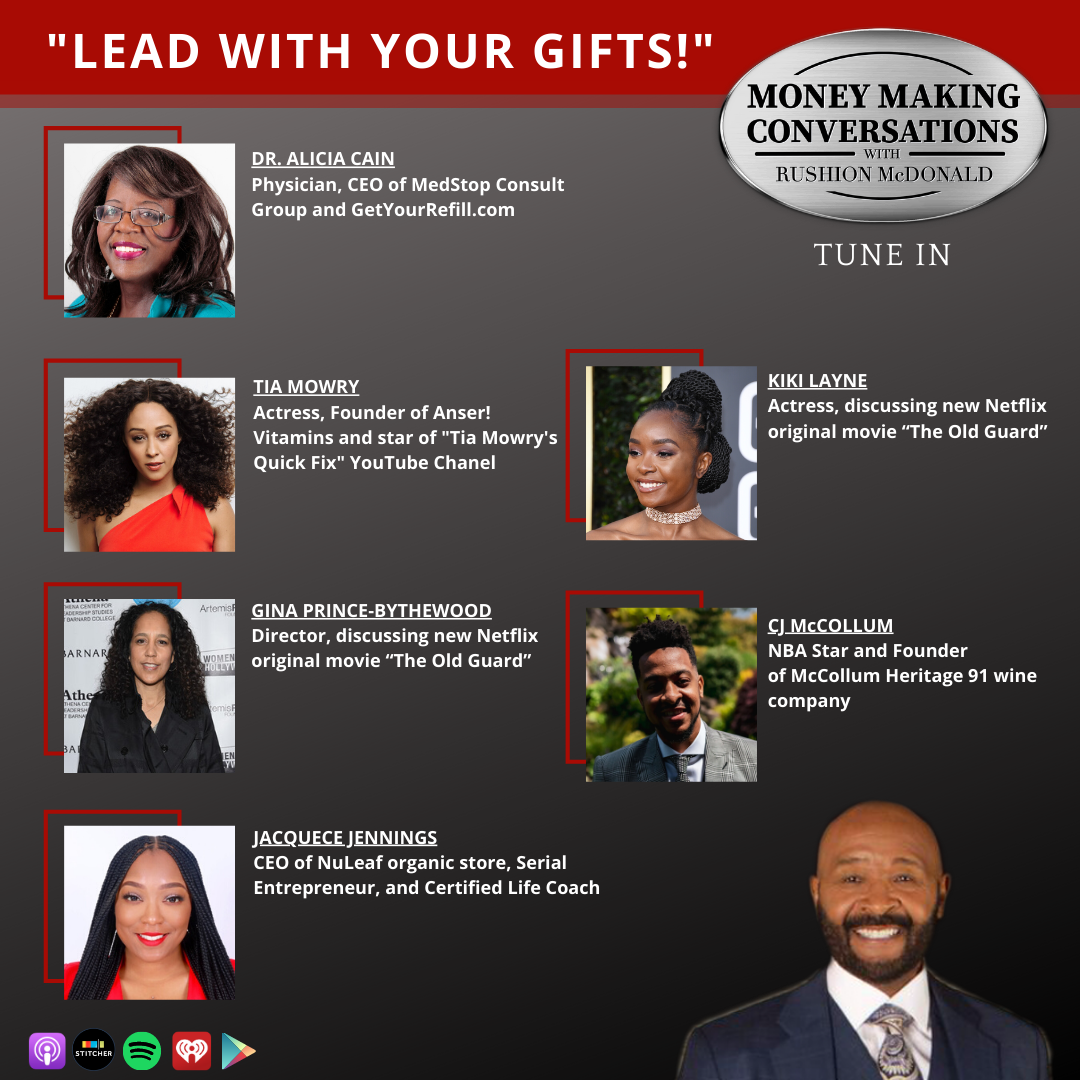 Appearing on this episode of Money Making Conversations is Physician CEO of MedStop Consult Group and GetYourRefill.com, Dr. Alicia Cain; Actress, Founder of Anser! Vitamins and star of "Tia Mowry's Quick Fix" YouTube Chanel, Tia Mowry; Actress, discussing new Netflix original movie "The Old Guard," KiKi Layne; Director, discussing new Netflix original movie "The Old Guard," Gina Prince-Bythewood; NBA Star and Founder of McCollum Heritage 91 wine company, CJ McCollum; and CEO of NuLeaf organic store, Serial Entrepreneur, and Certified Life Coach, Jacquece Jennings.
The Money Making Conversations talk show is about entrepreneurship and entertainment. The interviews give the consumer and business owners access to Celebrities, CEOs, Entrepreneurs, and Industry Decision Makers. They provide relatable information to the listener about career and financial planning, entrepreneurship, motivation, leadership, overcoming the odds, and how to live a balanced life.
It is essential to understand that everybody travels a different path to success. That is because your brand is different. The challenges you face in your life are different. So stop reading other people's success stories and start writing your own. The Money Making Conversations interviews will encourage you to lead with your gifts and never use age as an excuse when planning your goals.
"Lead with Your Gifts!"
Rushion McDonald is a two-time Emmy Award-winning and three-time NAACP Image Award-winning television and film, producer. He is a sitcom writer, social media influencer, brand architect, entrepreneur, and award-winning baker.
​
​
https://www.moneymakingconversations.com
https://www.youtube.com/MoneyMakingConversations
https://www.facebook.com/MoneyMakingConversations/
https://twitter.com/moneymakingconv