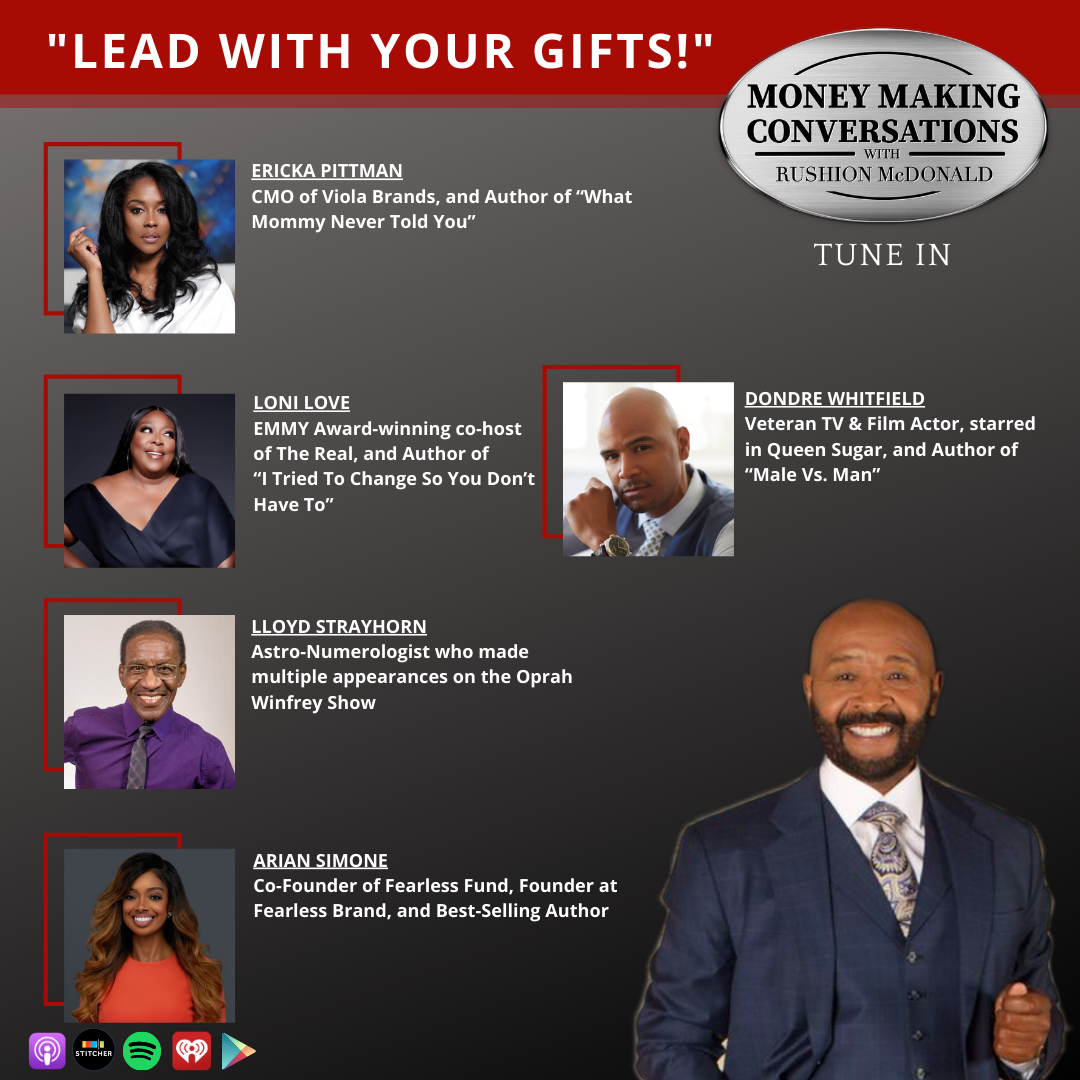 Appearing on this episode of Money Making Conversations is EMMY Award-winning co-host of The Real, and Author of "I Tried To Change So You Don't Have To," Loni Love; Veteran TV & Film Actor, starred in Queen Sugar, and Author of "Male Vs. Man," Dondré Whitfield; CMO of Viola Brands, and Author of "What Mommy Never Told You," Ericka Pittman; Astro-Numerologist who made multiple appearances on the Oprah Winfrey Show, Lloyd Strayhorn; and Co-Founder of Fearless Fund, Founder at Fearless Brand, and Best-Selling Author, Arian Simone.
The Money Making Conversations talk show is about entrepreneurship and entertainment. The interviews give the consumer and business owners access to Celebrities, CEOs, Entrepreneurs, and Industry Decision Makers. They provide relatable information to the listener about career and financial planning, entrepreneurship, motivation, leadership, overcoming the odds, and how to live a balanced life.
It is essential to understand that everybody travels a different path to success. That is because your brand is different. The challenges you face in your life are different. So stop reading other people's success stories and start writing your own. The Money Making Conversations interviews will encourage you to lead with your gifts and never use age as an excuse when planning your goals.
"Lead with Your Gifts!"
Rushion McDonald is a two-time Emmy Award-winning and three-time NAACP Image Award-winning television and film, producer. He is a sitcom writer, social media influencer, brand architect, entrepreneur, and award-winning baker.
​
​
https://www.moneymakingconversations.com
https://www.youtube.com/MoneyMakingConversations
https://www.facebook.com/MoneyMakingConversations/
https://twitter.com/moneymakingconv