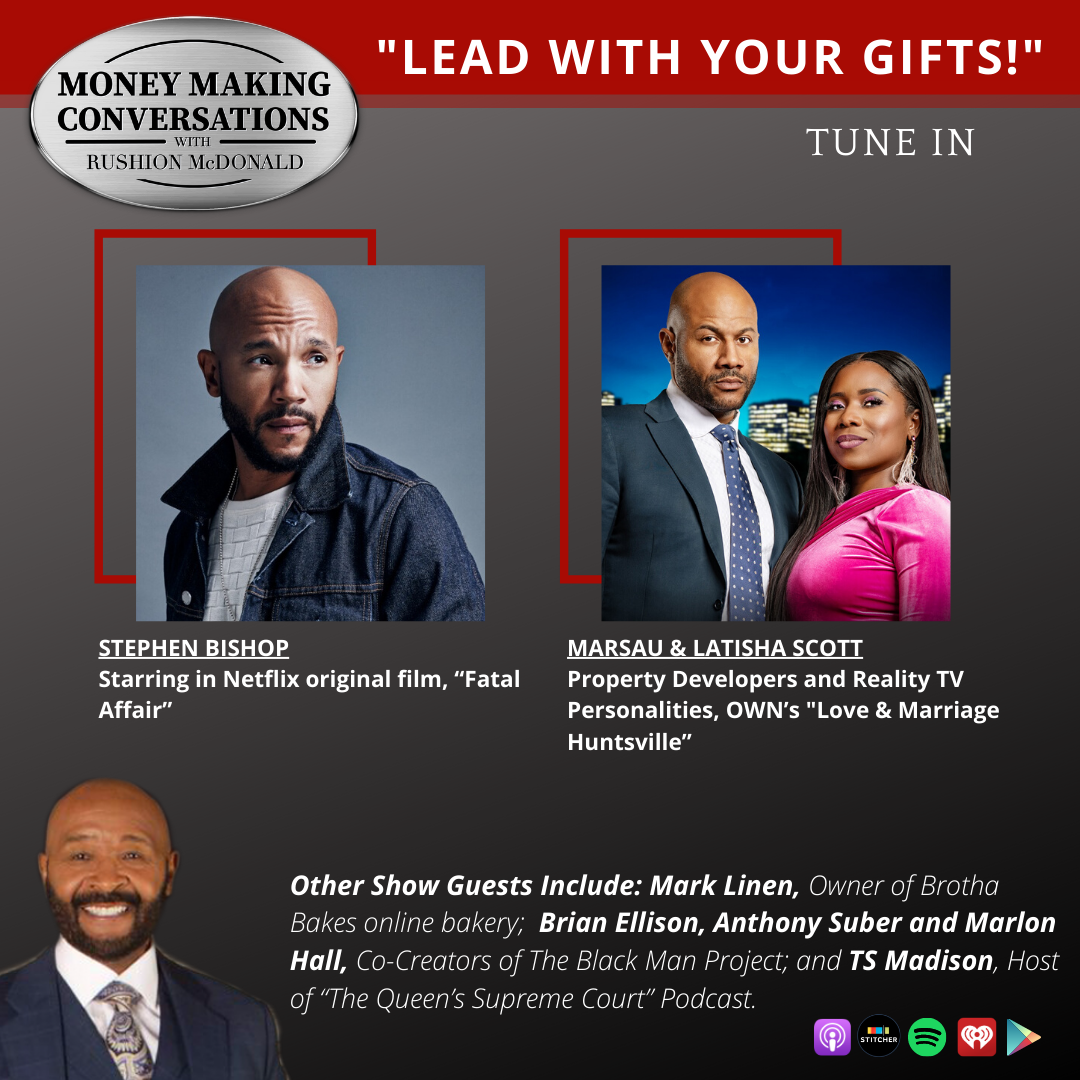 Appearing on this episode of Money Making Conversations is star in the Netflix original film, "Fatal Affair," Stephen Bishop; Property Developers and Reality TV Personalities, OWN's "Love & Marriage Huntsville," Marsau and LaTisha Scott; Owner of Brotha Bakes online bakery, Mark Linen; Co-Creators of The Black Man Project, Brian Ellison, Anthony Suber and Marlon Hall; and host of "The Queen's Supreme Court" Podcast, TS Madison.
The Money Making Conversations talk show is about entrepreneurship and entertainment. The interviews give the consumer and business owners access to Celebrities, CEOs, Entrepreneurs, and Industry Decision Makers. They provide relatable information to the listener about career and financial planning, entrepreneurship, motivation, leadership, overcoming the odds, and how to live a balanced life.
It is essential to understand that everybody travels a different path to success. That is because your brand is different. The challenges you face in your life are different. So stop reading other people's success stories and start writing your own. The Money Making Conversations interviews will encourage you to lead with your gifts and never use age as an excuse when planning your goals.
"Lead with Your Gifts!"
Rushion McDonald is a two-time Emmy Award-winning and three-time NAACP Image Award-winning television and film, producer. He is a sitcom writer, social media influencer, brand architect, entrepreneur, and award-winning baker.
​
​
https://www.moneymakingconversations.com
https://www.youtube.com/MoneyMakingConversations
https://www.facebook.com/MoneyMakingConversations/
https://twitter.com/moneymakingconv