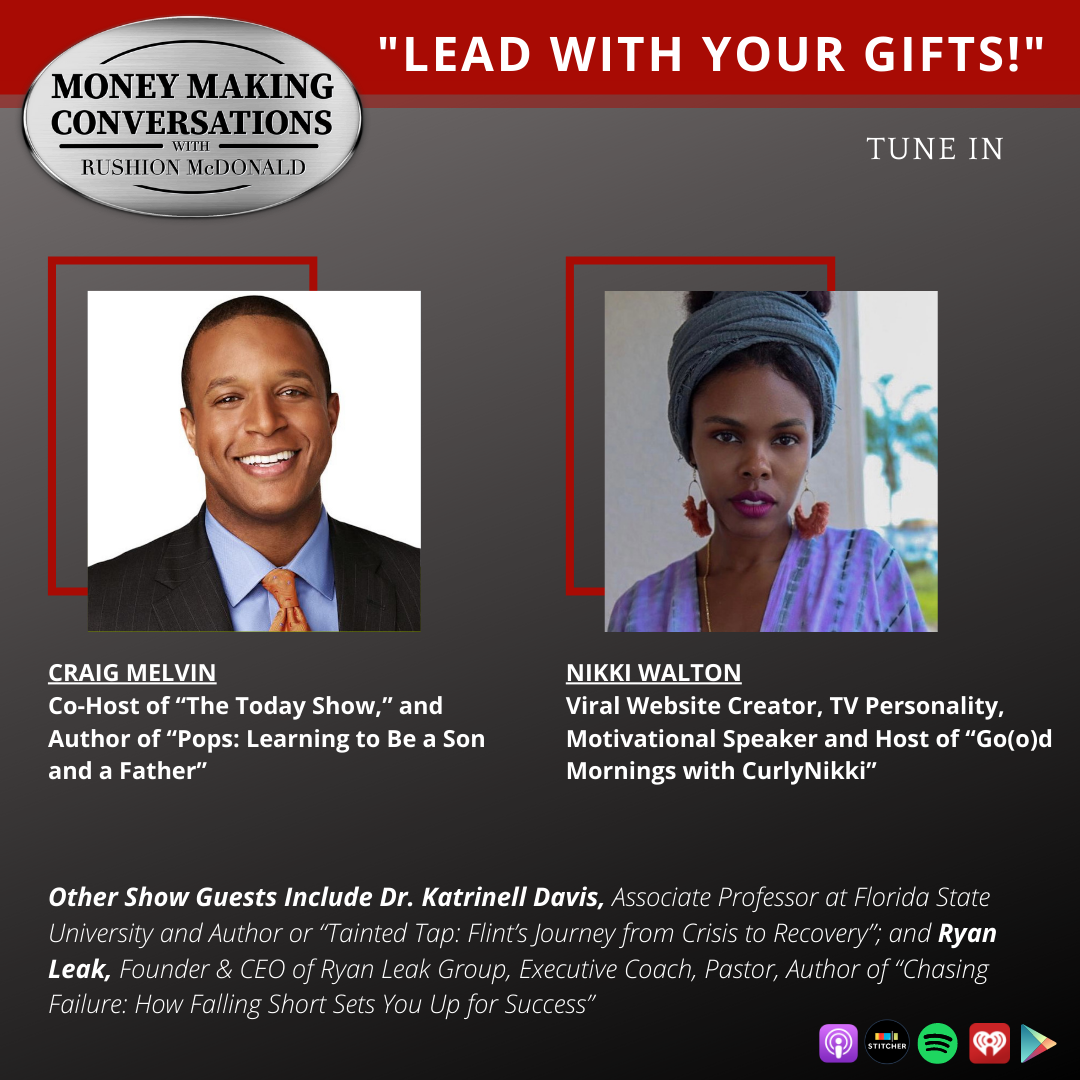 Rushion talks to Craig Melvin, co-Host of "The Today Show" and Author of "Pops: Learning to Be a Son and a Father." He is on the show to discuss his new book "Pops: Learning to Be a Son and a Father." It is the story of all the father figures in Craig's life—that includes inspiring men Craig has met during his "Dads Got This Series" on NBC News' TODAY. These experiences and encounters have shaped Craig's understanding of his role as a dad of two young children.
Rushion talks to Nikki Walton, Viral Website Creator, Television Personality, Motivational Speaker, and Host of "Go(o)d Mornings with CurlyNikki." In 2021, Walton launched 'Go(o)d Mornings with CurlyNikki,' a daily morning show to help listeners find Peace in chaos and Light in darkness. It debuted in the Top 5 in Spirituality on Apple Podcasts.
Rushion talks to Dr. Katrinell Davis, Associate Professor at Florida State University and Author of "Tainted Tap: Flint's Journey from Crisis to Recovery." These structural biases and hurdles hurt black people–and why we continue to deal with these issues despite expanded opportunities and resources.
Rushion talks to Ryan Leak, Founder & CEO of Ryan Leak Group, Executive Coach, Pastor, Author of "Chasing Failure: How Falling Short Sets You Up for Success." In the book "Chasing Failure," Ryan Leak lays out the framework you need to chase failure successfully, which means living a life where you are pursuing your dreams, living in your purpose, and experiencing ultimate fulfillment.
​The Money Making Conversations talk show is about entrepreneurship and entertainment. The interviews give the consumer and business owners access to Celebrities, CEOs, Entrepreneurs, and Industry Decision Makers. They provide relatable information to the listener about career and financial planning, entrepreneurship, motivation, leadership, overcoming the odds, and how to live a balanced life. Listen to Money Making Conversations on Apple Podcasts, iHeartRadio, Stitcher, Spreaker, Spotify, Castbox, and more.
Rushion McDonald is a two-time Emmy Award-winning and three-time NAACP Image Award-winning television and film, producer. He is a sitcom writer, social media influencer, brand architect, entrepreneur, and award-winning baker.​
https://www.moneymakingconversations.com
https://www.youtube.com/MoneyMakingConversations
https://www.facebook.com/MoneyMakingConversations/
https://twitter.com/MoneyMakingConv