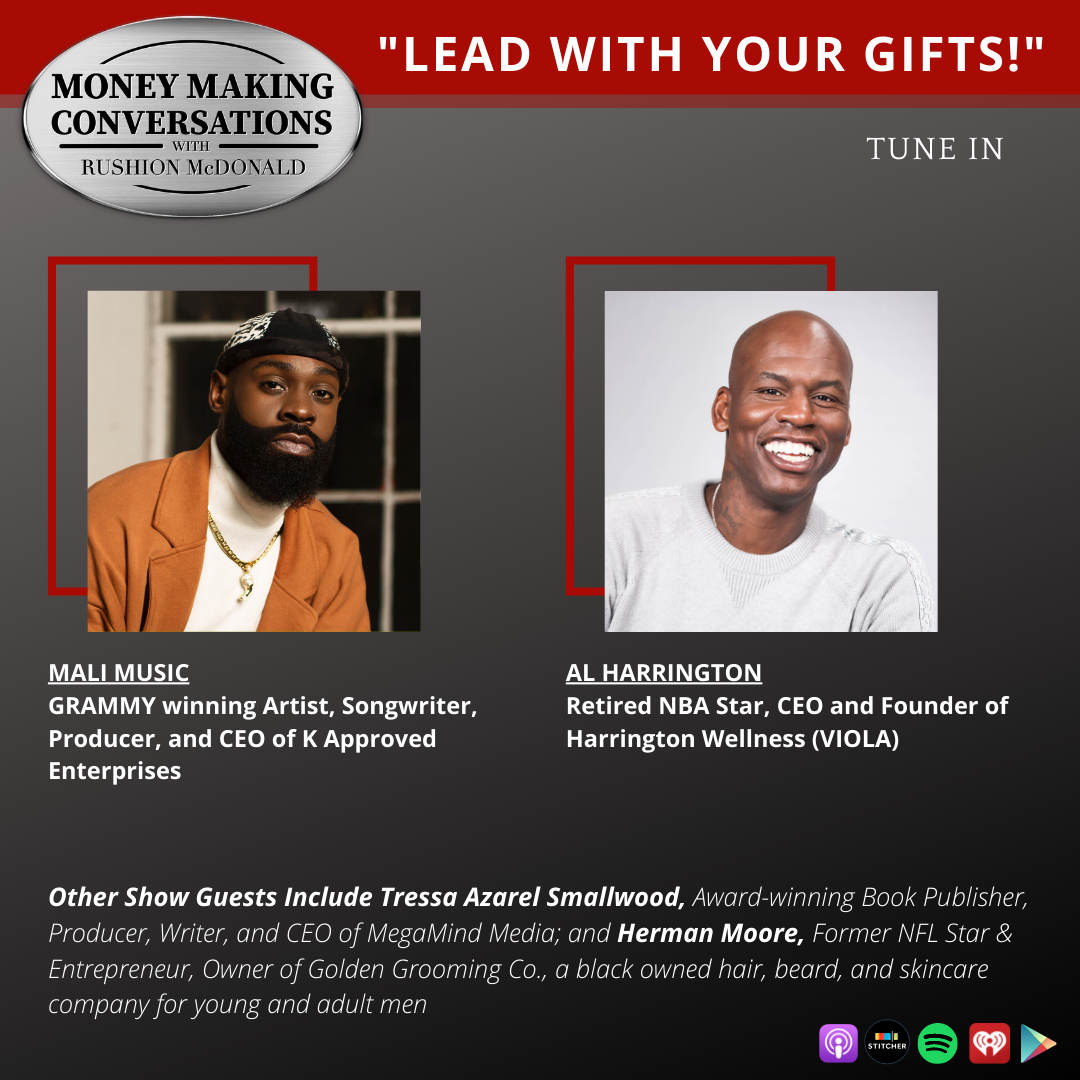 Rushion McDonald talks Mali Music, a GRAMMY Award-winning, Musician, Songwriter and Producer. He is a gospel artist first and foremost, but he will not be put in a box. He loves the freedom of creating amazing music, no matter if it has a gospel, R&B, hip-hop, or rock feel to it. Mali won a GRAMMY this year for the song "Movin' On," his hit collaboration with Jonathan McReynolds. He's nominated for three Stellar Awards this year.
Rushion McDonald talks with Al Harrington, a retired NBA Star, CEO, and Founder of Harrington Wellness, VIOLA. Al now employs over 100+ individuals helping him achieve his vision of bringing representation and reform to an industry that has historically left his community disenfranchised. And Viola operates in California, Colorado, Michigan, Oklahoma, Oregon, and Washington.
Rushion McDonald speaks with Tressa Azarel Smallwood, the CEO of MegaMind Media, Movie Producer, Writer, Award-winning Book Publisher, and Entrepreneurial Coach. Since launching MegaMind Media, Tressa has produced several award-winning movies adapted to film and TV series for networks such as Viacom/BET Networks, TV ONE, URBAN MOVIE CHANNEL, and more.
Rushion McDonald talks to Herman Moore, a former NFL Player & Entrepreneur, Owner of Golden Grooming Co., a black-owned hair, beard, and skincare company for young and adult men. Golden Grooming Co. provides high-quality, all-natural grooming products designed specifically for Black young and adult men. The company's mission is to help Black young and adult men look and feel their best, because we believe that when you look good, you feel good, and then you do good.
​The Money Making Conversations talk show is about entrepreneurship and entertainment. The interviews give the consumer and business owners access to Celebrities, CEOs, Entrepreneurs, and Industry Decision Makers. They provide relatable information to the listener about career and financial planning, entrepreneurship, motivation, leadership, overcoming the odds, and how to live a balanced life. Listen to Money Making Conversations on Apple Podcasts, iHeartRadio, Stitcher, Spreaker, Spotify, Castbox, and more.
Rushion McDonald is a two-time Emmy Award-winning and three-time NAACP Image Award-winning television and film, producer. He is a sitcom writer, social media influencer, brand architect, entrepreneur, and award-winning baker.​
https://www.moneymakingconversations.com
https://www.youtube.com/MoneyMakingConversations
https://www.facebook.com/MoneyMakingConversations/
https://twitter.com/MoneyMakingConv