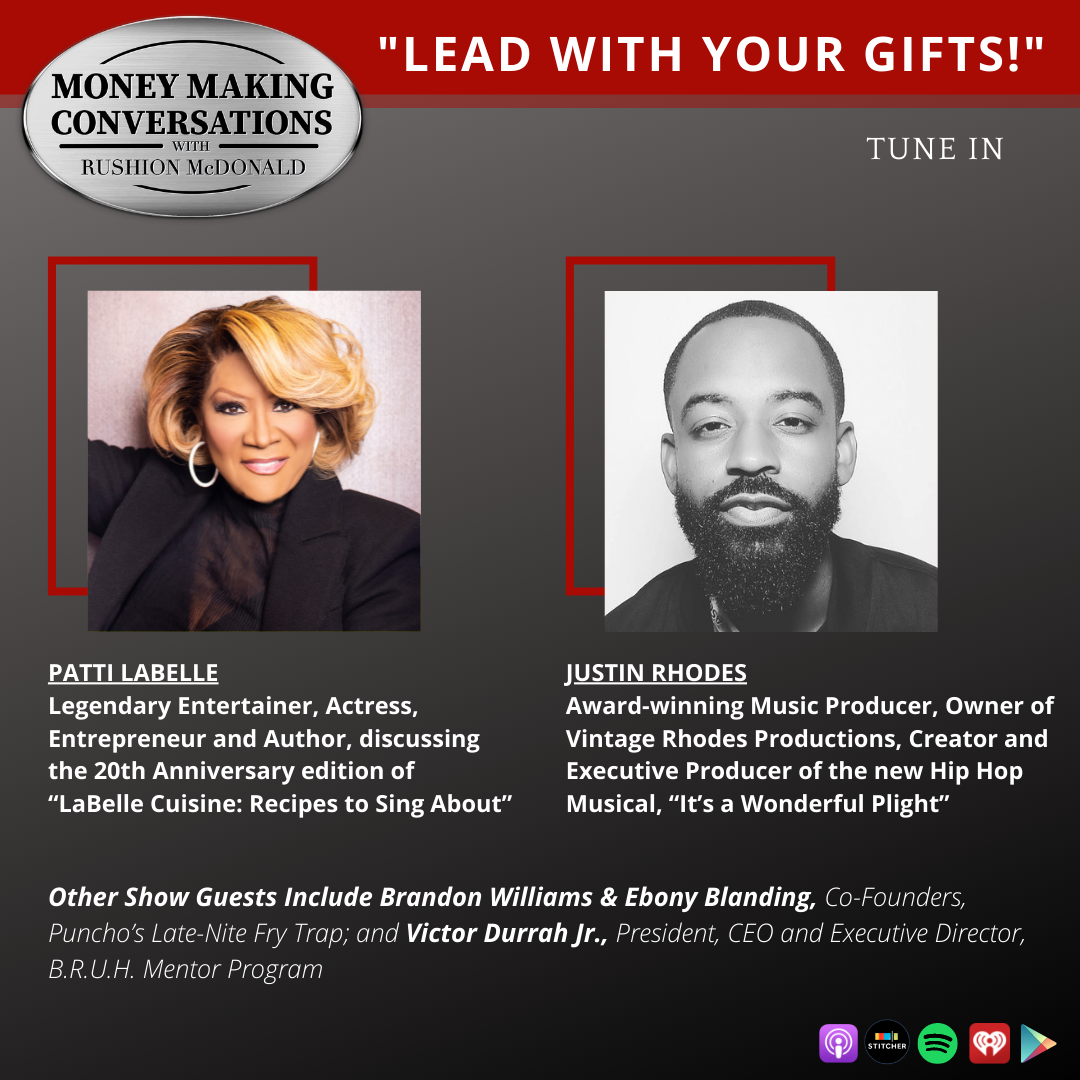 Rushion talks to Patti LaBelle, Legendary Singer, Actress, Entrepreneur and Author, celebrating the 20th Anniversary edition of "LaBelle Cuisine: Recipes to Sing About." Patti gives us insight on the inspiration behind her original easy to make recipes, and gives us the scoop on some of the new collection of her favorite comfort foods that were added for the special edition.
Rushion talks to Justin Rhodes, Award-winning Music Producer, Owner of Vintage Rhodes Productions, Creator and Executive Producer of the new Hip Hop Musical, "It's a Wonderful Plight." His film, which attacks systemic racism through song in an authentic but light hearted manner, has been deemed one of the "Biggest movies of the Summer" by USA Today.
Rushion talks to Brandon "Puncho" Williams & Ebony Blanding, Co-Founders, Puncho's Late-Nite Fry Trap restaurant in Atlanta, Georgia. The aspiring creatives are back on to talk about how it's been juggling both filmmaking and fries, pivoting through the pandemic, and what new menu items customers can expect at their new location.
Rushion talks to Victor Durrah Jr., President, CEO and Executive Director of BRUH (Brothers Restoring Urban Hope) Mentor Program in Spartanburg, South Carolina. Victor explains the importance of making personal connections with those they mentor, helping youth to discover who they are, developing their strengths, and helping with their challenges.
​The Money Making Conversations talk show is about entrepreneurship and entertainment. The interviews give the consumer and business owners access to Celebrities, CEOs, Entrepreneurs, and Industry Decision Makers. They provide relatable information to the listener about career and financial planning, entrepreneurship, motivation, leadership, overcoming the odds, and how to live a balanced life. Listen to Money Making Conversations on Apple Podcasts, iHeartRadio, Stitcher, Spreaker, Spotify, Castbox, and more.
Rushion McDonald is a two-time Emmy Award-winning and three-time NAACP Image Award-winning television and film, producer. He is a sitcom writer, social media influencer, brand architect, entrepreneur, and award-winning baker.​
https://www.moneymakingconversations.com
https://www.youtube.com/MoneyMakingConversations
https://www.facebook.com/MoneyMakingConversations/
https://twitter.com/MoneyMakingConv