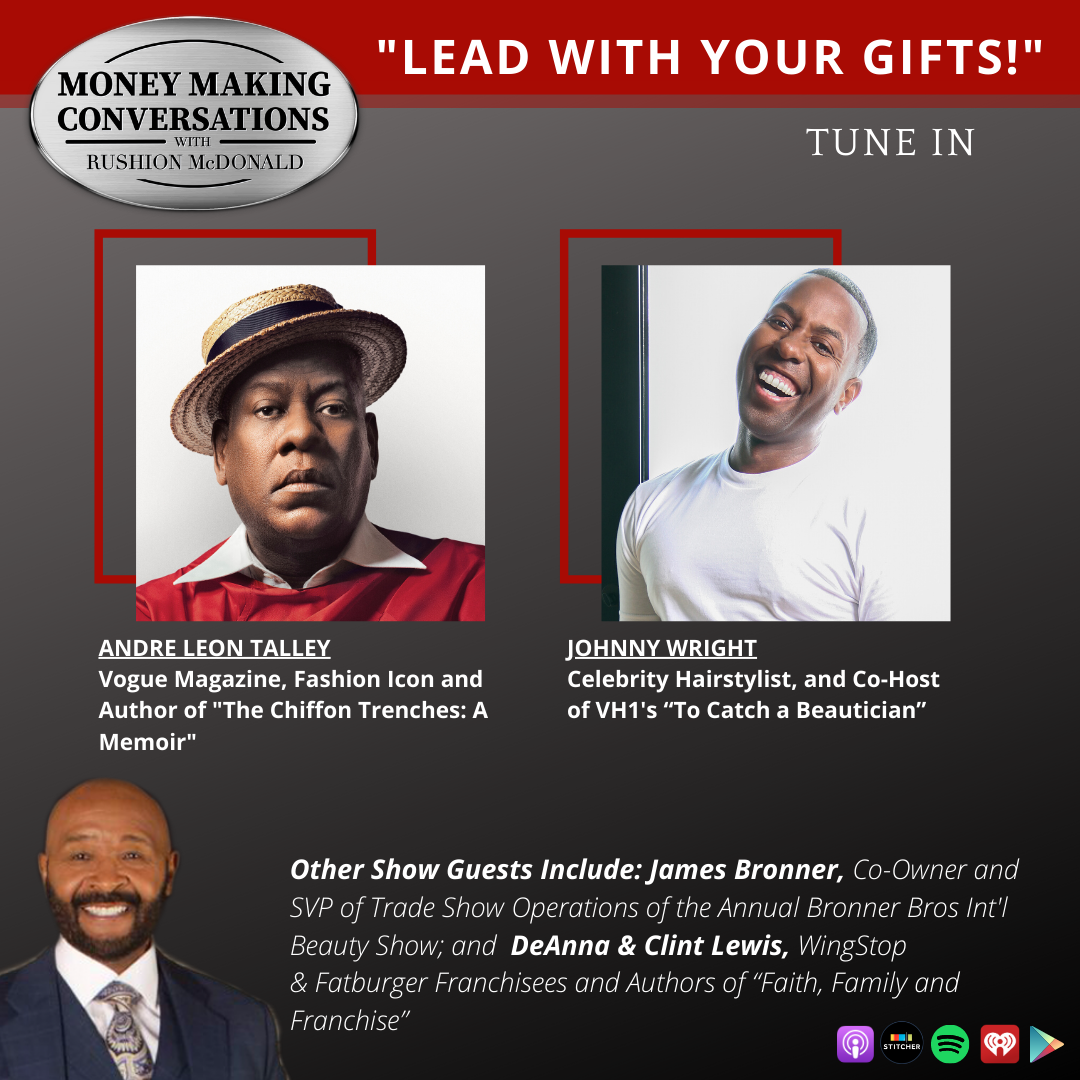 Rushion welcomes Vogue Magazine, Fashion Icon and Author of "The Chiffon Trenches: A Memoir," Andre Leon Talley; Celebrity Hairstylist, and Co-Host of VH1's "To Catch a Beautician," Johnny Wright; Co-Owner and SVP of Trade Show Operations of the Annual Bronner Bros. Int'l Beauty Show, James Bronner; and WingStop & Fatburger Franchisees and Authors of "Faith, Family and Franchise," DeAnna & Clint Lewis.
Andre Leon Talley discusses his journey to become a Legendary Style Icon and former Creative Director of Vogue Magazine. His new memoir, THE CHIFFON TRENCHES, offers a candid look at the who's who of the last fifty years of fashion. Please welcome to Money Making Conversations Andre Leon Talley.
Johnny Wright became First Lady Michelle Obama's hairstylist and helped to establish her as a global beauty and style icon. He will be discussing his new VH-1 TV show and how he got his big break styling the hair of former First Lady Michelle Obama. Please welcome to Money Making Conversations Johnny Wright.
My next guest serves as the Senior Vice President of Trade Show Operations, Director of Technology, and part-owner of the multi-million dollar family-owned corporation Bronner Bros., Inc. The Annual Bronner Bros. Beauty Show is billed as the nation's largest trade show for multicultural beauty professionals and students. He is on the show to discuss legacy of Bronner Bros. in the beauty industry and the impact of COVID-19 on the Black beauty salon and barbershop industry. Please welcome to Money Making Conversations, James Bronner.
Clint and DeAnna Lewis are on the show to discuss this comprehensive, straight-talking guide that teaches you how to make business and life work for you. Focusing on couples but also relevant to individuals, this book candidly explores the power of faith, family, and franchise and how reading this book can help you succeed. Please welcome to Money Making Conversations Clint and DeAnna Lewis.
​The Money Making Conversations talk show is about entrepreneurship and entertainment. The interviews give the consumer and business owners access to Celebrities, CEOs, Entrepreneurs, and Industry Decision Makers. They provide relatable information to the listener about career and financial planning, entrepreneurship, motivation, leadership, overcoming the odds, and how to live a balanced life. Listen to Money Making Conversations on Apple Podcasts, iHeartRadio, Stitcher, Spreaker, Spotify, Castbox, and more.
Rushion McDonald is a two-time Emmy Award-winning and three-time NAACP Image Award-winning television and film, producer. He is a sitcom writer, social media influencer, brand architect, entrepreneur, and award-winning baker.​
https://www.moneymakingconversations.com
https://www.youtube.com/MoneyMakingConversations
https://www.facebook.com/MoneyMakingConversations/
https://twitter.com/MoneyMakingConv