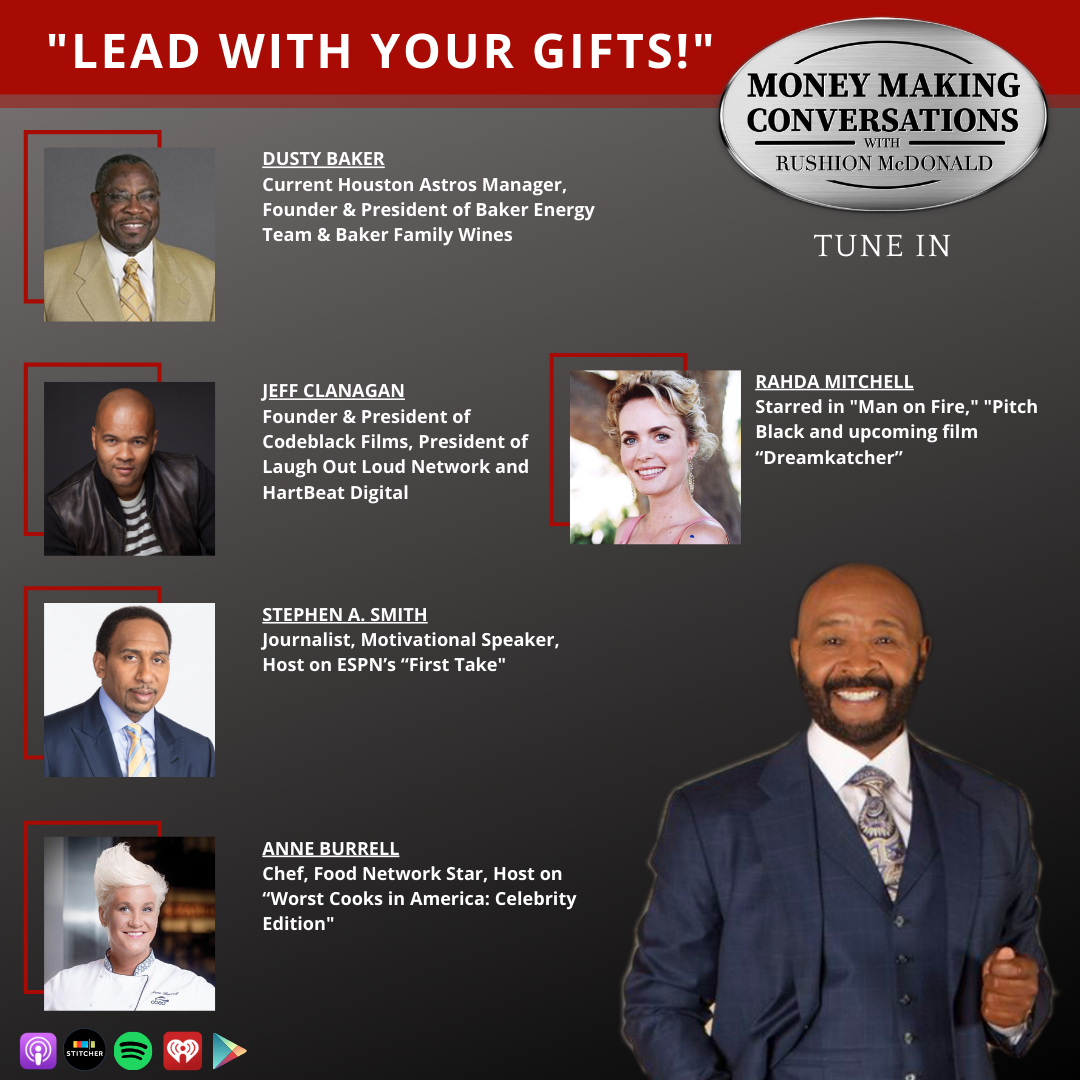 Please welcome Stephen A. Smith, star of ESPN's "First Take," Dusty Baker, Current Houston Astros Manager, Founder & President of Baker Energy Team & Baker Family Wines; Jeff Clanagan, President and Founder of Codeblack Films, President of Laugh Out Loud Network and HartBeat Digital; Stephen A. Smith, Journalist, Motivational Speaker, Host on ESPN's "First Take"; Anne Burrell, Chef, Food Network Star, Host on "Worst Cooks in America: Celebrity Edition"; and Radha Mitchell, Starred in "Man on Fire," "Pitch Black" and upcoming film "Dreamkatcher."
Stephen A Smith is an American sports television personality, sports radio host, sports journalist, and actor. Smith is a commentator on ESPN's First Take, where he appears with Max Kellerman and Molly Qerim. He also makes frequent appearances as an NBA analyst on SportsCenter. Please welcome to Money Making Conversations Stephen A. Smith.
Dusty Baker, the Atlanta Braves drafted him in 1967 amateur draft out of Del Campo High School near Sacramento, California. He is the founder and president of Baker Energy Team, and he is the founder and president of Baker Family Wines and Founder and Chairman of the Board of Kool-Baker Global along with Robert "Kool" Bell, who is the Founder/President of Kool Baker Global. Please welcome to Money Making Conversations, the current manager of the Houston Astros and Wine entrepreneur, Dusty Baker.
Jeff Clanagan is an award-winning producer and innovator in entertainment. Inspired by the entrepreneurial genius of superstar Kevin Hart, and powered by the next generation of leading comedic talent, LAUGH OUT LOUD NETWORK is on a mission to create the future of comedy – the biggest, boldest, and most influential multi-platform and multi-dimensional comedy business in the world. Please welcome to Money Making Conversations Jeff Clanagan.
Anne Burrell has worked at some of the top restaurants in New York, studied the culinary landscape and traditions of Italy, and is a New York Times best-selling cookbook author. It's that time again. Another round of "Worst Cooks in America: Celebrity Edition," is airing on the Food Network. Please welcome to the Money Making Conversations with her trademark spiky blond hair and pumped-up personality Anne Burrell.
Radha Mitchell is an Australian actress who has made her mark in film and television in both Australia and Hollywood. She is on the show to discuss her upcoming new film Dreamkatcher that you can catch right now on Video On Demand. In this terrifying horror-thriller, Gail (Radha Mitchell, Silent Hill) is forced to come to terms with Josh, her new stepson, at a remote country home. After stealing an evil talisman from a mysterious neighbor, Josh has sinister dreams of his dead mother—who commands Josh to murder Gail. When Josh's dad (Henry Thomas, "The Haunting of Hill House") returns, he and Gail suspect that an ancient, bloodthirsty spirit has possessed their son. Is it too late to save Josh's life—or their own? Please welcome to Money Making Conversations Radha Mitchell.
​The Money Making Conversations talk show is about entrepreneurship and entertainment. The interviews give the consumer and business owners access to Celebrities, CEOs, Entrepreneurs, and Industry Decision Makers. They provide relatable information to the listener about career and financial planning, entrepreneurship, motivation, leadership, overcoming the odds, and how to live a balanced life. Listen to Money Making Conversations on Apple Podcasts, iHeartRadio, Stitcher, Spreaker, Spotify, Castbox, and more.
Rushion McDonald is a two-time Emmy Award-winning and three-time NAACP Image Award-winning television and film, producer. He is a sitcom writer, social media influencer, brand architect, entrepreneur, and award-winning baker.​
https://www.moneymakingconversations.com
https://www.youtube.com/MoneyMakingConversations
https://www.facebook.com/MoneyMakingConversations/
https://twitter.com/MoneyMakingConv