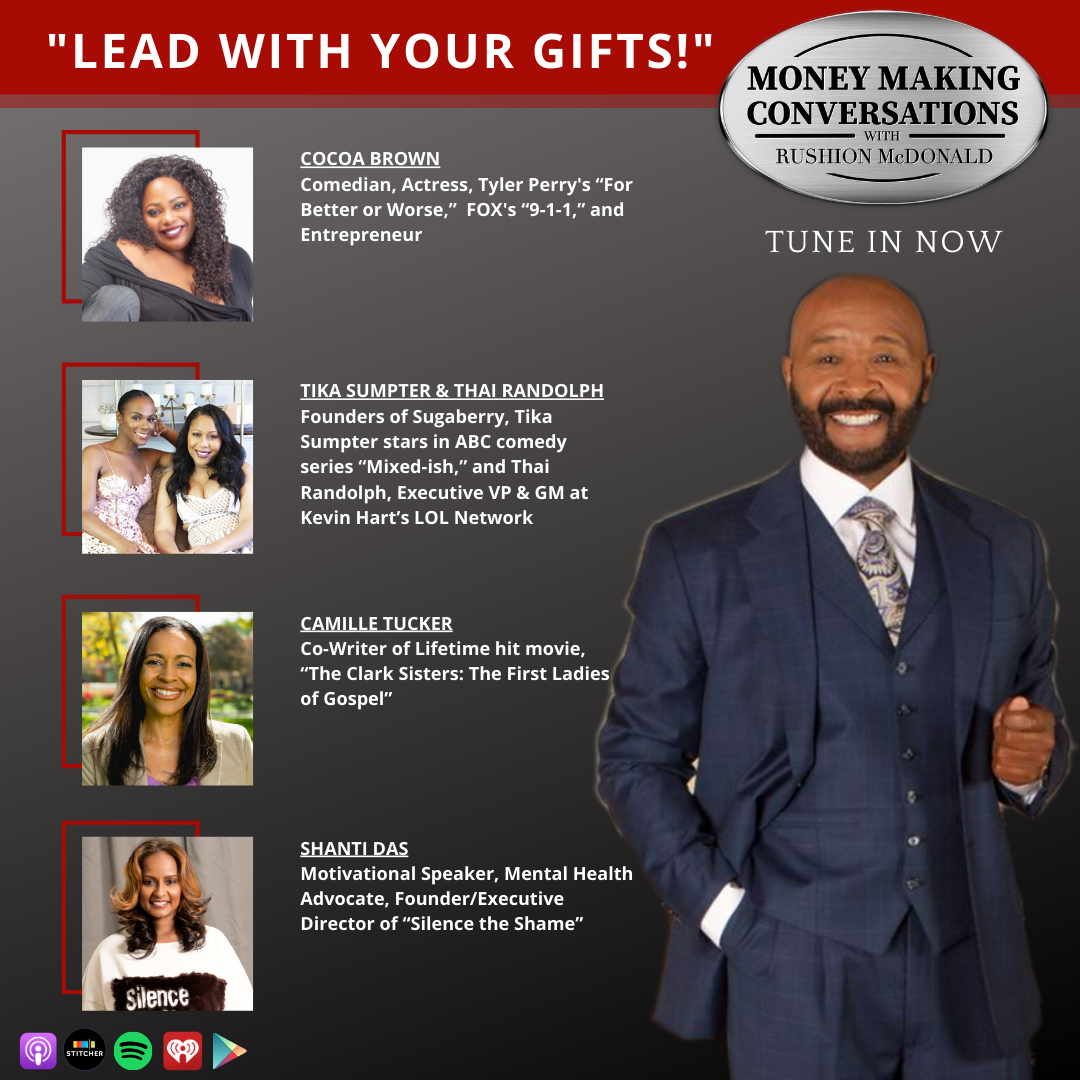 Please welcome Cocoa Brown, Comedian, Actress, CEO of The Cocoa Brown Collection and Tyler Perry's "For Better or Worse," FOX's "9-1-1"; Tika Sumpter & Thai Randolph, Founders of Sugaberry, Actor & Producer, Tika Sumpter stars in ABC comedy series "Mixed-ish", Thai Randolph is an Award-winning Executive Vice President & General Manager at Kevin Hart's Laugh Out Loud Network; Camille Tucker, Screenwriter, Producer, Director, Co-Writer of The Clark Sisters: The First Ladies of Gospel; and Shanti Das, Music Industry Veteran, Motivational Speaker, Mental Health Advocate, Founder/Executive Director of Silence the Shame.
Cocoa Brown is an actress, comedian, and entrepreneur. During this pandemic, with no acting gigs, comedy stand-up club dates, TV/Film roles to play right now, how is she making money? She is most notably known for her lead role in Tyler Perry's The Single Mom's Club, and For Better or Worse, please welcome to Money Making Conversations hilarious comedian/actress Cocoa (pronounced Co-kah) Brown.
Tika Sumpter and Thai Randolph are a dynamic duo. One is an accomplished actress and talented producer; They are the founders of Sugaberry. Sugaberry is a lifestyle brand created by, for, and about modern moms of color. Their mission is to serve as a daily love letter to black and brown moms the world over. Whether you're "kid-curious," a mom of 5, a dedicated auntie, or a driven careerist who isn't sure where (or if) motherhood fits into your journey, we're here to inform, inspire and indulge YOU. Tika Sumpter stars in the top-rated A.B.C. comedy sitcom MIXED-ISH and the hit movie Sonic The Hedgehog, Thai Randolph is an award-winning business executive and former member of Facebook's Global Marketing Solution's team. She is currently the E.V.P. and G.M. for Kevin Hart's Laugh Out Loud network. Please welcome to Money Making Conversations, the owners of Sugaberry, Tika Sumpter, and Thai (Tie) Randolph.
Camille Tucker is a Screenwriter, for the incredible Lifetime movie, The Clark Sisters: First Ladies Of Gospel. The film gives a behind-the-scenes look at the joys, challenges, conflicts, and sacrifices experienced by the sisters—and the entire Clark family—as their choir director mother, the legendary Dr. Mattie Moss Clark, sets them on the path to gospel music superstardom. Please welcome to Money Making Conversations Camille Tucker.
Shanti Das is a mental health advocate and the founder of Silence the Shame. Silence the Shame is a nonprofit organization that focuses on education and awareness around mental health. Through community conversations, compelling content, and outreach programs, we aim to normalize the conversation, peel back the layers of shame, eliminate the stigma, and provide support for mental well-being. Please welcome to Money Making Conversations, the founder of Silence the Shame, Shanti (Shuntea) Das. (Dos).
The Money Making Conversations talk show is about entrepreneurship and entertainment. The interviews give the consumer and business owners access to Celebrities, CEOs, Entrepreneurs, and Industry Decision Makers. They provide relatable information to the listener about career and financial planning, entrepreneurship, motivation, leadership, overcoming the odds, and how to live a balanced life. Listen to Money Making Conversations on Apple Podcasts, iHeartRadio, Stitcher, Spreaker, Spotify, Castbox, and more.
Rushion McDonald is a two-time Emmy Award-winning and three-time NAACP Image Award-winning television and film, producer. He is a sitcom writer, social media influencer, brand architect, entrepreneur, and award-winning baker.​
https://www.moneymakingconversations.com
https://www.youtube.com/MoneyMakingConversations
https://www.facebook.com/MoneyMakingConversations/
https://twitter.com/MoneyMakingConv