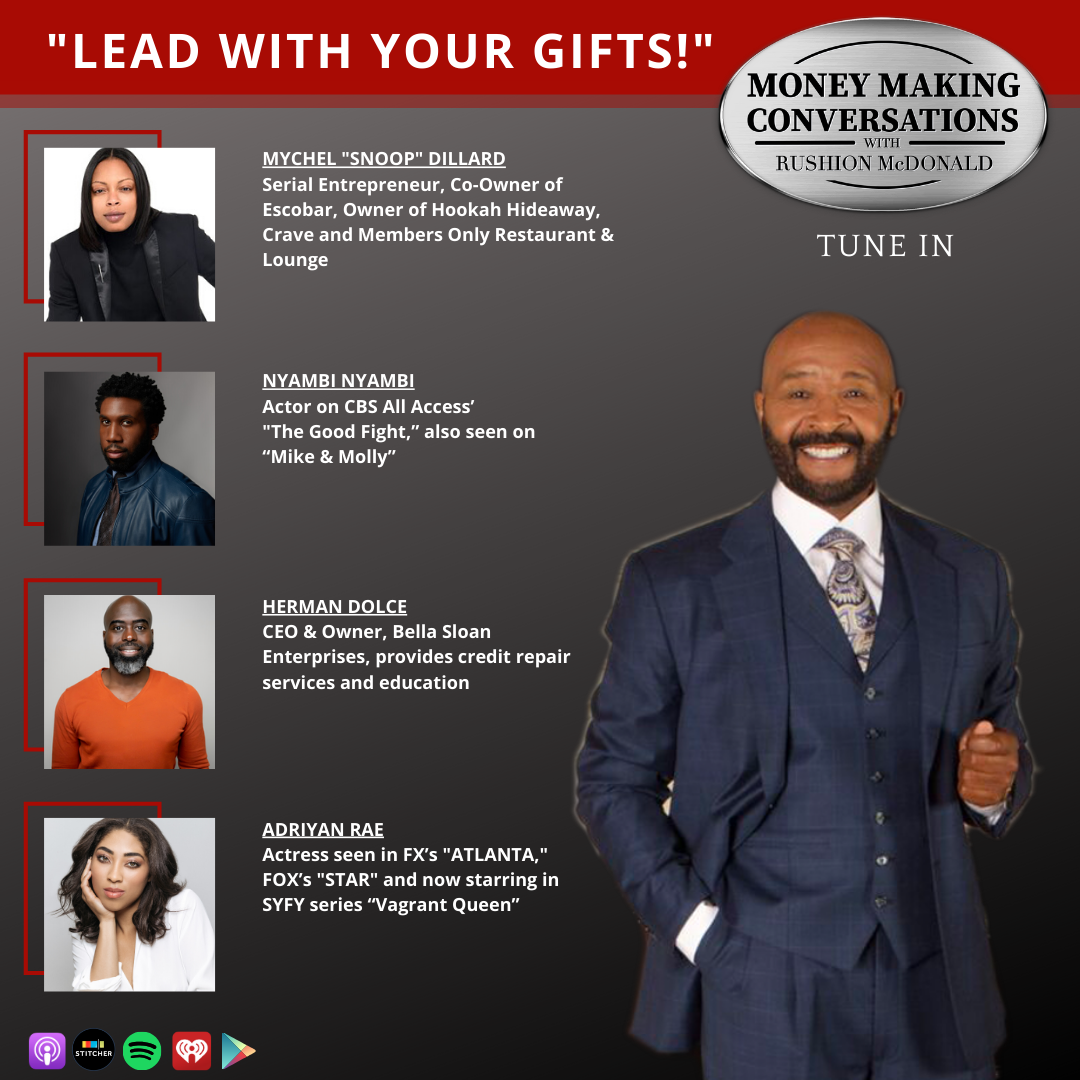 Rushion welcomes Mychel "Snoop" Dillard, Serial Entrepreneur, Co-Owner of Escobar, Owner of Hookah Hideaway, Crave and Members Only Restaurant & Lounge; Nyambi Nyambi, Actor on CBS All Access' "The Good Fight," also seen on "Mike & Molly"; Herman Dolce, CEO & Owner, Bella Sloan Enterprises, provides credit repair services and education; and Adriyan Rae, Actress seen in FX's ATLANTA, FOX's "STAR" and now starring in Syfy series "Vagrant Queen."
Mychel Snoop Dillard is a former financial advisor and realtor. This well-known serial entrepreneur, who is known for her nightlife ventures through her Dillard Hospitality Group. In 2020, Snoop continues to expand her brand by offering business consulting for those who are serious about their entrepreneurial pursuits. Please welcome back to Money Making Conversations Mychel Snoop Dillard.
Nyambi Nyambi guest co-stars on "The Good Fight." The acclaimed legal drama is returning for its fourth season. He is a busy actor, comic book aficionado, and an avid gamer. Please welcome to Money Making Conversations Nyambi Nyambi.
Herman Dolce is the C.E.O. and owner of Bella Sloan Enterprises. His company not only helps you repair your personal credit but also educates them on the topic. He has turned his passion for helping others into a thriving business. Please welcome to Money Making Conversations Herman Dolce.
Adriyan Rae was a former track star who was discovered on Youtube as a singer. She is classically trained in theater and has extensively trained in comedy, improv, and T.V./film acting. You've seen her work on F.X.'s A.T.L.A.N.T.A., B.E.T.'s AMERICAN SOUL, the movie Superfly and FOX's musical drama STAR. She is on the show to talk about her career, her #LoveandLight Heart and Soul Scholarship, the ups and downs of Hollywood, and her new S.Y.F.Y. series Vagrant Queen. Please welcome to Money Making Conversations Adriyan Rae.
​The Money Making Conversations talk show is about entrepreneurship and entertainment. The interviews give the consumer and business owners access to Celebrities, CEOs, Entrepreneurs, and Industry Decision Makers. They provide relatable information to the listener about career and financial planning, entrepreneurship, motivation, leadership, overcoming the odds, and how to live a balanced life. Listen to Money Making Conversations on Apple Podcasts, iHeartRadio, Stitcher, Spreaker, Spotify, Castbox, and more.
Rushion McDonald is a two-time Emmy Award-winning and three-time NAACP Image Award-winning television and film, producer. He is a sitcom writer, social media influencer, brand architect, entrepreneur, and award-winning baker.​
https://www.moneymakingconversations.com
https://www.youtube.com/MoneyMakingConversations
https://www.facebook.com/MoneyMakingConversations/
https://twitter.com/MoneyMakingConv