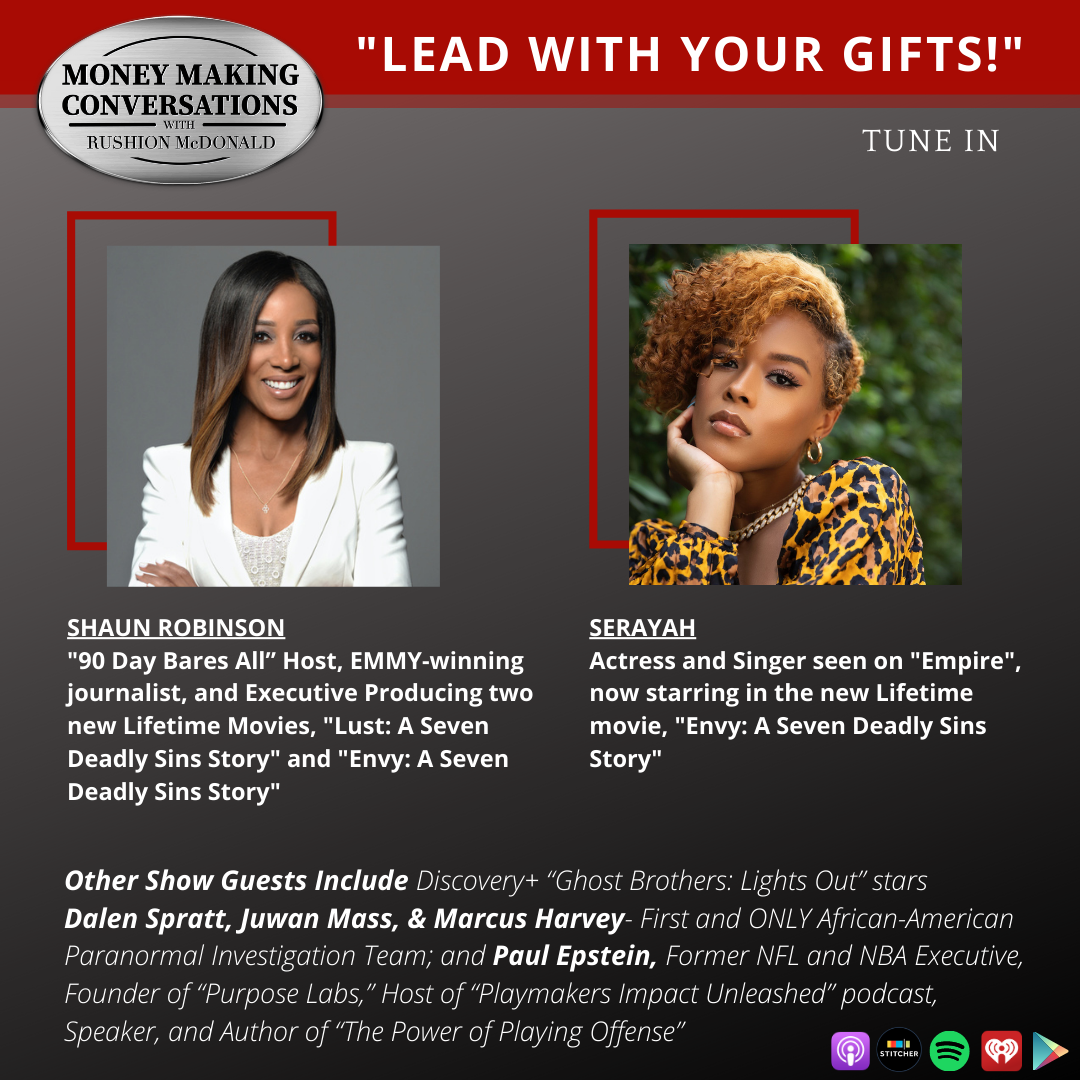 My next guest is back and she's healthy Shaun Robinson. She is a proud graduate of an HBCU, Spelman University in Atlanta, GA. She is an EMMY-winning journalist, TV host, producer, and philanthropist. She is an Executive Producer on the new Lifetime original movies, "Lust: A Seven Deadly Sins Story" and "Envy: A Seven Deadly Sins Story." And we will also be discussing her hosting the 90 Day Fiance franchise Tell-All episodes and her foundation. Shaun established the S.H.A.U.N. Foundation for Girls, which nurtures and supports under-served and underrepresented girls and young women in the areas of Stem, Health, Arts, Unity, Neighborhoods. Please welcome to Money Making Conversations, Shaun Robinson.
My next guest is Serayah. She is an actress, singer, dancer, and model. Known as the singer Tiana Brown that she portrayed on Lee Daniels' hit FOX tv series "Empire," Serayah is starring on the upcoming Lifetime original movie "Envy: A Seven Deadly Sins Story." But that is not all that she is doing. Besides this new movie Envy, next up for Serayah, she co-starring in the upcoming BET movie "Favorite Son," directed by Robin Givens which is expected to release in 2021. She has a new single coming soon called "Tell Me About Myself" ft. Rick Ross. Serayah was also just recently announced to join the Starz drama series "Black Mafia Family" executive produced by Curtis "50 Cent" Jackson in a recurring role. Please welcome to Money Making Conversations a rising star in the entertainment industry, Serayah.
My next guests are the Ghost Brothers: Dalen Spratt, Juwan Mass, Marcus Harvey. The Ghost Brothers are the first and only African-American paranormal investigation team on TV. The Ghost Brothers are paranormal investigators based in Atlanta – the three best friends seamlessly blend comedy with a refreshingly straightforward approach to the paranormal. The three best friends are sharing their strong curiosity in the unknown on their series "Lights Out," venturing out across the country into different hotspots. Dalen and Juwan meet while attending Clark Atlanta University (CAU), and Marcus, was a barber in the CAU. They have launched four successful series on Discovery+. Please welcome to Money Making Conversations The Ghost Brothers Dalen Spratt, Juwan Mass, Marcus Harvey.
My next guest is Paul Epstein. He is a 15-year NFL and NBA Business Executive, Keynote Speaker, Host and Author of The Power of Playing Offense. Paul is an expert in leadership and organizational culture with nearly fifteen years of experience as a professional sports executive for multiple NFL and NBA teams, a global sports agency, and the NFL league office—leading and coaching business teams, most recently with the San Francisco 49ers. It was there that Paul had a life-changing transformation—he found his 'Why'—to inspire purpose in others so they can play offense in life. As Founder of Purpose Labs, Paul is on a mission to impact millions of lives by sharing his message of Playing Offense as an author, keynote speaker, business coach, and leadership trainer. He is on the show to talk about leadership and the culture of being successful. Please welcome to Money Making Conversations Paul Epstein.
The Money Making Conversations talk show is about entrepreneurship and entertainment. The interviews give the consumer and business owners access to Celebrities, CEOs, Entrepreneurs, and Industry Decision Makers. They provide relatable information to the listener about career and financial planning, entrepreneurship, motivation, leadership, overcoming the odds, and how to live a balanced life. Listen to Money Making Conversations on Apple Podcasts, iHeartRadio, Stitcher, Spreaker, Spotify, Castbox, and more.
Rushion McDonald is a two-time Emmy Award-winning and three-time NAACP Image Award-winning television and film, producer. He is a sitcom writer, social media influencer, brand architect, entrepreneur, and award-winning baker.​
https://www.moneymakingconversations.com
https://www.youtube.com/MoneyMakingConversations
https://www.facebook.com/MoneyMakingConversations/
https://twitter.com/MoneyMakingConv