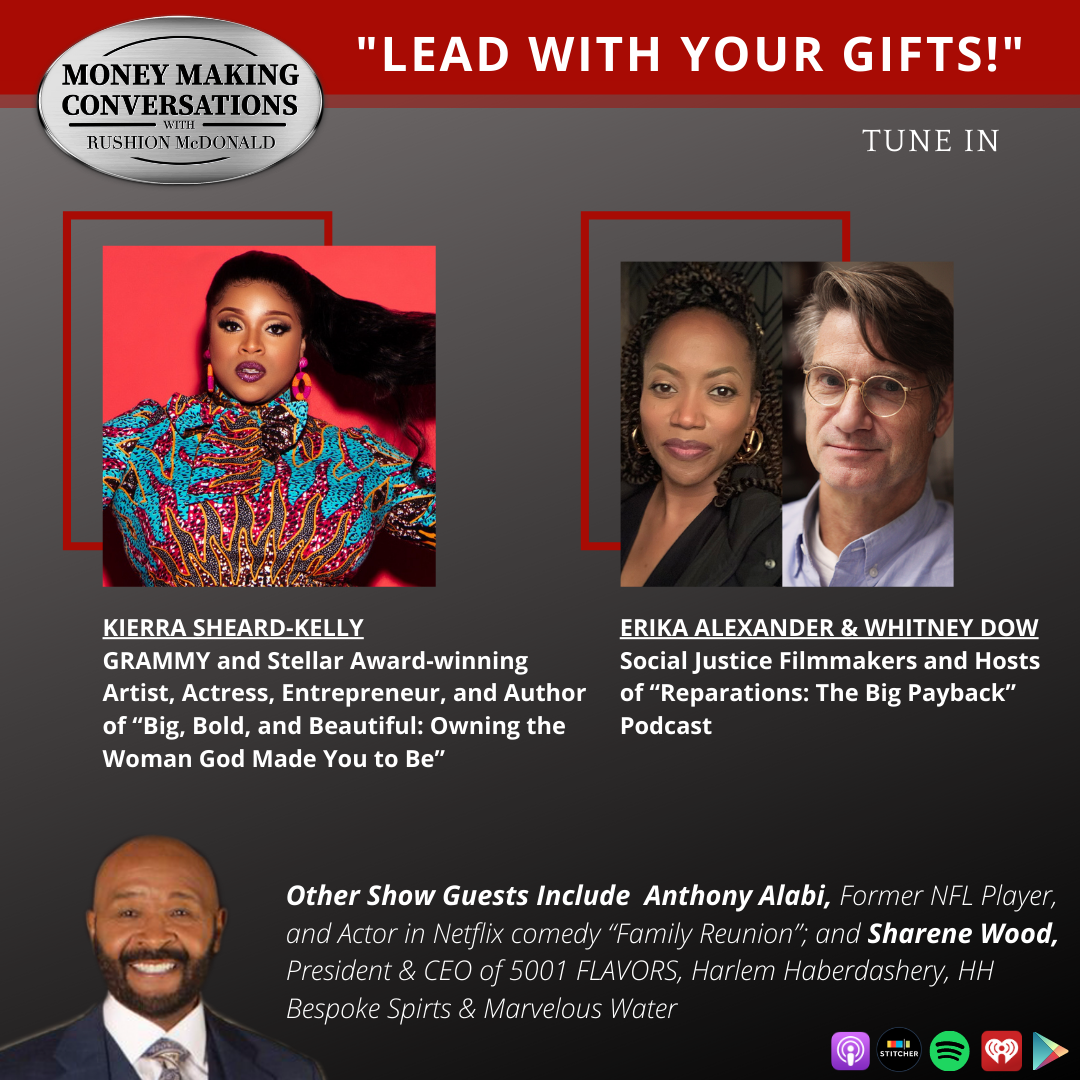 My next guest is Kierra Sheard Kelly. She is a GRAMMY® and Stellar Award-winning Artist, Actress. Her company, Eleven60, is a very successful clothing line for full-figured women, and her new book, Big, Bold, and Beautiful: Owning the Woman God Made You to Be. It is an inspirational memoir book for your mind, body, spirit and if you are an entrepreneur, your business. She portrayed her mother in the Lifetime biopic The Clark Sisters: First Ladies of Gospel. It is Lifetime's highest-rated movie since 2016, and Entrepreneur; Please welcome to Money Making Conversations Kierra Sheard Kelly.
My next guests are Erika Alexander and Whitney Dow. Actress Erika Alexander has teamed up with award-winning filmmaker Whitney Dow for a new podcast that explores the complete picture of reparations with arguments both for and against restitution for Black-American descendants of enslaved people. Let's set the stage for our conversation as we reparations: Erika Alexander is beloved for her iconic acting roles as Living Single, Get Out, and series like Black Lightning. She wears many hats not only as an actress but as a trailblazing activist, entrepreneur, creator, producer, and director — an all-around boss. Whitney Dow, who is White, is an award-winning filmmaker and educator. He has been producing and directing films focused on race and identity for almost two decades and is a partner in Two Tone Productions. His directorial credits include: Two Towns of Jasper, I Sit Where I Want: The Legacy of Brown v. Board of Education, Unfinished Country; and When the Drum is Beating. His producer credits include Freedom Summer; Banished: How Whites Drove Blacks Out of Town in America. His work has been exhibited at dozens of international film festivals and the Smithsonian Institution, among others. Please welcome to Money Making Conversations, the hosts of Reparations, The Big Payback, Erika Alexander, and Whitney Dow.
My next guest is Anthony Alabi. He is an actor, writer, and former NFL player with the Miami Dolphins and Kansas City Chiefs. Talks about overcoming casting stereotypes. Anthony co-stars in a new Netflix sitcom called "Family Reunion. He also discusses how the cast connects with the all-black writer's room. He left the NFL in 2010 and moved to Los Angeles to pursue his true passion, acting. His other credits include recurring roles on Showtime's "Shameless," Disney's "Raven's Home," CBS "NCIS," ABC "Modern Family," Fox "The Mick," and a supporting role on Netflix feature film "Pee Wee's Big Holiday." Please welcome to Money Making Conversations Anthony Alibi.
My next guest is Sharene Wood. She is the President & CEO of the fashion and lifestyle businesses; 5001 FLAVORS, and Harlem Haberdashery, talks about expanding their business into HH Bespoke Spirits & Marvelous Water. They create transferable wealth and legacy through serial entrepreneurship. Sharene has been featured in various media outlets: CafeMom.com, CBS Pulse.com, New York Daily News, Ebony.com, Essence.com, Good Morning America, HuffingtonPost.com, MadameNoire.com, MSNBC.com, New York Amsterdam News, The New York Times and numerous other press outlets. Please welcome to Money Making Conversations Sharene Wood.
​The Money Making Conversations talk show is about entrepreneurship and entertainment. The interviews give the consumer and business owners access to Celebrities, CEOs, Entrepreneurs, and Industry Decision Makers. They provide relatable information to the listener about career and financial planning, entrepreneurship, motivation, leadership, overcoming the odds, and how to live a balanced life. Listen to Money Making Conversations on Apple Podcasts, iHeartRadio, Stitcher, Spreaker, Spotify, Castbox, and more.
Rushion McDonald is a two-time Emmy Award-winning and three-time NAACP Image Award-winning television and film, producer. He is a sitcom writer, social media influencer, brand architect, entrepreneur, and award-winning baker.​
https://www.moneymakingconversations.com
https://www.youtube.com/MoneyMakingConversations
https://www.facebook.com/MoneyMakingConversations/
https://twitter.com/MoneyMakingConv