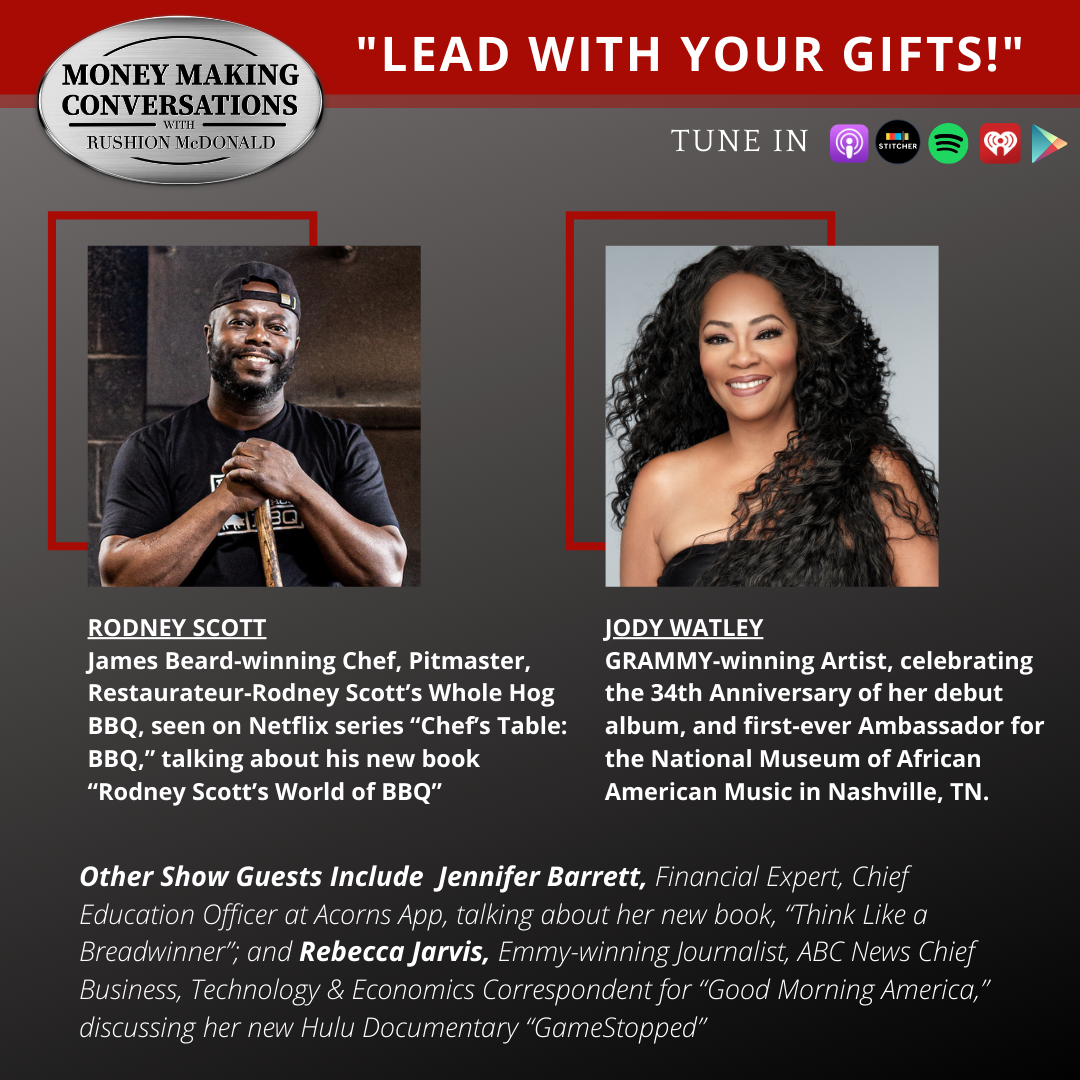 Rodney Scott, I talk about the world of BBQ with James Beard-winning Chef, Pitmaster King, and Restaurateur owner. Rodney is all about Whole Hog BBQ, when seen on Netflix's "Chef's Table: BBQ" and his new book "Rodney Scott's World of BBQ."
Jody Watley, I'm getting chatty with GRAMMY-winning Artist who is the first ever Ambassador for the National Museum of African American Music in Nashville, TN., and celebrating the 34thAnniversary of her groundbreaking, self-titled debut album.
Rebecca Jarvis, I explore the stock market world with EMMY-winning Journalist, ABC News Chief Business, Technology & Economics Correspondent and Host of "The Dropout" Podcast; amazing new documentary "GameStopped" airing on Hulu.
Jennifer Barrett is seeking financial independence for all women. She is Chief Education Officer at Acorns App, and talks about her eye-opening new book, "Think Like a Breadwinner."
​The Money Making Conversations talk show is about entrepreneurship and entertainment. The interviews give the consumer and business owners access to Celebrities, CEOs, Entrepreneurs, and Industry Decision Makers. They provide relatable information to the listener about career and financial planning, entrepreneurship, motivation, leadership, overcoming the odds, and how to live a balanced life. Listen to Money Making Conversations on Apple Podcasts, iHeartRadio, Stitcher, Spreaker, Spotify, Castbox, and more.
Rushion McDonald is a two-time Emmy Award-winning and three-time NAACP Image Award-winning television and film, producer. He is a sitcom writer, social media influencer, brand architect, entrepreneur, and award-winning baker.​
https://www.moneymakingconversations.com
https://www.youtube.com/MoneyMakingConversations
https://www.facebook.com/MoneyMakingConversations/
https://twitter.com/MoneyMakingConv