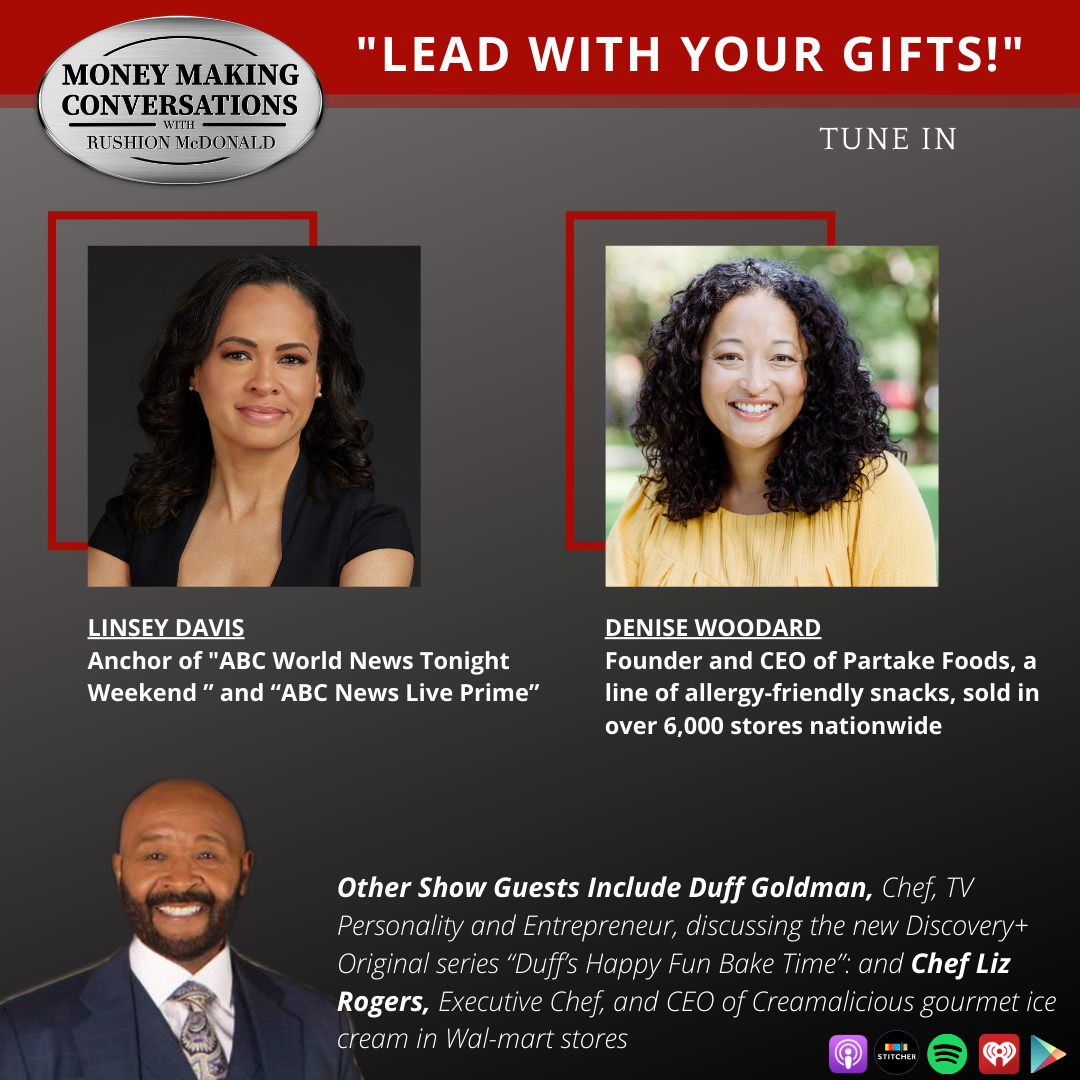 Linsey Davis discusses her meteorite rise to become the Anchor of "ABC Weekend World News Tonight," "ABC News Live Prime," and bestselling author of "The World is Awake," and "One Big Heart."
Denise Woodard talks about launching a new company. She is the Founder and CEO of Partake Foods, a line of allergy-friendly snacks developed because of her daughter's food allergies. She launched the business in 2017, and now Partake is sold in over 6,000 stores nation-wide
Duff Goldman talked about his business that launched his career, "Charm City Cakes" in Baltimore, MD, plus being a TV Personality and his new Discovery+ Original series "Duff's Happy Fun Bake Time."
Liz Rogers and I discussed her being the only African American-owned national ice cream brand in mass production and the responsibilities of an Executive Chef, Founder & CEO of Creamalicious gourmet Ice Cream.
​The Money Making Conversations talk show is about entrepreneurship and entertainment. The interviews give the consumer and business owners access to Celebrities, CEOs, Entrepreneurs, and Industry Decision Makers. They provide relatable information to the listener about career and financial planning, entrepreneurship, motivation, leadership, overcoming the odds, and how to live a balanced life. Listen to Money Making Conversations on Apple Podcasts, iHeartRadio, Stitcher, Spreaker, Spotify, Castbox, and more.
Rushion McDonald is a two-time Emmy Award-winning and three-time NAACP Image Award-winning television and film, producer. He is a sitcom writer, social media influencer, brand architect, entrepreneur, and award-winning baker.​
https://www.moneymakingconversations.com
https://www.youtube.com/MoneyMakingConversations
https://www.facebook.com/MoneyMakingConversations/
https://twitter.com/MoneyMakingConv