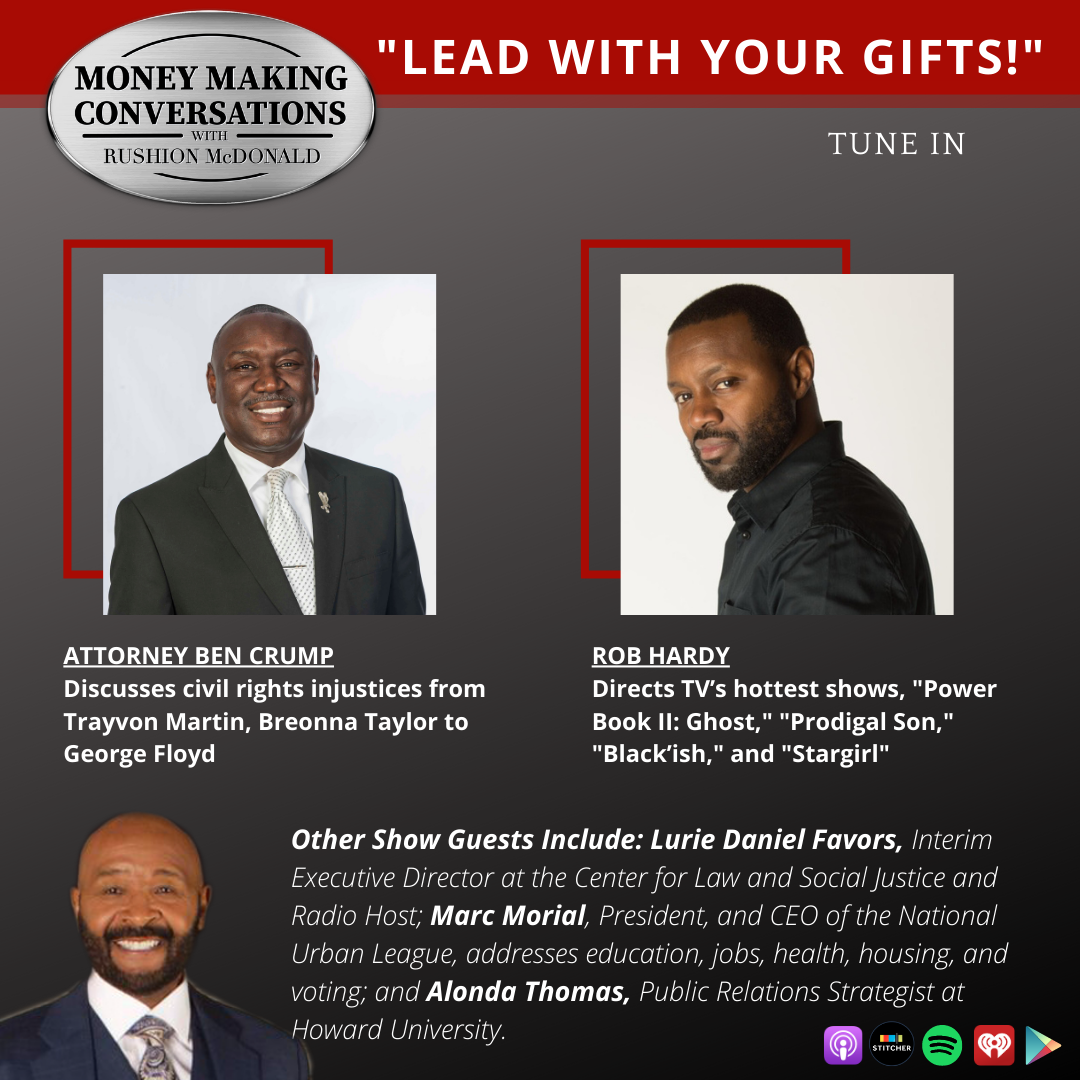 My next guest is Attorney Ben Crump. He is a nationally recognized trial lawyer. I was still managing Steve Harvey, and I saw him on TV representing Trayvon Martin. We met backstage at the Neighborhood Awards, and we have been friends. He had a dream to impact the lives of African Americans in the justice system. Ben's fight for justice has covered many cases. His dedication to helping families receive justice includes Ahmaud Arbery, Martin Lee Anderson, Breonna Taylor, Jacob Blake, George Floyd, and, unfortunately, many more. All these families have turned to Mr. Crump to turn the spotlight of justice on their cases, who speaks on the ongoing racial injustice in our country today. Please welcome to Money Making Conversations Attorney Ben Crump.
My next guest is Rob Hardy. He is a graduate of FAMU! He directs some of TV's hottest shows, including Power Book II: Ghost, 'Power Book III: Raising Kanan, Prodigal Son, Evil, Shameless, Black'ish, Stargirl, How to Get Away with Murder, The Flash and Criminal Minds, among others. Rob Hardy has also Executive Produced many studio movies, including No Good Deed, Think Like a Man, and Stomp the Yard. Plus, his foundation identifies, trains and mentors adult career seekers from diverse backgrounds to pursue lucrative and lasting opportunities in Georgia's film and television workforce. Please welcome to Money Making Conversations Rob Hardy.
My next guest is Marc Morial. He is the CEO of the National Urban League, The Urban League: Empowering Communities. Changing Lives. Five-point empowerment agenda. He is the former Mayor of New Orleans. He was 36 years old when he was first elected Mayor. He has authored a new book, "The Gumbo Coalition: 10 Leadership Lessons that Help You Inspire, Unite, and Achieve", now available wherever books are sold. Please welcome to Money Making Conversations, the leader of The Gumbo Coalition, Marc Morial.
My next guest is Lurie Daniel Favors. She is an activist, author, and attorney with a long-standing commitment to racial and social justice. She currently serves as Interim Executive Director at the Center for Law and Social Justice. Today, there is a lot ongoing from politics, economics to social, civil unrest on both sides. Attorney Favors is on my show to talk about it. Please welcome to Money Making Conversations Lurie Daniel Favors.
My next guest is Alonda Thomas. Alonda Thomas serves as director of public relations at Howard University. Recently named among the 2020 Top Women in PR by PRNEWS. She has worked at three historically black colleges and universities, including her alma mater Florida Agricultural and Mechanical University and her current role at Howard University. Alonda has led the public relations strategy for a variety of clients, including TV One, ABC Network, CNN, Walt Disney Studios and Fox Searchlight. She is a "Top 25 African American PR Millennials to Watch" in the Huffington Post and 2019 Communicator of the Year by the Mid-Atlantic Black Public Relations Society. Please welcome to Money Making Conversations Alonda Thomas.
The Money Making Conversations talk show is about entrepreneurship and entertainment. The interviews give the consumer and business owners access to Celebrities, CEOs, Entrepreneurs, and Industry Decision Makers. They provide relatable information to the listener about career and financial planning, entrepreneurship, motivation, leadership, overcoming the odds, and how to live a balanced life. Listen to Money Making Conversations on Apple Podcasts, iHeartRadio, Stitcher, Spreaker, Spotify, Castbox, and more.
Rushion McDonald is a two-time Emmy Award-winning and three-time NAACP Image Award-winning television and film, producer. He is a sitcom writer, social media influencer, brand architect, entrepreneur, and award-winning baker.​
https://www.moneymakingconversations.com
https://www.youtube.com/MoneyMakingConversations
https://www.facebook.com/MoneyMakingConversations/
https://twitter.com/MoneyMakingConv