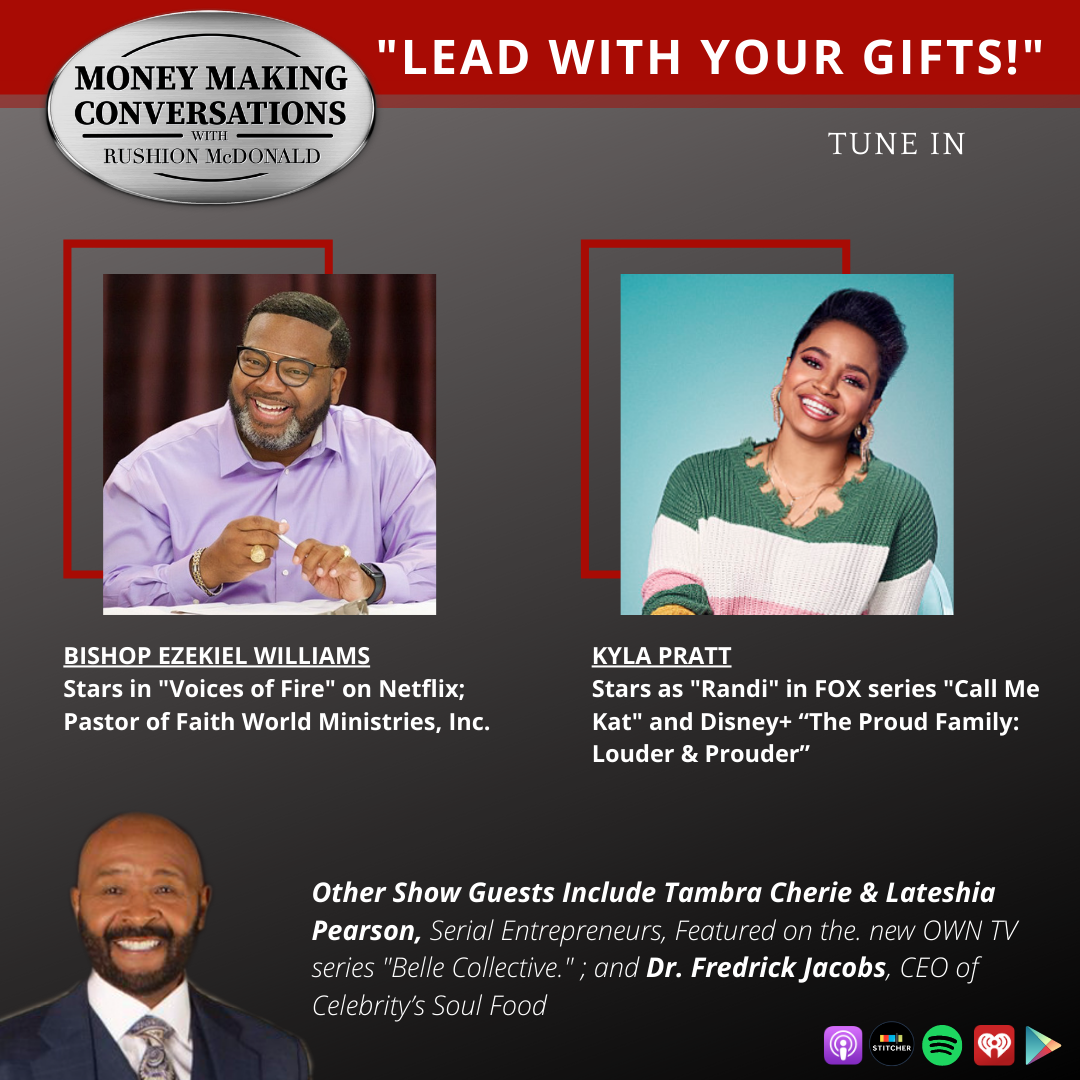 My next guest is Bishop Ezekiel Williams. He is the Pastor and Founder of Faith World Ministries in Norfolk, VA and currently starring in the Netflix docuseries, "Voices of Fire." The six episode series follows singer, rapper, songwriter, record producer Pharrell Williams and Bishop Williams' hometown community as it builds one of the world's most inspiring gospel choirs. Bishop Williams and his core team of influential gospel leaders venture into Hampton Roads to find undiscovered talent. Please welcome to Money Making Conversations the inspiration behind "Voices of Fire," Bishop Ezekiel Williams. 
My next two guests are Tambra Cherie, sounds like TAM-bruh Sha-REE, and Lateshia Pearson, sounds like La-TEESHA PEER-son. They are starring in the new docu-series on the new OWN TV series "Belle Collective." Tambra is the newly single midday diva and on-air radio personality for Jackson's top hip-hop and R&B station and host of the most controversial radio show in the city, "The Relationship Hour." Lateshia Pearson is the CEO of the National Women's Brunch Organization. Her brunches bring powerful women together and help promote self-empowerment, but now she has one goal in mind: to bring the ladies together to revitalize Farish Street, an iconic Black neighborhood in Jackson, Mississippi. Please welcome to Money Making Conversations Tambra Cherie and Lateshia Pearson.
My next guest is Kyla Pratt. Kyla has crafted longevity as an actress since starting her career from a young age, and amassed success in numerous comedies, from TV sitcoms to films. She will be reprising her role in "The Proud Family," in the reboot "The Proud Family: Louder & Prouder" for Disney+. She is currently starring as Randi" in the new FOX series "Call Me Kat." You can catch it every Thursday night on FOX. Please welcome to Money Making Conversations Kyla Pratt.
My next guest is Dr. Fredrick Jacobs. He holds a number of degrees, including a Bachelor's in Business Administration, a Master's in Counseling, and two Doctorate degrees in Theology and Counseling. He is also a pastor. Dr. Fredrick Jacobs is the CEO of Celebrity's Soul Food – "The Fastest Growing Soul Food Chain." The varied menu features local flavors and caters to a diverse crowd, including meat lovers, vegetarians, and vegans. He is putting the restaurant brand on the fast-track for a 200-location rollout goal. Please welcome to Money Making Conversations Dr. Frederick Jacobs.
The Money Making Conversations talk show is about entrepreneurship and entertainment. The interviews give the consumer and business owners access to Celebrities, CEOs, Entrepreneurs, and Industry Decision Makers. They provide relatable information to the listener about career and financial planning, entrepreneurship, motivation, leadership, overcoming the odds, and how to live a balanced life. Listen to Money Making Conversations on Apple Podcasts, iHeartRadio, Stitcher, Spreaker, Spotify, Castbox, and more.
Rushion McDonald is a two-time Emmy Award-winning and three-time NAACP Image Award-winning television and film, producer. He is a sitcom writer, social media influencer, brand architect, entrepreneur, and award-winning baker.​
https://www.moneymakingconversations.com
https://www.youtube.com/MoneyMakingConversations
https://www.facebook.com/MoneyMakingConversations/
https://twitter.com/MoneyMakingConv