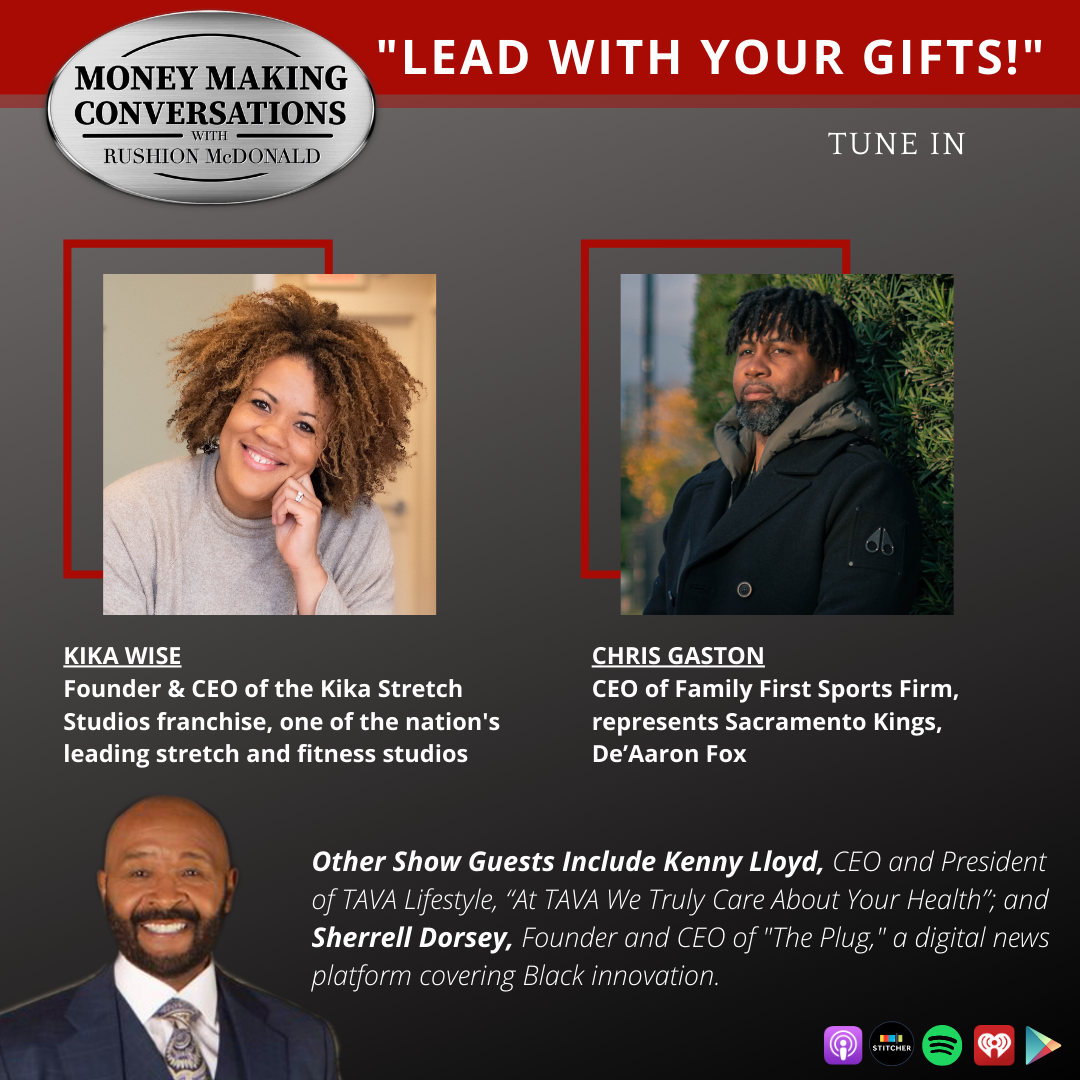 My next guest is Kika Wise. Learn how the assisted gentle stretching process can free your body from pain and stress from the Founder of Kika Stretch Studios. She is a former professional dancer turned entrepreneur, franchisor and wellness educator. Kika Stretch Studios helps clients maintain youth and vitality with designed tension relief that aids in increased flexibility and overall ability. Kika Wise is a businesswoman on a mission to educate millennials and other generations on how to preserve self and pursue franchising.  Please welcome to Money Making Conversations Kika Wise.
My next guest is Chris Gaston. CEO of Family First Sports Firm, represents Sacramento Kings, De'Aaron Fox. Chris Gaston founded Family First Sports Firm with his wife, in 2019. Their agency Family First focuses on empowerment, economic growth, and black excellence. Their agency represents De'Aaron Fox, of the Sacramento Kings. Gaston has signed the largest contract in Sacramento Kings franchise history (5 years/163 million) and secured $4 million for Damyean Dotson in the toughest free agent market in NBA history.  –Gaston made his way in the industry through player development working with many of the top players in the NBA, College, and High School. Please welcome to Money Making Conversations Chris Gaston.
My next guest is Kenny Lloyd. CEO and President of TAVA Lifestyle, "At TAVA We Truly Care About Your Health," a direct sales wellness company. Tava Lifestyle is a global network marketing company offering health and wellness products, including nutritional supplements, energy enhancements, and more. Kenny started Tava Lifestyle with the mission to change lives by helping individuals earn an additional income all while living a healthy and active lifestyle. Please welcome to Money Making Conversations an HBCU grad of Tennessee State University, Kenny Lloyd.
My next guest is Sherrell Dorsey. She is the founder and CEO of The Plug—a digital news and insights platform covering the Black innovation economy. Her work has been featured in VICE, The Washington Post, and more. Sherrell has been a contributing writer for notable publications like Columbia Journalism Review, Fast Company, Black Enterprise, and others. The Plug and WURD have partnered to highlight Black tech and innovation within the Philadelphia community by pooling together their resources to create greater impact through storytelling. Please welcome to Money Making Conversations Sherrell Dorsey.
The Money Making Conversations talk show is about entrepreneurship and entertainment. The interviews give the consumer and business owners access to Celebrities, CEOs, Entrepreneurs, and Industry Decision Makers. They provide relatable information to the listener about career and financial planning, entrepreneurship, motivation, leadership, overcoming the odds, and how to live a balanced life. Listen to Money Making Conversations on Apple Podcasts, iHeartRadio, Stitcher, Spreaker, Spotify, Castbox, and more.
Rushion McDonald is a two-time Emmy Award-winning and three-time NAACP Image Award-winning television and film, producer. He is a sitcom writer, social media influencer, brand architect, entrepreneur, and award-winning baker.​
https://www.moneymakingconversations.com
https://www.youtube.com/MoneyMakingConversations
https://www.facebook.com/MoneyMakingConversations/
https://twitter.com/MoneyMakingConv