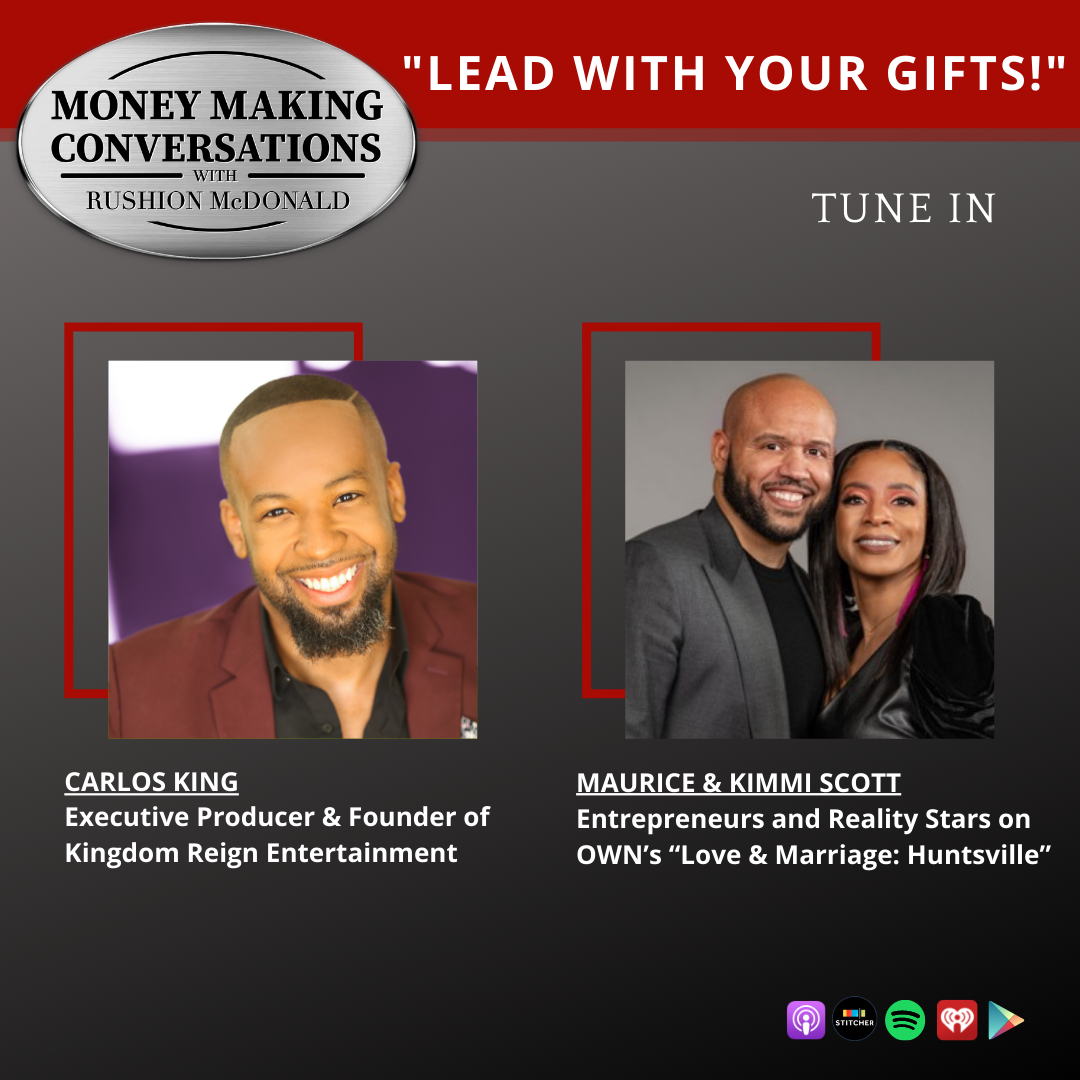 Rushion McDonald talks to Carlos King, known as the King of Reality TV.  He has produced eight seasons of the Real Housewives of Atlanta, and Season 25: Oprah Behind the Scenes. Created shows such as Styling Hollywood (Netflix) Love & Marriage: Huntsville (OWN) and Hollywood Divas (TV One); just to name a few. Carlos recently inked a first look deal with OWN, where he will develop original unscripted series for the network.
Rushion McDonald talks to Kimmi & Maurice Scott co-stars of OWN's "Love and Marriage: Huntsville.  They are a part of OWN's real drama weekend. Kimmi Scott is an entrepreneur, real estate agent, a registered nurse by trade who received both her undergraduate and graduate degrees from the University of Alabama in Huntsville, and a member of Delta Sigma Theta. Maurice Scott is a consumer law attorney, real estate investor, entrepreneur. He has the law firm United Legal. He is the owner of Credit 1 USA.
The Money Making Conversations talk show is about entrepreneurship and entertainment. The interviews give the consumer and business owners access to Celebrities, CEOs, Entrepreneurs, and Industry Decision Makers. They provide relatable information to the listener about career and financial planning, entrepreneurship, motivation, leadership, overcoming the odds, and how to live a balanced life. Listen to Money Making Conversations on Apple Podcasts, iHeartRadio, Stitcher, Spreaker, Spotify, Castbox, and more.
Rushion McDonald is a two-time Emmy Award-winning and three-time NAACP Image Award-winning television and film, producer. He is a sitcom writer, social media influencer, brand architect, entrepreneur, and award-winning baker.​
https://www.moneymakingconversations.com
https://www.youtube.com/MoneyMakingConversations
https://www.facebook.com/MoneyMakingConversations/
https://twitter.com/MoneyMakingConv