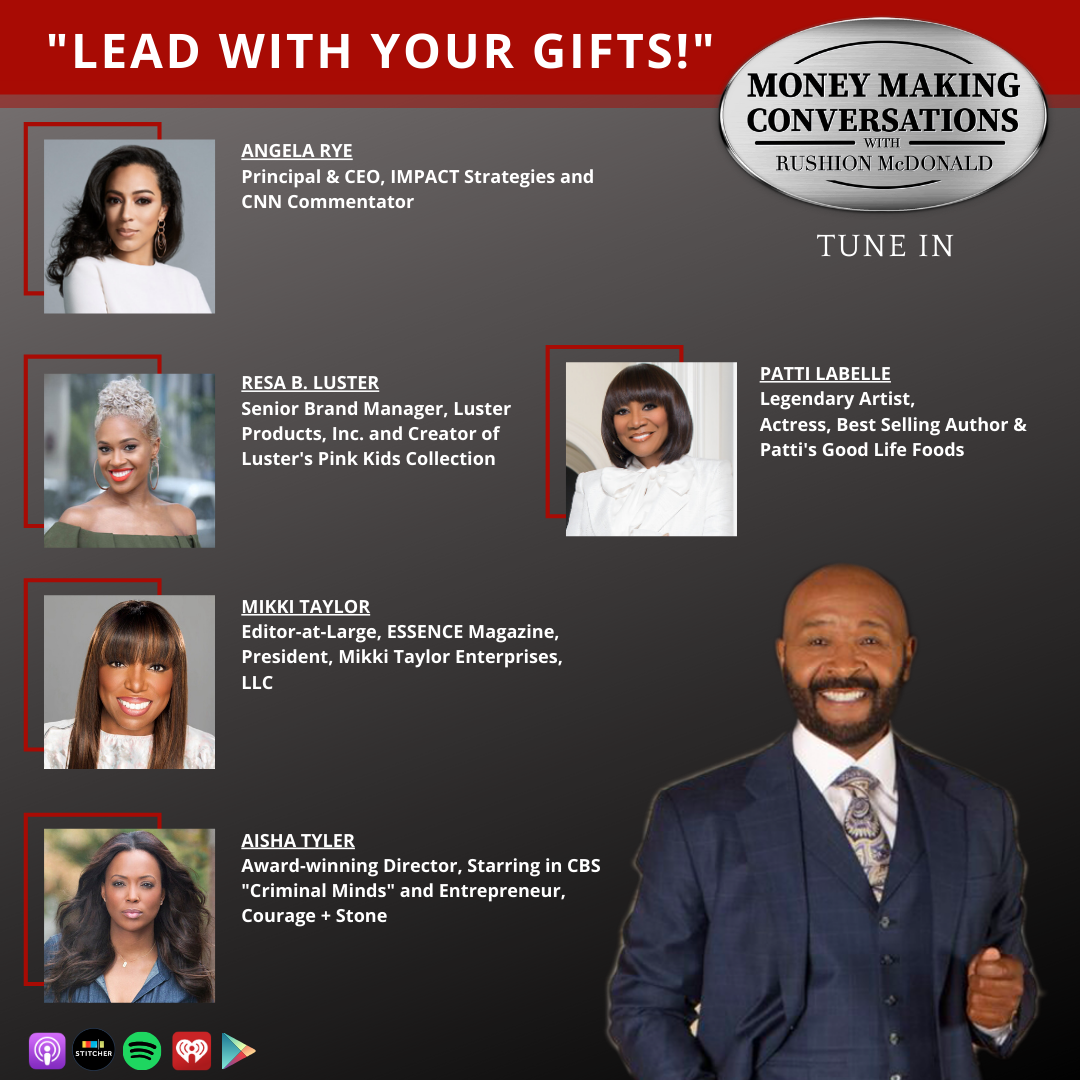 Rushion welcomes Angela Rye, Principal & CEO, IMPACT Strategies and Political Commentator; Resa B. Luster, Senior Brand Manager, Luster Products, Inc., and Creator of Luster's Pink Kids Collection; Patti LaBelle, Legendary Artist, Actress, Best Selling Author & Entrepreneur; Mikki Taylor, Editor-at-Large, ESSENCE Magazine, President, Mikki Taylor Enterprises, LLC.; and Aisha Tyler, Award-winning Director, Starring in CBS "Criminal Minds" and Entrepreneur, Courage + Stone.
Angela Rye is on the show to talk about her On1 with Angela Podcast, Black Women being the democrat's most reliable voting bloc, her Freedom casual clothing line, and her brand. Please welcome to Money Making Conversations Angela Rye.
Resa B Luster My next guest is the Senior Brand Manager at Luster Products, Inc., where she leads the Luster's Pink brand. Luster Products, Inc. is the leading African-American owned manufacturer of premium personal care products servicing people worldwide. Please welcome to Money Making Conversations Resa B Luster.
Patti LaBelle has recently began sharing some of her personal recipes on Instagram which I share on my @rushionmcdonald Facebook. We will be discussing her successful food line in Walmart stores. Please welcome to Money Making Conversations GRAMMY award winning artist, actress, entrepreneur and founder of Patti's Good Life, Patti Labelle.
Mikki Taylor is the Editor-at-Large for ESSENCE Magazine, a monthly lifestyle magazine covering fashion, beauty, entertainment, and culture and President of Mikki Taylor Enterprises, L.L.C., a strategic branding, consulting, and communications company. Please welcome to Money Making Conversations, Mikki Taylor.
Aisha Tyler is a cocktail aficionado. She loved having a great drink at the end of the day but didn't always want to have to get behind her home bar to mix and muddle. She started to batch cocktails and keep them in the fridge, and a business idea was born. Courage + Stone™ is a line of 80-proof ready-to-drink craft cocktails of the highest quality, carefully mixed with premium American-made ingredients in Brooklyn, NY to taste perfect, right from the bottle, every time. No mixing, no measuring, no recipes, no mess – just a perfectly balanced cocktail you can enjoy anywhere, anytime. Please welcome to Money Making Conversations Aisha Tyler.
The Money Making Conversations talk show is about entrepreneurship and entertainment. The interviews give the consumer and business owners access to Celebrities, CEOs, Entrepreneurs, and Industry Decision Makers. They provide relatable information to the listener about career and financial planning, entrepreneurship, motivation, leadership, overcoming the odds, and how to live a balanced life. Listen to Money Making Conversations on Apple Podcasts, iHeartRadio, Stitcher, Spreaker, Spotify, Castbox, and more.
Rushion McDonald is a two-time Emmy Award-winning and three-time NAACP Image Award-winning television and film, producer. He is a sitcom writer, social media influencer, brand architect, entrepreneur, and award-winning baker.​
https://www.moneymakingconversations.com
https://www.youtube.com/MoneyMakingConversations
https://www.facebook.com/MoneyMakingConversations/
https://twitter.com/MoneyMakingConv