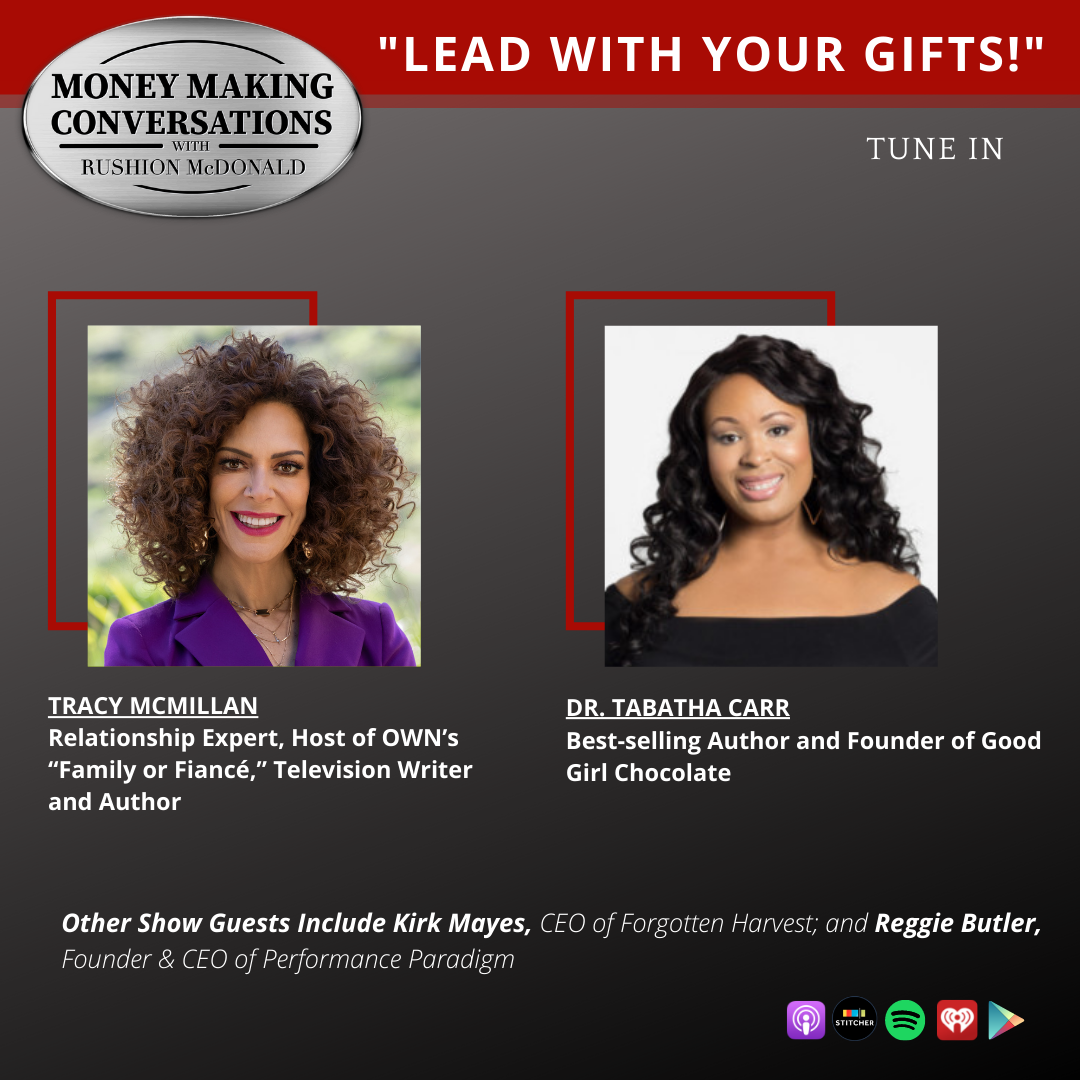 Rushion McDonald talks to Tracy McMillan, a Relationship Expert, Television Writer, and host of OWN's Family or Fiance — One Engaged Couple|Two families who object|Three Days under one roof | And a wedding on a line | Will they earn their families blessing | Or be forced to choose? | Family or Fiance.
Dr. Tabatha Carr, a leading authority in women's health and wellness. She is the founder of the vegan-based Good Girl Chocolate.
Kirk Mayes, CEO of Forgotten Harvest, one of Michigan's top non-profit organizations and one of the Nation's premier food rescue organizations. Forgotten Harvest was formed in 1990 to fight two problems: hunger and waste.
Reggie Butler, CEO of Performance Paradigm. Reginald collaborates with executive leadership teams to develop and execute strategies to change organizational culture, build leadership bench strength and increase human capital effectiveness.
The Money Making Conversations talk show is about entrepreneurship and entertainment. The interviews give the consumer and business owners access to Celebrities, CEOs, Entrepreneurs, and Industry Decision Makers. They provide relatable information to the listener about career and financial planning, entrepreneurship, motivation, leadership, overcoming the odds, and how to live a balanced life. Listen to Money Making Conversations on Apple Podcasts, iHeartRadio, Stitcher, Spreaker, Spotify, Castbox, and more.
Rushion McDonald is a two-time Emmy Award-winning and three-time NAACP Image Award-winning television and film, producer. He is a sitcom writer, social media influencer, brand architect, entrepreneur, and award-winning baker.​
https://www.moneymakingconversations.com
https://www.youtube.com/MoneyMakingConversations
https://www.facebook.com/MoneyMakingConversations/
https://twitter.com/MoneyMakingConv