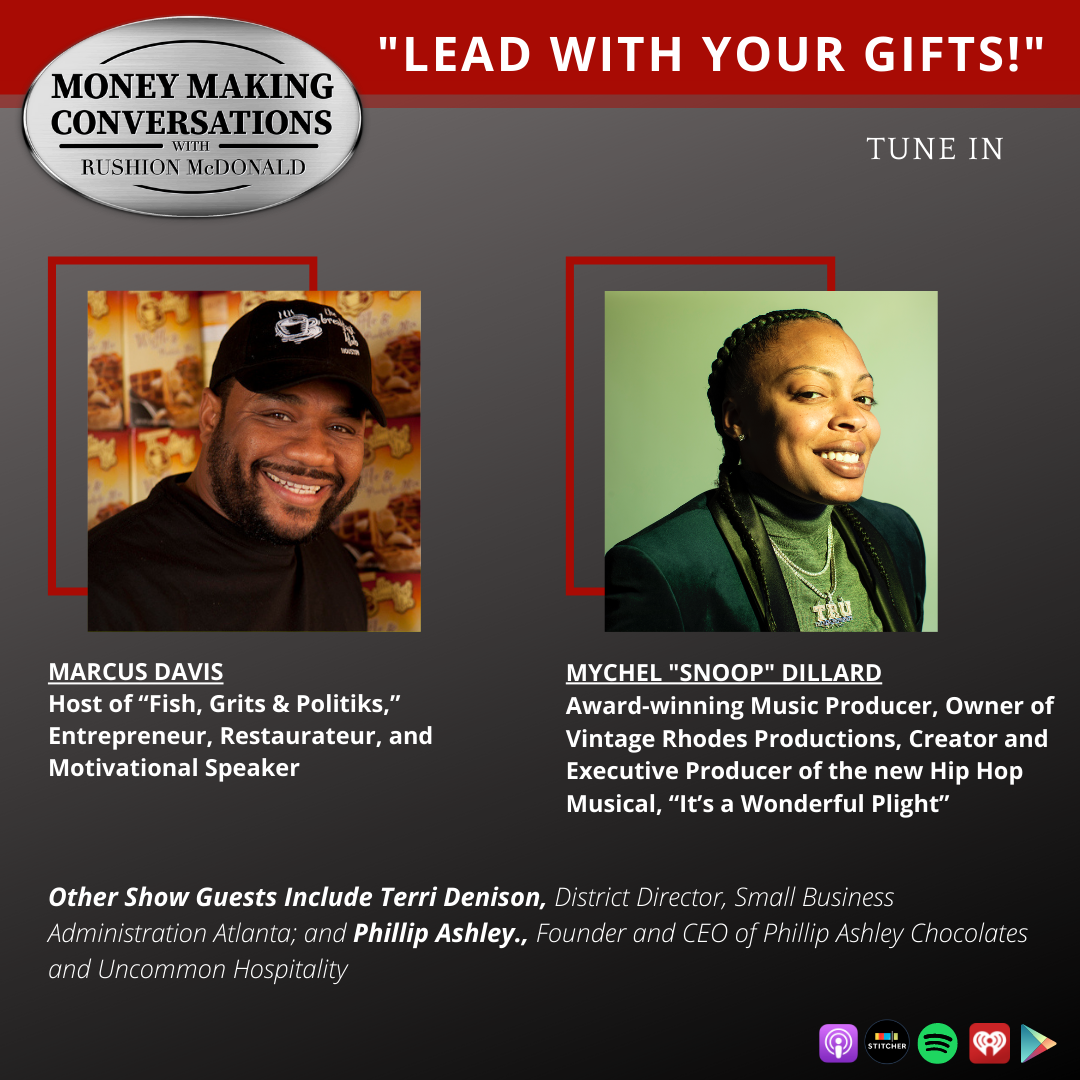 Rushion McDonald talks to Marcus Davis- Host of "Fish, Grits & Politiks," located in Houston, is the entrepreneurial mastermind behind "The Breakfast Klub," "Reggae Hut," "Alley Kat Bar & Lounge," and "Kulture."
Rushion McDonald talks to Mychel "Snoop" Dillard, Owner of Dillard Hospitality Group, an Atlanta based hospitality company with 5 restaurants, 3 salon suites, A charity organization, 2 tourism and travel agencies, real estate investments and a business consulting agency.
Rushion McDonald talks to Terri Denison, District Director, Small Business Administration Georgia District. The SBA provides counseling, capital, and contracting expertise as the nation's only go-to resource and voice for small businesses.
Rushion McDonald talks to Phillip Ashley, Founder of Phillip Ashley Chocolates, in February 2020, finalist on Food Network's Chopped Sweets and the brand was selected to Oprah's Favorite Things list in November 2020.
​The Money Making Conversations talk show is about entrepreneurship and entertainment. The interviews give the consumer and business owners access to Celebrities, CEOs, Entrepreneurs, and Industry Decision Makers. They provide relatable information to the listener about career and financial planning, entrepreneurship, motivation, leadership, overcoming the odds, and how to live a balanced life. Listen to Money Making Conversations on Apple Podcasts, iHeartRadio, Stitcher, Spreaker, Spotify, Castbox, and more.
Rushion McDonald is a two-time Emmy Award-winning and three-time NAACP Image Award-winning television and film, producer. He is a sitcom writer, social media influencer, brand architect, entrepreneur, and award-winning baker.​
https://www.moneymakingconversations.com
https://www.youtube.com/MoneyMakingConversations
https://www.facebook.com/MoneyMakingConversations/
https://twitter.com/MoneyMakingConv