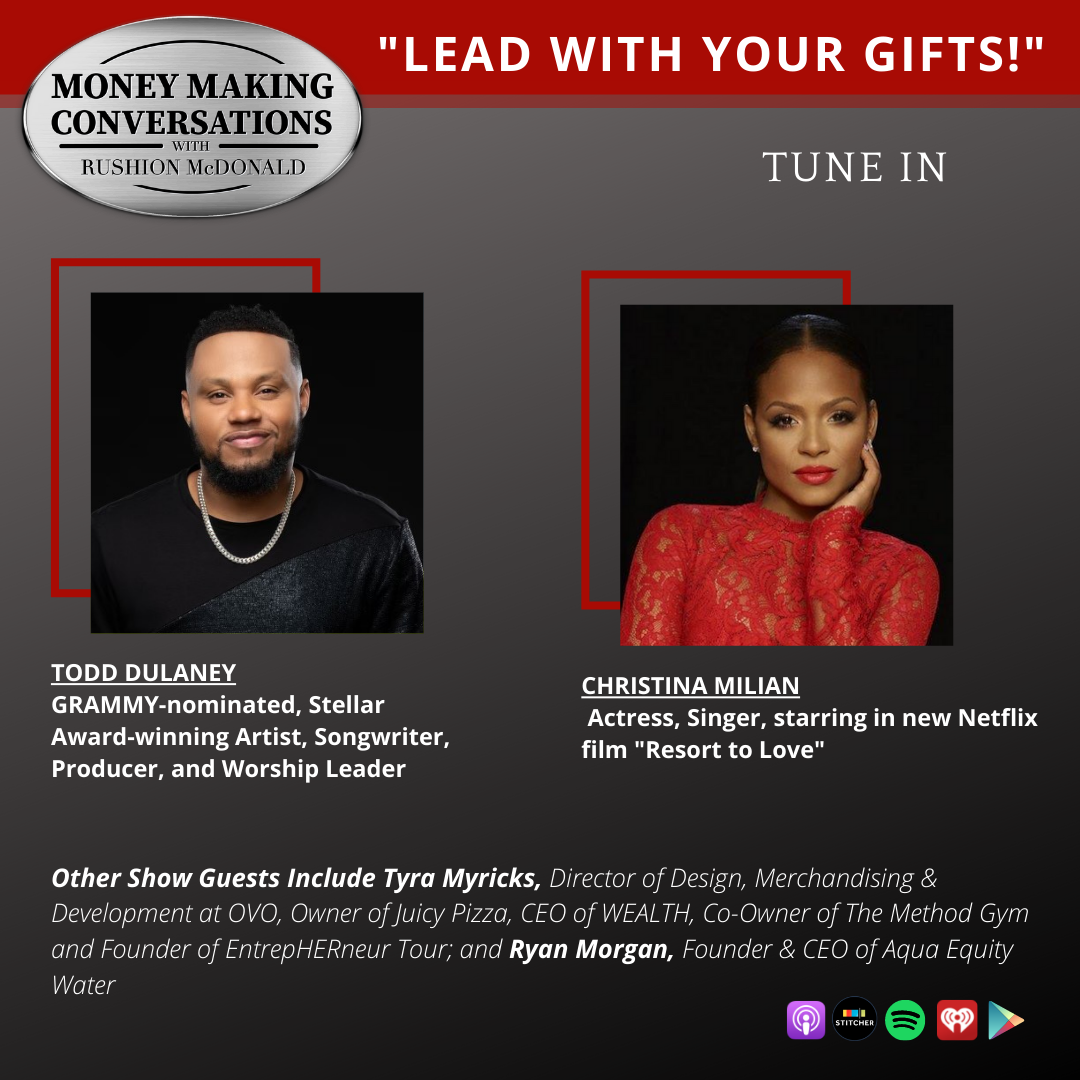 Rushion McDonald talks to Todd Dulaney; a former minor baseball player turned GRAMMY-nominated, Stellar Award-winning gospel Artist, Songwriter, Producer, and Worship Leader.
Rushion McDonald talks to Christina Milian, recently seen in two popular film projects on Netflix, the hit romantic comedy movie "Falling Inn Love" and the musical drama series "Soundtrack." In the new movie "Resort To Love," Christina Milian plays an aspiring singer, Erica, on a journey to find herself in paradise.
Rushion McDonald talks to Tyra Myricks, Jam Master Jay's daughter who didn't let her youth stop her dreams, Director of Design, Merchandising & Development at OVO (a lifestyle brand selling high-end streetwear), and Entrepreneur.
Rushion McDonald talks to Ryan Morgan; despite being incarcerated for a bank robbery at 19 years old, he used his education and athleticism to become Founder and CEO of Aqua Equity Water.
The Money Making Conversations talk show is about entrepreneurship and entertainment. The interviews give the consumer and business owners access to Celebrities, CEOs, Entrepreneurs, and Industry Decision Makers. They provide relatable information to the listener about career and financial planning, entrepreneurship, motivation, leadership, overcoming the odds, and how to live a balanced life. Listen to Money Making Conversations on Apple Podcasts, iHeartRadio, Stitcher, Spreaker, Spotify, Castbox, and more.
Rushion McDonald is a two-time Emmy Award-winning and three-time NAACP Image Award-winning television and film, producer. He is a sitcom writer, social media influencer, brand architect, entrepreneur, and award-winning baker.​
https://www.moneymakingconversations.com
https://www.youtube.com/MoneyMakingConversations
https://www.facebook.com/MoneyMakingConversations/
https://twitter.com/MoneyMakingConv