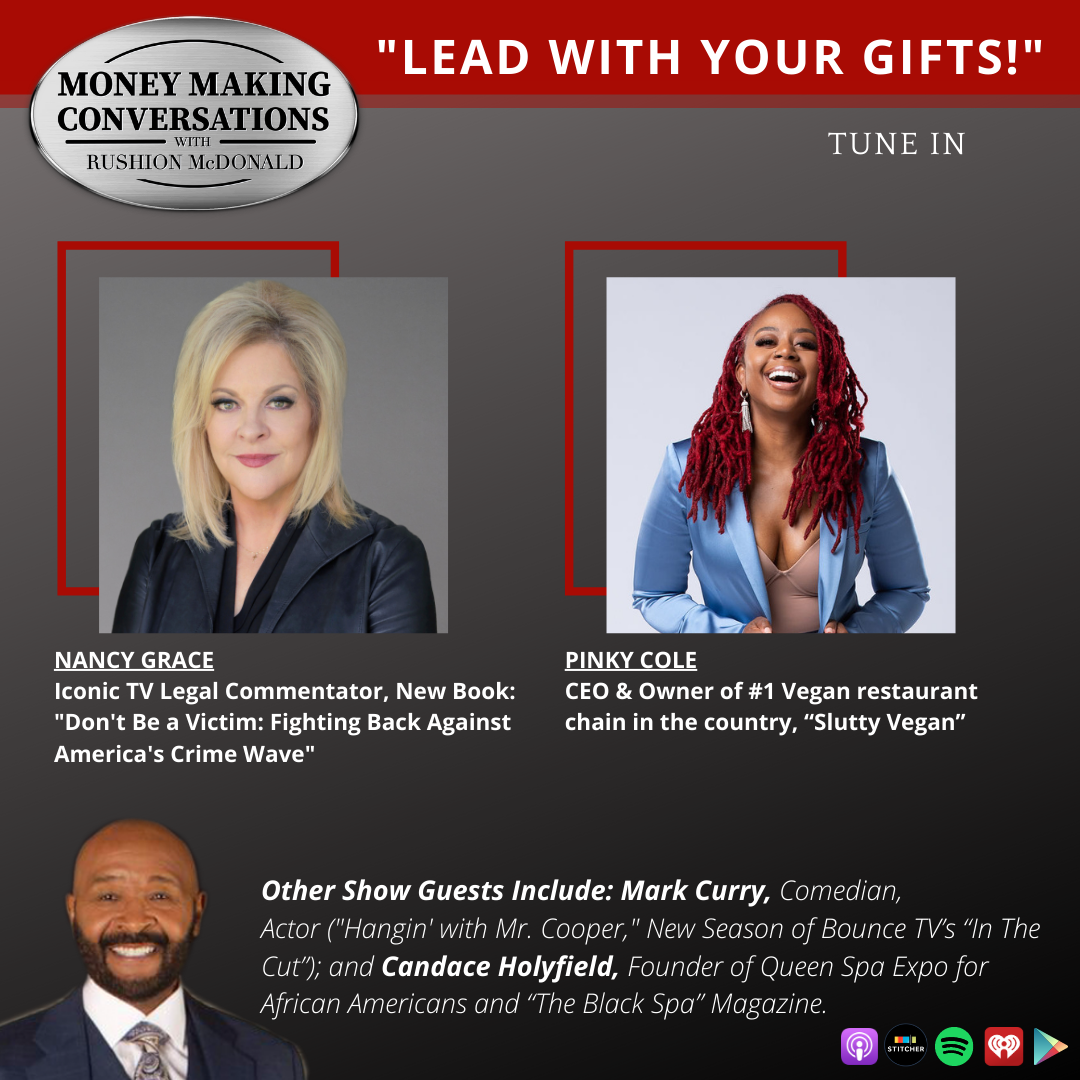 ​
Rushion welcomes Nancy Grace – Iconic Legal Commentator, New Book: "Don't Be a Victim"; Mark Curry – co-stars in Bounce TV's "In The Cut"; Pinky Cole – Owner of "Slutty Vegan" of Atlanta; and Candace Holyfield – Founder of Queen Spa Expo.
My next guest is Nancy Grace. She's an award-winning legal journalist, victims-rights advocate, and New York Times bestselling author of four books, including Objection!, The Eleventh Victim, Death on the D-List, and Murder in the Courthouse. Nancy headlines Oxygen's Injustice with Nancy Grace, hosts the daily Crime Stories with Nancy Grace on SIRIUSXM, and appears regularly on ABC's 20/20 and Nightline, as well as on Daily Mail TV. She is founder and publisher of CrimeOnline.com, a digital platform that investigates breaking crime news, highlights missing people, and helps solve unsolved homicides. Please welcome to Money Making Conversations Nancy Grace.
My next guest is Mark Curry. He is an actor, comedian, and host, best known for playing 'Mark Cooper' in the hit ABC sitcom, HANGIN' WITH MR. COOPER. With a background in stand-up comedy, Mark tours worldwide, selling out comedy clubs and theaters with his lively energy and natural stage presence. His stand-up can also be seen on the HBO special, ONE NIGHT STAND, COMEDY CENTRAL PRESENTS, and HBO's DEF COMEDY JAM. In addition to his live comedy performances, Mark is also a seasoned actor in both the comedy and drama spaces, having appeared in MARTIN for FOX, THE JAMIE FOXX SHOW, Tyler Perry's HOUSE OF PAYNE, INSTANT MOM for Nickelodeon, BLACK JESUS, and the ABC Family drama, THE SECRET LIFE OF THE AMERICAN TEENAGER, alongside Shailene Woodley. Please welcome to Money Making Conversations Mark Curry.
My next guest is Pinky Cole. Bringing vegan options and food awareness to Atlanta has always been a life dream of Cole, Founder and CEO of Slutty Vegan. Opening the conversation on vegan food options for people who have never considered them in communities that have such high numbers in hypertension, cholesterol, obesity, and a host of other food-borne ailments, is momentous. At Slutty Vegan we combine superb taste with plant-based ingredients so you can remain vegan and get a little naughty. Please welcome to Money Making Conversations Pinky Cole.
My next guest is Candace Holyfield. Affectionately known as "The Six Figure Spa Chick", Holyfield is the founder and the creative mind behind the Queen Spa Expo (specifically created for minority spa professionals) and The Black Spa Magazine. She is best known for her Award-Winning spa parties and her business instructional classes designed to empower millennial business owners. She has written over 30 e-books (for spa professionals) and has been invited to speak on main-stages internationally. A trailblazer in her own right, Holyfield has assisted over 500 spa owners not only launch their salon but create a six-figure income while doing so. Her work in the industry has not gone unnoticed. Please welcome to Money Making Conversations Candace Holyfield.
​The Money Making Conversations talk show is about entrepreneurship and entertainment. The interviews give the consumer and business owners access to Celebrities, CEOs, Entrepreneurs, and Industry Decision Makers. They provide relatable information to the listener about career and financial planning, entrepreneurship, motivation, leadership, overcoming the odds, and how to live a balanced life. Listen to Money Making Conversations on Apple Podcasts, iHeartRadio, Stitcher, Spreaker, Spotify, Castbox, and more.
Rushion McDonald is a two-time Emmy Award-winning and three-time NAACP Image Award-winning television and film, producer. He is a sitcom writer, social media influencer, brand architect, entrepreneur, and award-winning baker.​
https://www.moneymakingconversations.com
https://www.youtube.com/MoneyMakingConversations
https://www.facebook.com/MoneyMakingConversations/
https://twitter.com/MoneyMakingConv