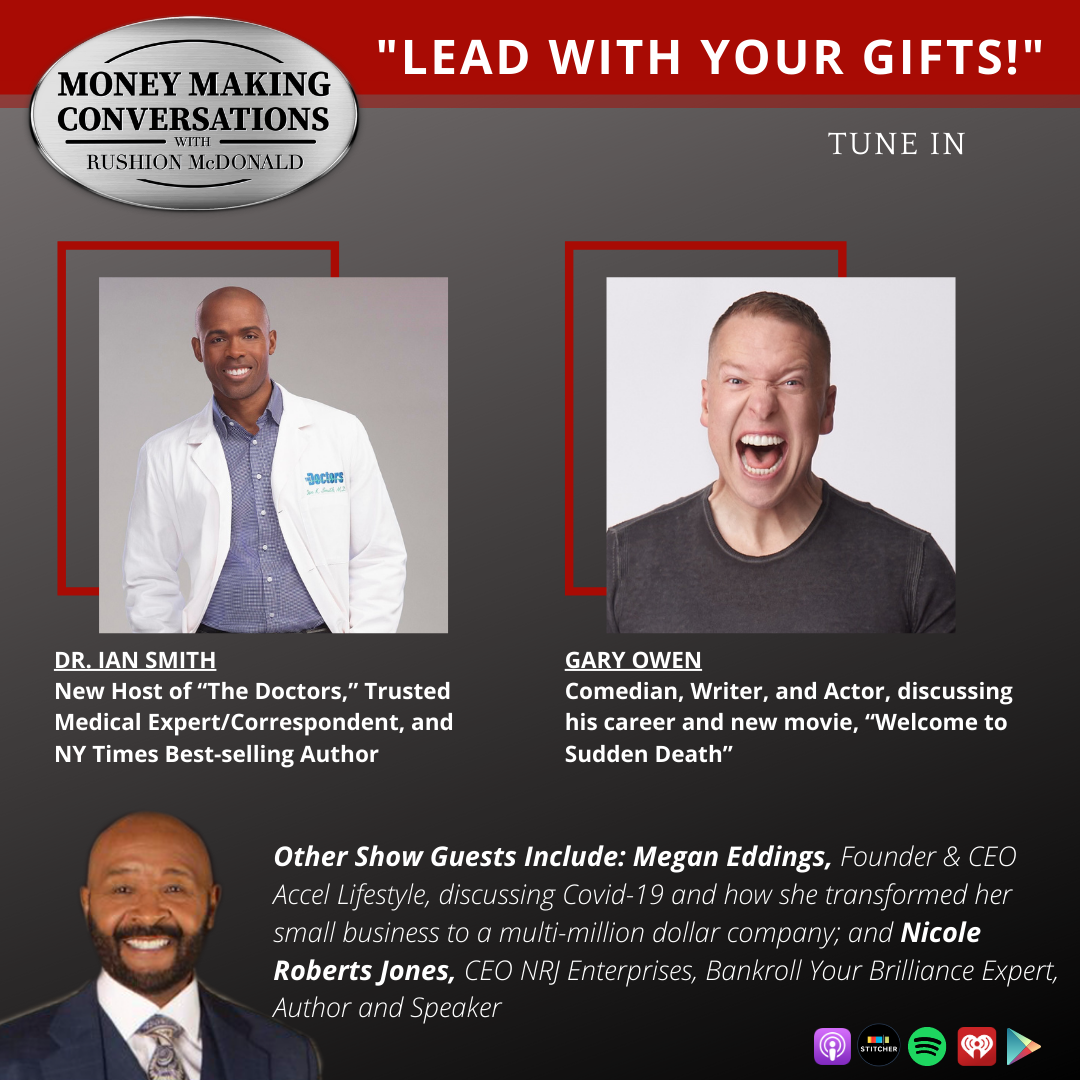 Rushion welcomes Dr. Ian Smith- Host of "The Doctors," Trusted Medical Expert/Correspondent, and NY Times Best-selling Author; Gary Owen- Comedian, Writer, and Actor, discussing a new movie, "Welcome to Sudden Death"; Megan Eddings- Founder & CEO Accel Lifestyle, discussing Covid-19 and how she transformed her small business to a multi-million dollar company; Nicole Roberts Jones- CEO NRJ Enterprises, Bankroll Your Brilliance Expert, Author, and Speaker
My next guest is Dr. Ian Smith, who is the author of many #1 New York Times bestselling books, SHRED: THE REVOLUTIONARY DIET, SUPER SHRED: The Big Results Diet, BLAST THE SUGAR OUT, The Clean 20, THE ANCIENT NINE, CLEAN & LEAN and eleven other books with millions of copies in print. His newest book—THE UNSPOKEN, the first installment of his Ashe Cayne mystery series, will be released on October 1st, 2020. He is currently the solo host of the nationally-syndicated, Emmy award-winning television show, THE DOCTORS, and a longtime medical contributor to the Emmy award-winning The Rachael Ray Show. Please welcome to Money Making Conversations Dr. Ian Smith.
My next guest is Gary Owen. He is one of the top touring comedians today; he has performed in sold-out comedy clubs and arenas around this country. His big break came in 1997 on BET's stand-up showcase Comic View. As an actor, you have seen him in the "Think Like A Man" movies, Daddy Day Care, Lil Man, and "Ride Along." He is on the show to talk about his comedy career because he is back on tour, his popular Get Some Podcast, and he is starring in a new action thriller movie called "Welcome to Sudden Death" with Michael Jai White. Please welcome to Money Making Conversations Gary Owen.
My next guest never thought she'd become an entrepreneur, but once she had an idea, she put a plan together, set a budget, and "went for it." She never looked back. Megan invented the Prema fabric, which is an anti-bacterial "sweat doesn't smell" fabric. She launched the Accel Lifestyle in August 2019, with men's and women's shirts made out of this proprietary fabric. She always knew there were more applications for the fabric, but she could never have imagined that the pandemic would change Accel Lifestyle from a "small company" in terms of revenue, to 7 digits in months. Her company has sold over 400K face masks during the pandemic. She is on the show to talk about her making the right business decision at the right time, pandemic, or no pandemic. Please welcome to Money Making Conversations, Megan Eddings.
My next guest Nicole Roberts Jones is uniquely gifted at one thing – drawing out what's best in YOU and helping you take your Brilliance to The Bank. A veteran of the entertainment industry, Nicole worked in Talent Management and Casting before shifting her talents to help others Bankroll Their Brilliance. She now works with entrepreneurs to create multiple streams of income from what they already know to build an empire from their expertise. Women are the fastest-growing group of entrepreneurs & the number of businesses owned by black women has grown by a stunning 164% -. according to the Federal Reserve. Please welcome to Money Making Conversations Nicole Roberts Jones.
​The Money Making Conversations talk show is about entrepreneurship and entertainment. The interviews give the consumer and business owners access to Celebrities, CEOs, Entrepreneurs, and Industry Decision Makers. They provide relatable information to the listener about career and financial planning, entrepreneurship, motivation, leadership, overcoming the odds, and how to live a balanced life. Listen to Money Making Conversations on Apple Podcasts, iHeartRadio, Stitcher, Spreaker, Spotify, Castbox, and more.
Rushion McDonald is a two-time Emmy Award-winning and three-time NAACP Image Award-winning television and film, producer. He is a sitcom writer, social media influencer, brand architect, entrepreneur, and award-winning baker.​
https://www.moneymakingconversations.com
https://www.youtube.com/MoneyMakingConversations
https://www.facebook.com/MoneyMakingConversations/
https://twitter.com/MoneyMakingConv