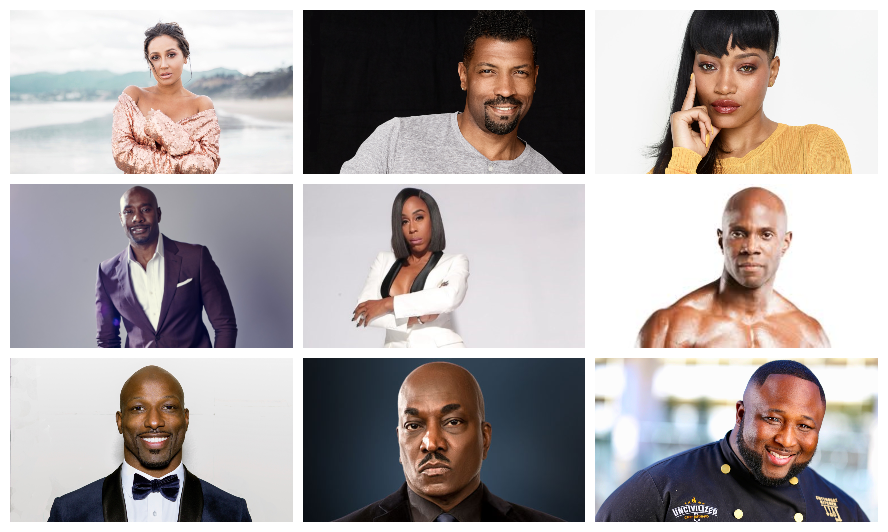 ATLANTA, GA (January 7, 2019) – Get ready for a jump start to success in the new year, as multiple EMMY® winning producer, social media influencer, entrepreneur, and branding guru Rushion McDonald, revs up a winning lineup this January on "Money Making Conversations." Helping listeners to hit new strides in realizing their dreams and achieving balanced work-life goals, McDonald shares an empowering wealth of insights and entertaining conversations from a wide-ranging lineup of entertainers, self-made entrepreneurs, financial, life coaching, fitness experts and more, combined with his business expertise, leadership and signature humor, to fuel mind, body, and soul on the upcoming shows for "Money Making Conversations." "Money Making Conversations" is hosted by Rushion McDonald and produced through his multimedia company 3815 Media. "Money Making Conversations" can be heard live every Monday on Atlanta's biz1190-AM from 10AM-Noon ET, with a replay every Friday 10AM-Noon ET, and every Sunday at 3PM ET. The show can be heard on SiriusXM Channel 141 on Howard University Campus and SiriusXM Channel 142 on HBCU Campuses, and episodes can also be downloaded on iTunes, iHeartRadio podcast, Google Play, Stitcher, SoundCloud, and seen live on the Money Making Conversations Facebook page.
The guests* expected on "Money Making Conversations" in January include: Actor/author Morris Chestnut and Fitness expert/author Obi Obadike (authors of fitness & nutrition best-seller "The Cut"), who kick off a New Year's Resolution Fitness Challenge; Actor, comedian, writer Deon Cole (ABC's "black-ish"/Freeform's "grown-ish"); Adrienne Bailon Houghton, Singer, actress, EMMY® winning TV host of "The Real," and creator of jewelry brand XIXI; Actor, director, producer Clifton Powell (Ray, Misguided Behavior, The CW's "Black Lightning"); Chef Anne Burrell, Food Network Host "Worst Cooks in America"; Chef Jernard Wells, Host of CLEO TV's "New Soul Kitchen," Food Network/Cooking Channel personality and cookbook author; Dianna Williams, Dancer, choreographer, star of Lifetime's reality TV dance show "Bring It!" and author ("Standing in the Shade"); Jason Avant, Former NFL player, owner of Launch Trampoline Park; Latorra Garland, Pastry chef and cookbook author ("Mama's Bread Pudding"); Tiffany "The Budgetnista" Aliche, Award-winning financial empowerment educator and best-selling author; Sarita Pittman, Life coach, and President & CEO of Atiras International Coaching Academy; Charles Stamps, Chairman and CEO of the MLK Parade Foundation; and Kimberly Chapman, Publisher of SHEEN Magazine. "Money Making Conversations" will also have a "Best-Of" show replay on the Martin Luther King Jr. holiday, Monday January 21st.
Renowned as a business and branding creative guru, global dealmaker, and award-winning hit television and film producer, Rushion McDonald has executed multi-million dollar deals across various industries, written and produced for Kevin Hart, Taraji P. Henson, Gabrielle Union, Jamie Foxx, and most notably he is the architect of Steve Harvey's multi-media entertainment career. Through his company 3815 Media, Rushion McDonald continues to be a leading voice for entrepreneurship and entertainment, through multiple platforms including "Money Making Conversations," and "Rushion's Baker Spotlight." An award-winning baker, McDonald has also kicked off a nationwide Best Dessert Recipe search, with a special giveaway contest for his popular "Rushion's Baker Spotlight" feature, to spotlight delicious dessert creations from fans and fellow bakers. Calling for bakers to submit their homemade dessert recipes and photo of their dessert, the submissions period is open now until January 27, 2019 ending at 12 Midnight EST at www.bakerspotlight.com/become-a-featured-baker. A dream contest for anyone who loves to bake, the winning recipe will be chosen on February 1, 2019, with a total of four winners being chosen. The baker winning first place will receive a KitchenAid Stand Mixer, and a signature Rushion McDonald Perfect Bake PRO scale by Perfect Company will be awarded to second, third, and fourth place winners.
*List subject to change
To connect with Rushion McDonald, please visit:
Facebook, Twitter, Instagram: @RushionMcDonald
Contact:                      
W&W Public Relations
Jacinda Chen / Jacinda@w-wpr.com
908-253-6360