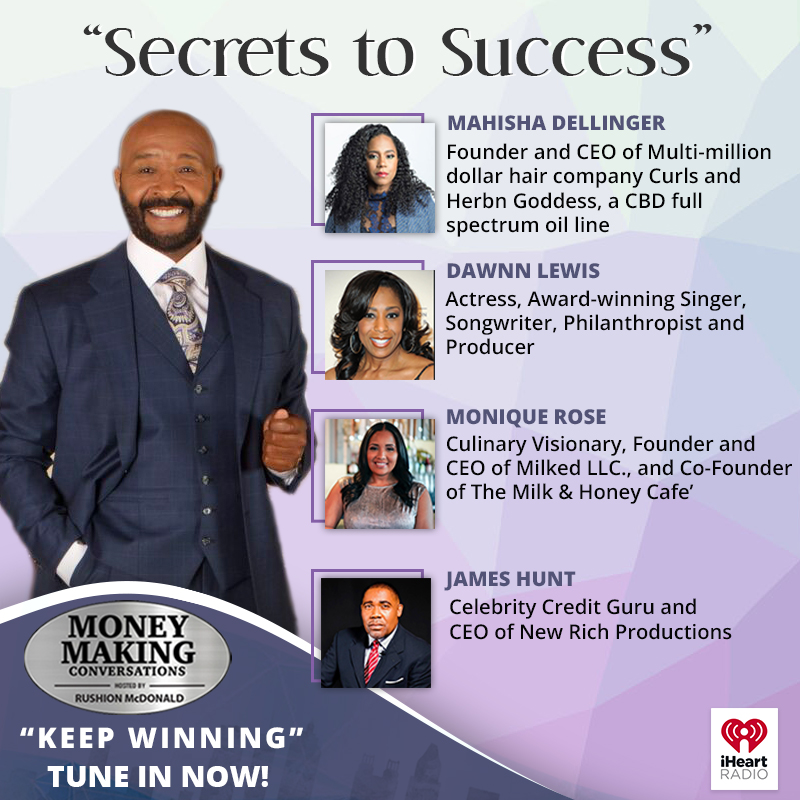 Please welcome Mahisha Dellinger, Founder and CEO of Multi-million dollar hair company Curls and Herbn Goddess, a CBD full spectrum oil line; Dawnn Lewis, Actress, Award-winning Singer, Songwriter, Philanthropist and Producer; Monique Rose, CEO of Milked LLC., and Co-Founder of The Milk & Honey Cafe'; and James Hunt, Celebrity Credit Guru and CEO of New Rich Productions.
​The Money Making Conversations talk show is about entrepreneurship and entertainment. The interviews give the consumer and business owners access to Celebrities, CEOs, Entrepreneurs, and Industry Decision Makers. They provide relatable information to the listener about career and financial planning, entrepreneurship, motivation, leadership, overcoming the odds, and how to live a balanced life. Listen to Money Making Conversations on Apple Podcasts, iHeartRadio, Stitcher, Spreaker, Spotify, Castbox, and more.
Rushion McDonald is a two-time Emmy Award-winning and three-time NAACP Image Award-winning television and film, producer. He is a sitcom writer, social media influencer, brand architect, entrepreneur, and award-winning baker.​
https://www.moneymakingconversations.com
https://www.youtube.com/MoneyMakingConversations
https://www.facebook.com/MoneyMakingConversations/
https://twitter.com/MoneyMakingConv