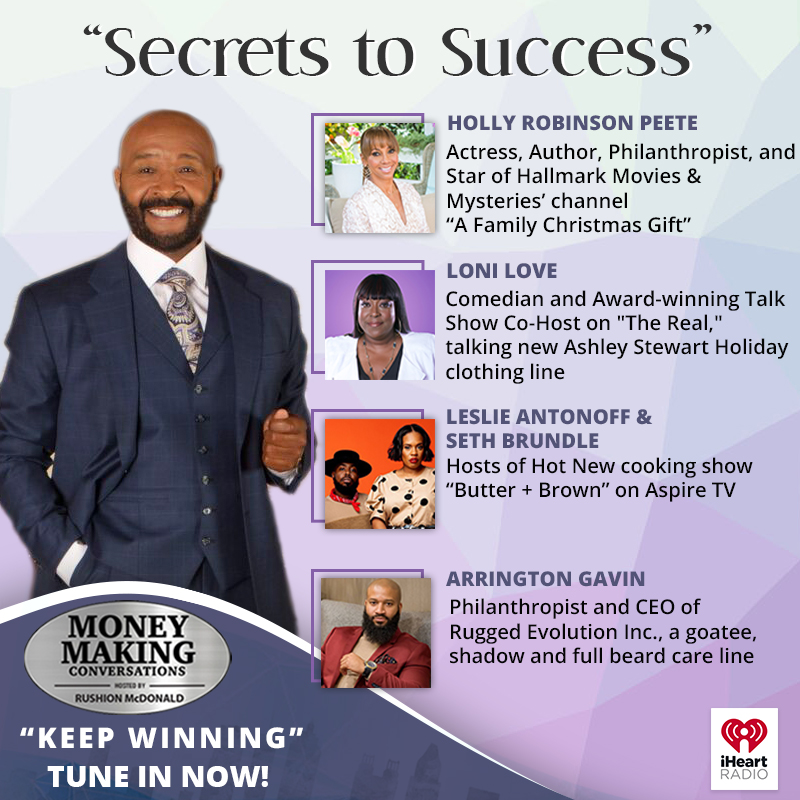 Please welcome Holly Robinson Peete, Actress, Author, Philanthropist, and Star of Hallmark Movies & Mysteries' channel "A Family Christmas Gift"; Loni Love, Comedian and Award-winning Talk Show Co-Host on "The Real," talking new Ashley Stewart Holiday clothing line; Leslie Antonoff & Seth Brundle, Hosts of Hot New cooking show "Butter + Brown" on Aspire TV; and Arrington Gavin, Philanthropist and CEO of Rugged Evolution Inc., a goatee, shadow and full beard care line.
The Money Making Conversations talk show is about entrepreneurship and entertainment. The interviews give the consumer and business owners access to Celebrities, CEOs, Entrepreneurs, and Industry Decision Makers. They provide relatable information to the listener about career and financial planning, entrepreneurship, motivation, leadership, overcoming the odds, and how to live a balanced life. Listen to Money Making Conversations on Apple Podcasts, iHeartRadio, Stitcher, Spreaker, Spotify, Castbox, and more.
Rushion McDonald is a two-time Emmy Award-winning and three-time NAACP Image Award-winning television and film, producer. He is a sitcom writer, social media influencer, brand architect, entrepreneur, and award-winning baker.​
https://www.moneymakingconversations.com
https://www.youtube.com/MoneyMakingConversations
https://www.facebook.com/MoneyMakingConversations/
https://twitter.com/MoneyMakingConv