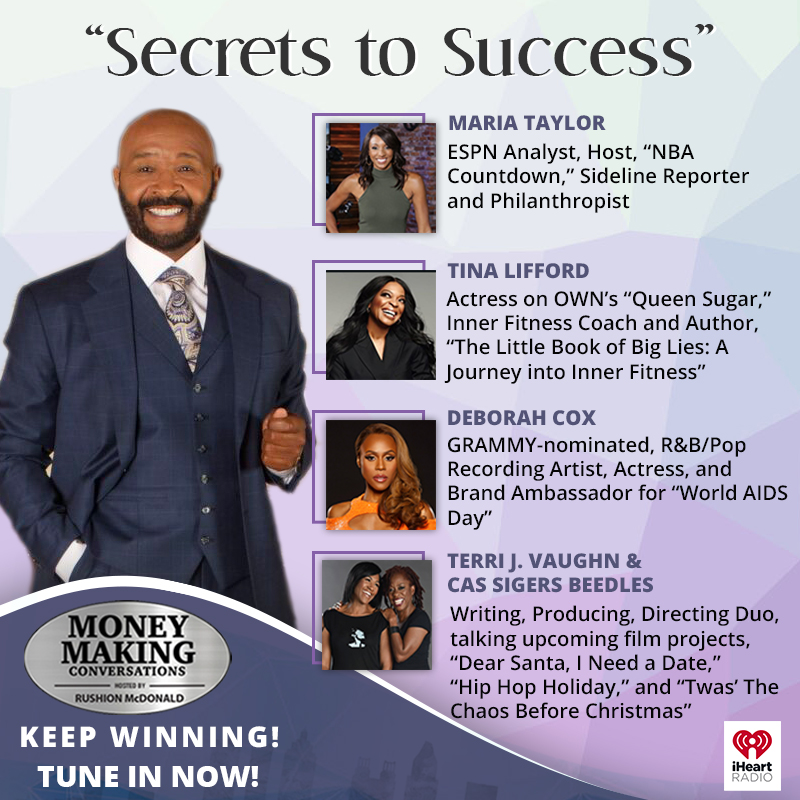 Please welcome Maria Taylor, ESPN Analyst, Host, Reporter and Philanthropist; Tina Lifford, Actress on OWN's "Queen Sugar," Inner Fitness Coach and Author, "The Little Book of Big Lies: A Journey into Inner Fitness"; Deborah Cox, GRAMMY-nominated, Multi-Platinum R&B/Pop Recording Artist and Actress; and Terri J. Vaughn & Cas Sigers-Beedles, Writing, Producing, Directing Duo, Co-owners of Nina Holiday Entertainment, talking upcoming projects and new film "Dear Santa, I Need a Date".
​The Money Making Conversations talk show is about entrepreneurship and entertainment. The interviews give the consumer and business owners access to Celebrities, CEOs, Entrepreneurs, and Industry Decision Makers. They provide relatable information to the listener about career and financial planning, entrepreneurship, motivation, leadership, overcoming the odds, and how to live a balanced life. Listen to Money Making Conversations on Apple Podcasts, iHeartRadio, Stitcher, Spreaker, Spotify, Castbox, and more.
Rushion McDonald is a two-time Emmy Award-winning and three-time NAACP Image Award-winning television and film, producer. He is a sitcom writer, social media influencer, brand architect, entrepreneur, and award-winning baker.​
https://www.moneymakingconversations.com
https://www.youtube.com/MoneyMakingConversations
https://www.facebook.com/MoneyMakingConversations/
https://twitter.com/MoneyMakingConv