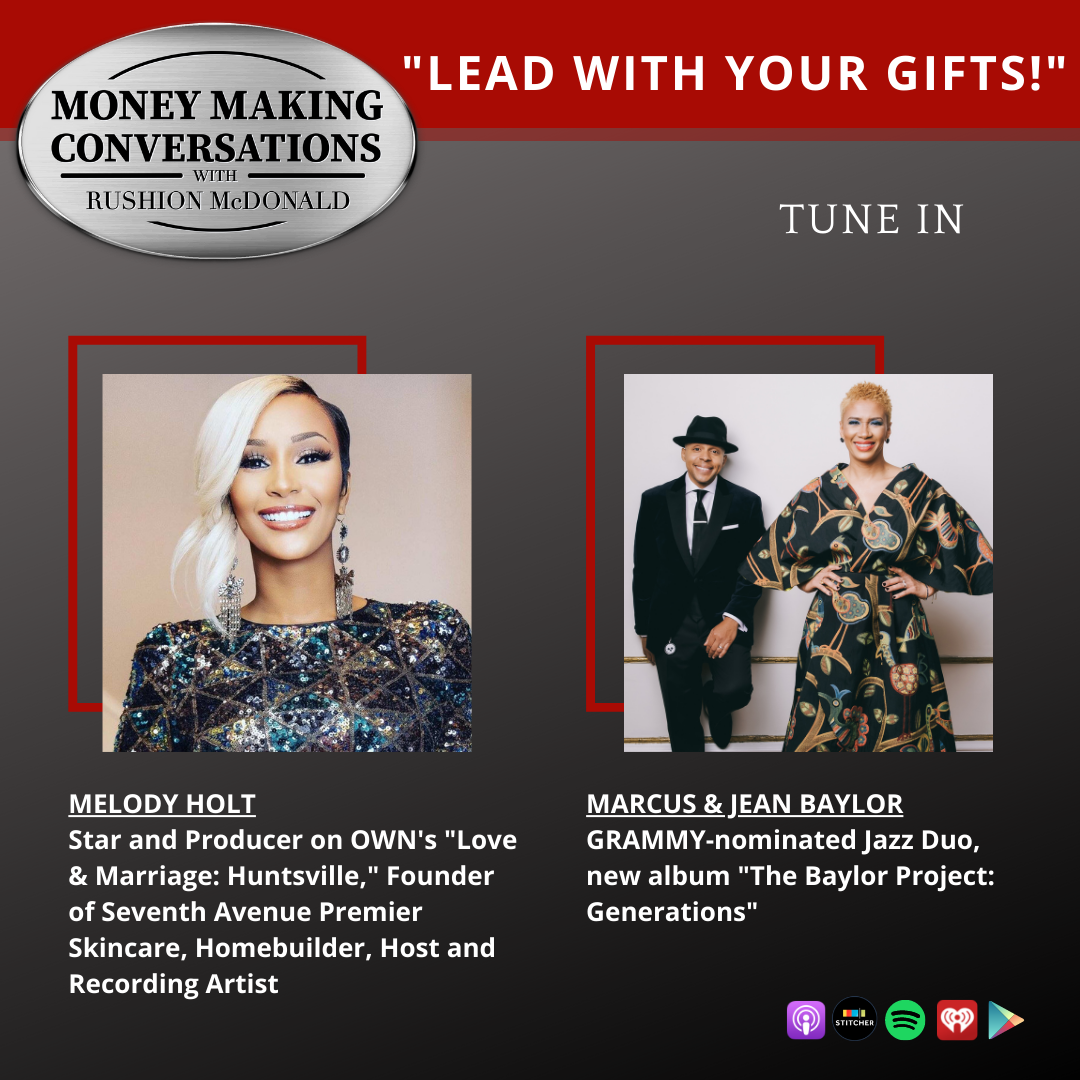 On this episode of Money Making Conversations Master Class I am joined by my dear friend Melody Shari Holt and the Grammy-nominated Jazz duo, Marcus and Jean Baylor.
Topics Covered on this Episode:
Balancing motherhood and business
Rebranding after divorce
Tips for starting a successful company.
Telling Authentic Stories Through Music
Understanding Purpose to stay motivated
More on Melody Shari
Melody's entrepreneurial ambitions have led her to become the CEO of a multi-million-dollar property preservation business, the star and producer of the Oprah Winfrey Network's (OWN) Love & Marriage: Huntsville, and the literal beauty behind the Seventh Avenue Beauty brand. The mom of four isn't ready to stop there. She launched Masterclass with Melody in June of 2020 and has used the platform to teach over 400 entrepreneurial hopefuls tried and true methods for building a profitable brand.
More on Marcus & Jean Baylor
Jean, a New Jersey native, was introduced to jazz in college as a Vocal Performance Major at Temple University, where she was heavily influenced by artists such as Carmen McCrae, Jimmy Scott, and Shirley Horn. She subsequently made her mark as one-half of the platinum recording duo, Zhane´.  In time, Jean grew into a composer, arranger, producer and bandleader. She has been a featured guest artist on performances and recordings with artists including Yellowjackets, Kenny Garrett, Marcus Miller and legendary bassist, Buster Williams.
Marcus, a St. Louis native, is widely recognized as the former member and drummer of the GRAMMY® Award winning jazz quartet, Yellowjackets. While attending The New School for Jazz and Contemporary Music, he began touring and recording with Cassandra Wilson and went on to work with artists including Kenny Garrett and John Scofield. Since then, Marcus has come into his own as a composer, arranger, producer and bandleader.