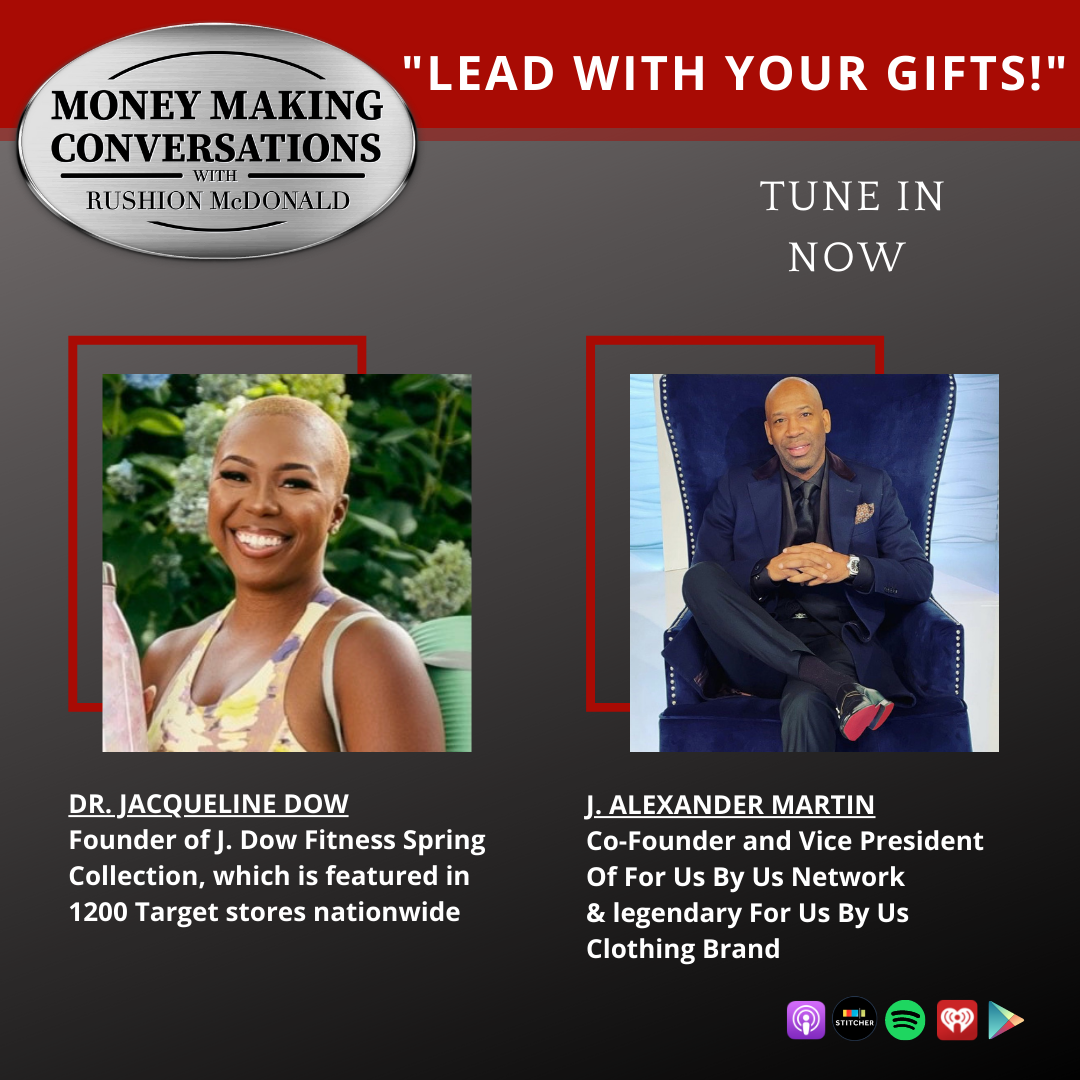 In this Money Making Conversations Master Class with Rushion McDonald, my friend J. Alexander Martin returns to share his excitement about the launch of the FUBU (For Us By Us) Network, a new streaming platform featuring quality movies, very authentic and raw content around topics, people and trends related to the hip hop culture and lifestyle. We also have HBCU grad Dr. Jaqueline Dow who's J Dow Fitness line can be found in over 1200 Targets how she combined her passion of entrepreneurship, health and fitness.
Topics covered on this Episode
For Us By Us Network launch on April 1st
FUBU's resurgence and collaboration with Forever 21
Best practices for creative entrepreneurs
Building and sustaining generational wealth for the culture
More on J. Alexander Martin
The acclaimed J. Alexander Martin has externalized many successful ventures in the fashion industry including the iconic clothing line FUBU –"For Us By Us" – serving as the co-founder and Vice President. Today, his kingdom includes a clothing line, a non-profit and a consulting firm. Through all of his endeavors, it is his innate talent and ability to predict trends that have caused him to impact the fashion world once again. Rightfully portrayed as the man who made urban culture a part of the mainstream, J's consistency in fashion has now given him a platform to emerge as an effectual leader once again.
More or Dr. Jaqueline Dow
Starting J. Dow Fitness has provided Dr. Dow the opportunity to merge her background as a public health research scientist with practical approaches that empower women to live their healthiest and best lives.
Dr. Dow believes that as a female entrepreneur, it is important that women continue to break barriers, relentlessly pursue their wildest dreams and leave a clearer path for the next generation. She frequently speaks on women's health issues and how that fueled her career as an entrepreneur.
Dr. Dow is originally from Chicago, IL and earned a Bachelor of Applied Health Sciences from the University of Illinois, a Master of Science from Meharry Medical College, an Executive Certificate in Health Policy from the Robert Wood Johnson Foundation, and a Doctor of Public Health from Morgan State University.