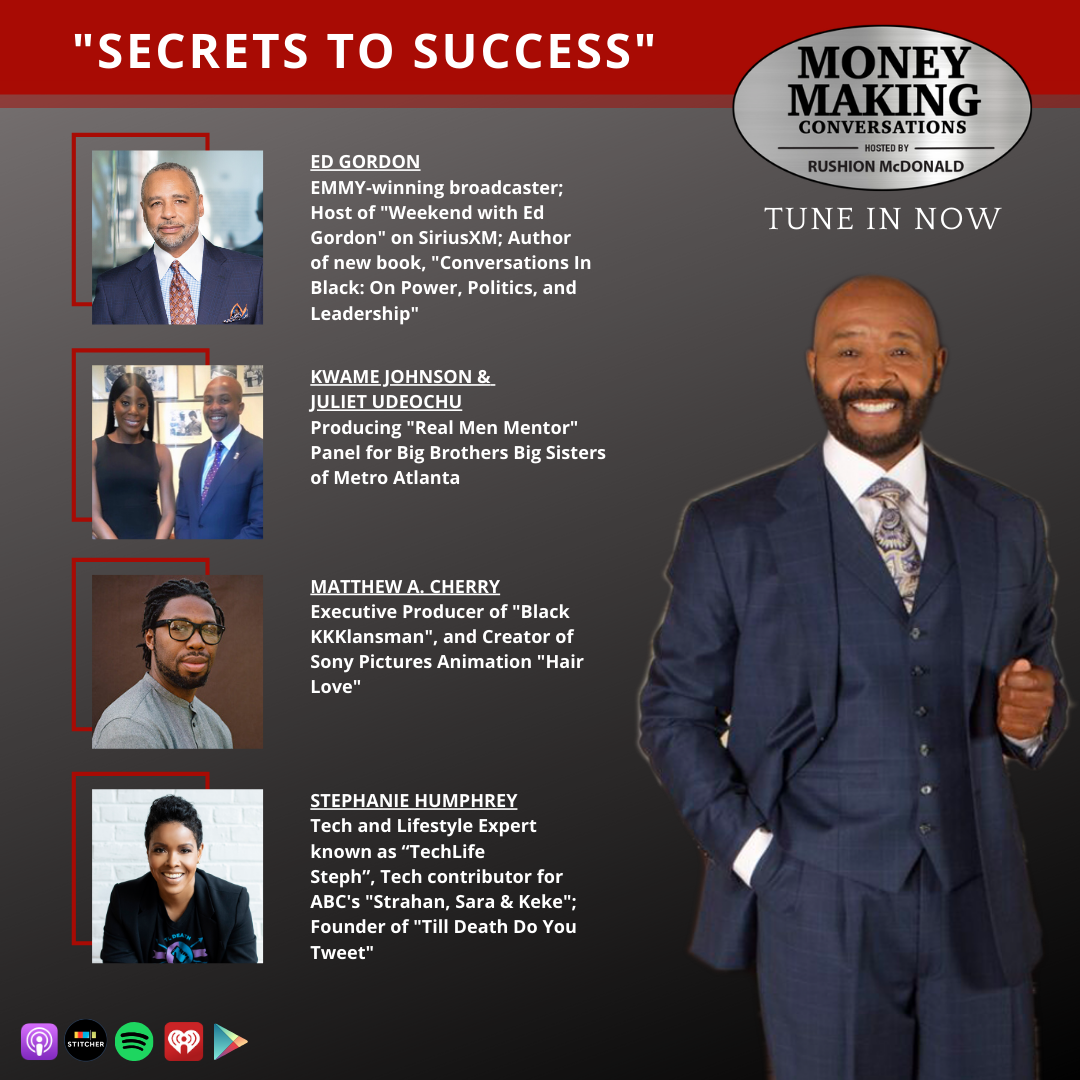 Please welcome Ed Gordon, EMMY-winning broadcaster; Host of Weekend with Ed Gordon on SiriusXM, Author of new book, Conversations In Black: On Power, Politics, and Leadership; Kwame Johnson & Juliet Udeochu, Producing Real Men Mentor Panel for Big Brothers Big Sisters of Metro Atlanta; Matthew A. Cherry, Television Executive, Executive Producer Black KKKlansman, and Creator of Hair Love; and Stephanie Humphrey, Tech and Lifestyle Expert known as "TechLife Steph", Tech contributor for ABC's "Strahan, Sara & Keke"; Founder of "Till Death Do You Tweet".
Ed Gordon is a widely respected, award-winning journalist. Over the course of his stellar career he's worked at various television networks including BET, NBC, MSNBC and CBS where he hosted and contributed to programs including: Conversations with Ed Gordon, BET Tonight, BET News, 60 Minutes II, NBC's Today Show and Dateline. He is also a former host of Our World with Black Enterprise and NPR's News. He has a new book "Conversations in Black" where Ed Gordon brings some of today's top leaders and influencers together to explore new narratives for African American leadership in the post-Obama, tumultuous Trump era. The book will be released by Hachette Books on January 14, 2020, and is available for pre-order now. Please welcome to Money Making Conversations Ed Gordon.
Kwame Johnson is the President & CEO of Big Brothers Big Sisters of Metro Atlanta. He is partnering with local leaders, celebrities, and influential men in Atlanta to give youth, especially young boys, every opportunity to succeed. Big Brothers Big Sisters currently has over 300 boys on the waiting list, 96% of the boys are African American. Please welcome to Money Making Conversations Kwame Johnson and Juliette Udochee.
Matthew Cherry is a former NFL wide receiver turned filmmaker who played for the Jacksonville Jaguars, Cincinnati Bengals, Carolina Panthers and the Baltimore Ravens. He retired in 2007 and moved to LA to pursue a career in entertainment. Since then, he has gone on to direct music videos, short films, feature films, television and web series.
NFL Alum, Director, Monkeypaw Productions Film and Television Executive, and Author of "Hair Love". He currently is a television executive for Monkeypaw Productions. Please welcome to Money Making Conversations Mattew Cherry.
Stephanie Humphrey is a former engineer-turned-media personality in the areas of Technology & Lifestyle. She is the technology contributor for ABC News, working on the nationally-syndicated daytime show 'Strahan Sara and Keke'. Her media appearances and interviews include Good Morning America, Cheddar TV, SiriusXM, Essence and Huffington Post. Television is one of her loves, but she is most passionate about helping people become better digital citizens! She is on the show today to talk three apps that people can utilize to manage and improve their finances in 2020. Please welcome to Money Making Conversations Stephanie Humphrey.
The Money Making Conversations talk show is about entrepreneurship and entertainment. The interviews give the consumer and business owners access to Celebrities, CEOs, Entrepreneurs, and Industry Decision Makers. They provide relatable information to the listener about career and financial planning, entrepreneurship, motivation, leadership, overcoming the odds, and how to live a balanced life. Listen to Money Making Conversations on Apple Podcasts, iHeartRadio, Stitcher, Spreaker, Spotify, Castbox, and more.
Rushion McDonald is a two-time Emmy Award-winning and three-time NAACP Image Award-winning television and film, producer. He is a sitcom writer, social media influencer, brand architect, entrepreneur, and award-winning baker.​
https://www.moneymakingconversations.com
https://www.youtube.com/MoneyMakingConversations
https://www.facebook.com/MoneyMakingConversations/
https://twitter.com/MoneyMakingConv