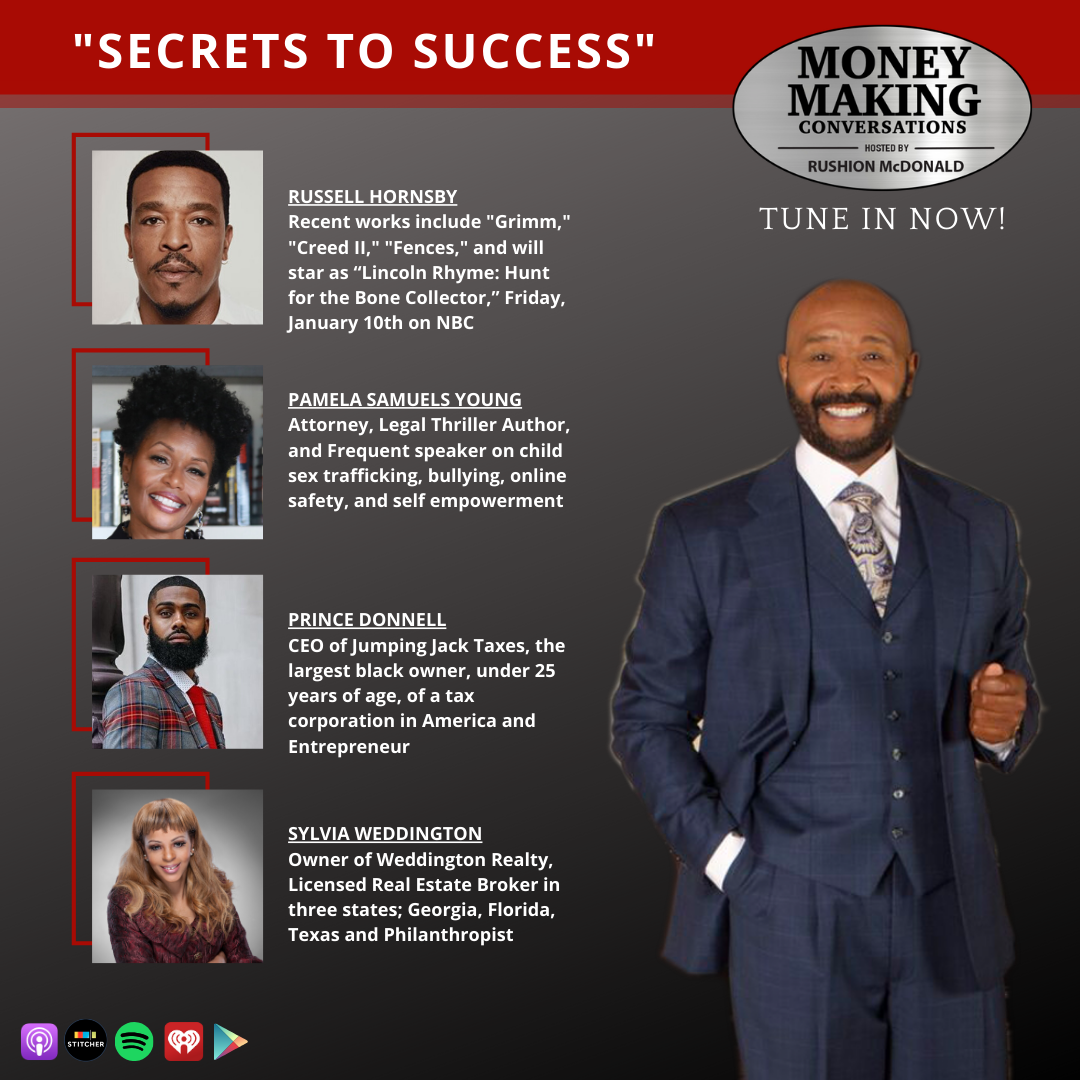 Please welcome Russell Hornsby, Award-winning Actor whose recent works include "The Hate U Give," "Creed II," "Fences," and "Seven Seconds." Hornsby now stars as the lead character in NBC's "Lincoln Rhyme: Hunt for the Bone Collector"; Pamela Samuels Young, Attorney, Legal Thriller Author and a frequent speaker on child sex trafficking, bullying, online safety, and self-empowerment; Prince Donnell, CEO of Jumping Jack Taxes, the largest Black owner, under 25 years of age, of a tax corporation in America; and Sylvia Weddington, Owner of Weddington Realty, Philanthropist, Licensed Real Estate Broker in Georgia, Florida, and Texas.
Russell Hornsby body of work has filled the screens of televisions and movie screens all over the world from Edward "Eddie" Sutton on ABC Family's Lincoln Heights, as Luke on the HBO drama In Treatment, as Detective Hank Griffin on the NBC series Grimm, and the movies Fences directed by Denzel Washinton and Creed II. He was born and raised in Oakland, Calif., He was in the theater program at Boston University and studied for a summer at the British Academy of Dramatic Arts program at Oxford University. He is on the show to talk about his new series "Lincoln Rhyme: Hunt for the Bone Collector" which premieres Friday, January 10th, at 8 PM ET/ PT on NBC. Please welcome to Money Making Conversations Russell Hornsby.
Pamela Samuels Young is a former news writer for WXYZ-TV in Detroit and news writer and associate producer for KCBS-TV in Los Angeles, Pamela is a graduate of UC Berkeley's School of Law. She also earned a bachelor's degree in journalism from USC and a master's degree in broadcasting from Northwestern. She writes fast-paced mysteries that tackle important social issues. Her thriller Anybody's Daughter won the NAACP Image Award for Outstanding Fiction. She also writes sexy, sassy romantic suspense under the pen name Sassy Sinclair. Now, the author of the award-winning thriller Anybody's Daughter is back with an addictive legal thriller that tackles bullying and its devastating aftermath. "What Really Goes on Behind School Doors?" in Failure to Protect. Please welcome to Money Making Conversations Pamela Samuels Young.
Prince Donnell is am an entrepreneur/CEO, husband, student of life and well known around the country as the Co-Founder & CEO of Jumping Jack Tax. Jumping Jack Tax is the first black owned tax corporation to train and provide opportunity for over 300 people-of-color/minorities to start tax offices around the United States. Jumping Jack Tax is the Uber of Tax Preparation Services and has their our own Mobile App in Apple & Google where you can find one of their partners in your area who can assist with preparing your personal/business taxes. Their goal is to take a piece of this billion dollar tax industry and push the profits back to our communities where most of the money is coming from with these corporate tax companies. Please welcome to Money Making Conversations Prince Donnell.
Sylvia Weddington at Weddington Realty employs a diverse staff of professionals, many of whom are multilingual, which is an asset when dealing with international clients. She is also licensed realtor in three states; Georgia, Florida and Texas. Weddington Realty is a member of the Worldwide ERC (Employee Relocation Council), Metro Atlanta Relocation Council, NMSDC (National Minority Supplier Development Council), and earned the GMS designation (Global Mobility Specialist). She also follows my baking on social media. Please welcome to Money Making Conversations Sylvia Weddington.
The Money Making Conversations talk show is about entrepreneurship and entertainment. The interviews give the consumer and business owners access to Celebrities, CEOs, Entrepreneurs, and Industry Decision Makers. They provide relatable information to the listener about career and financial planning, entrepreneurship, motivation, leadership, overcoming the odds, and how to live a balanced life. Listen to Money Making Conversations on Apple Podcasts, iHeartRadio, Stitcher, Spreaker, Spotify, Castbox, and more.
Rushion McDonald is a two-time Emmy Award-winning and three-time NAACP Image Award-winning television and film, producer. He is a sitcom writer, social media influencer, brand architect, entrepreneur, and award-winning baker.​
https://www.moneymakingconversations.com
https://www.youtube.com/MoneyMakingConversations
https://www.facebook.com/MoneyMakingConversations/
https://twitter.com/MoneyMakingConv