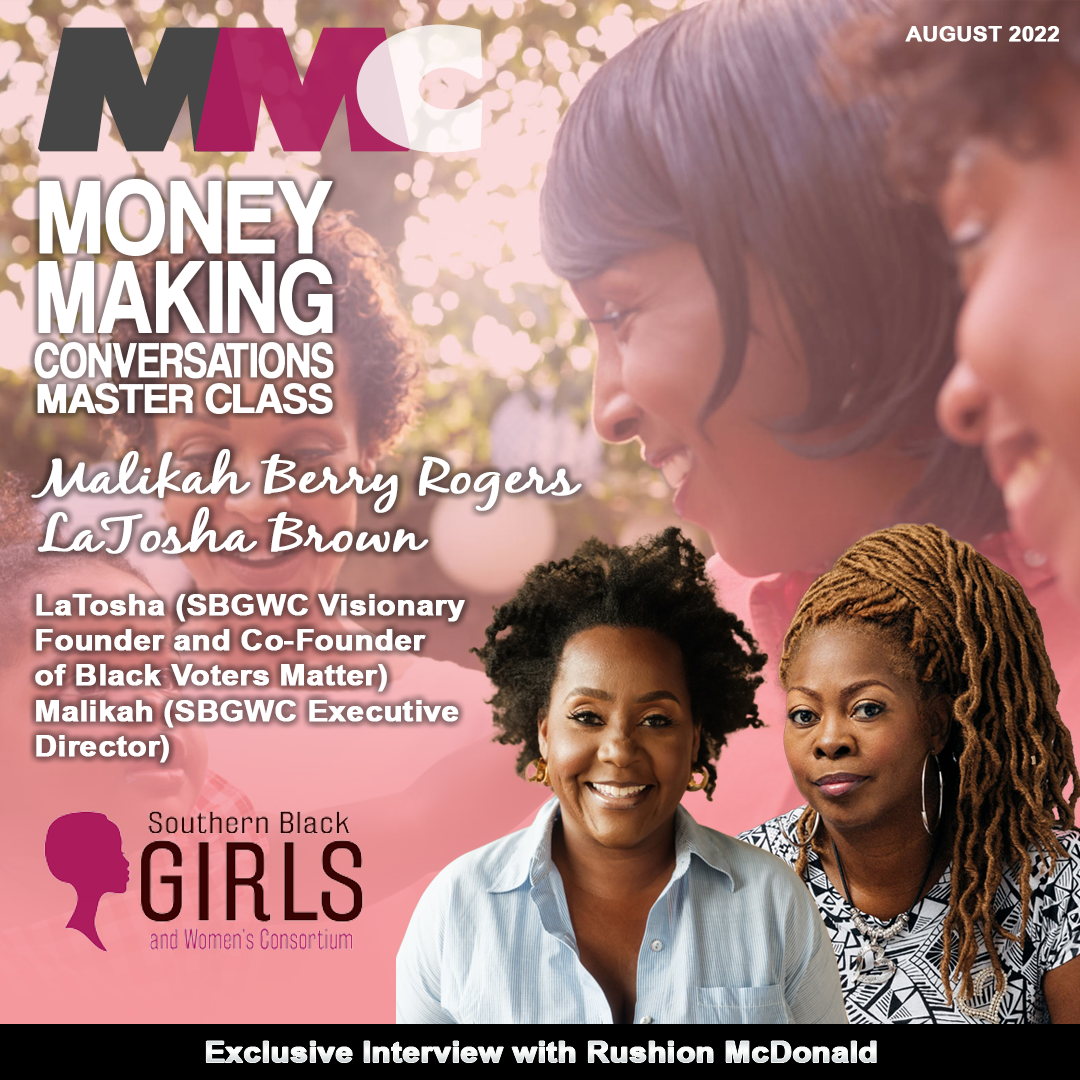 Black women are the driving force of entrepreneurship in our country, representing the fastest growing demographic. Tune in as I speak with LaTosha Brown, cofounder of Black Vote Matters and Southern Black Girls and Women's Consortium and Malikah Berry Rogers, executive director of Southern Black Girls and Women's Consortium as we discuss how this happened and the its significance.
Malikah Berry Rogers
Malikah Berry Rogers is the Executive director of the Southern Black Girls and Women's Consortium and brings more than 20 years of experience in nonprofit management with national, local, and quasi-governmental organizations. She has worked across a range of causes – from economic inequality to victim assistance / domestic violence from volunteerism to philanthropy.
LaTosha Brown
As the co-founder of the Black Voters Matter Fund and the BVM Capacity Building Institute, LaTosha is adamant about ensuring that all human beings have access to quality education, safety, security, peace, love and happiness.
ABOUT SOUTHERN BLACK GIRLS AND WOMEN'S CONSORTIUM
The Southern Black Girls and Women's Consortium (Southern Black Girls) is a collective of Black women in philanthropy, activism and girls' work, who hold deep roots in movement-building. Established in 2017, Southern Black Girls has become a disruptor in grant-making and is positioned as a catalyst to fundraise and provide greater resources toward underfunded organizations that intentionally supporting and empowering Black girls and women in the South. Southern Black Girls recognizes their critical role and the importance of centering the lived experiences and leadership of those most impacted by deep-seated injustices. The organization is led by four anchor institutions including the Appalachian Community Fund, the BlackBelt Community Foundation, the Fund for Southern Communities and the TruthSpeaks Innovation Foundation. The collective also includes a host of grassroots and advocacy partners, who are actively engaging in this work across the region. To learn more, visit southernblackgirls.org or follow @SouthernBlackGirls on Facebook, Instagram and Twitter.