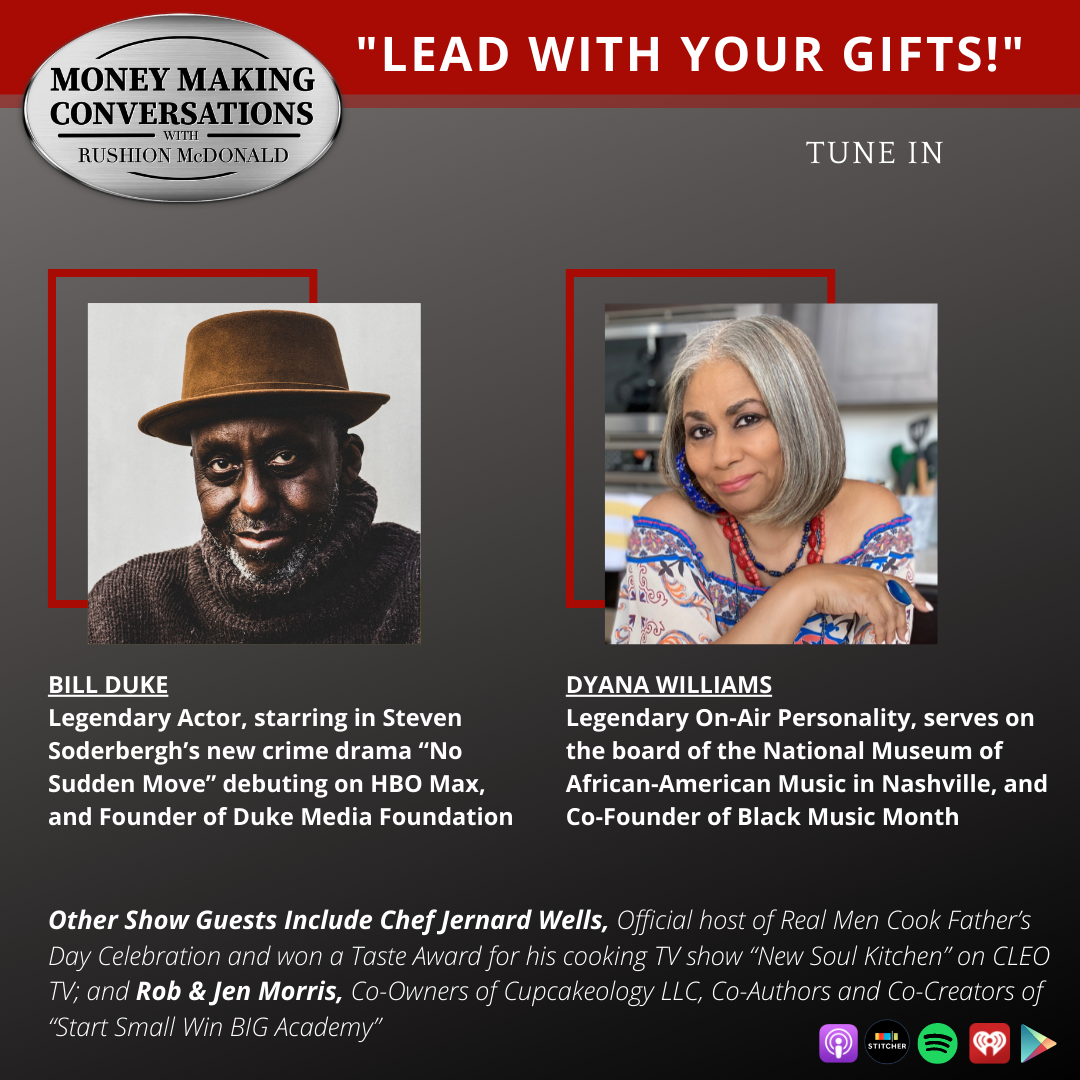 Rushion talks to Bill Duke, the Legendary Actor starring in Steven Soderbergh's new crime drama "No Sudden Move" debuting, July 1, 2021, on HBO Max and Founder of Duke Media Foundation and YOUNITE Network.
Rushion talks to Dyana Williams, the iconic On-Air DJ Personality, about the serving on the board of the National Museum of African-American Music in Nashville and being "The Mother of Black Music Month."
Rushion talks to Chef Jernard Wells, the official host of Real Men Cook Father's Day National Virtual Broadcast Celebration, and won a Taste Award for his cooking TV show "New Soul Kitchen" on CLEO TV.
Rushion talks to Rob & Jen Morris, Co-Owners of Cupcakeology LLC, Co-Authors and Co-Creators of "Start Small Win BIGAcademy."
​The Money Making Conversations talk show is about entrepreneurship and entertainment. The interviews give the consumer and business owners access to Celebrities, CEOs, Entrepreneurs, and Industry Decision Makers. They provide relatable information to the listener about career and financial planning, entrepreneurship, motivation, leadership, overcoming the odds, and how to live a balanced life. Listen to Money Making Conversations on Apple Podcasts, iHeartRadio, Stitcher, Spreaker, Spotify, Castbox, and more.
Rushion McDonald is a two-time Emmy Award-winning and three-time NAACP Image Award-winning television and film, producer. He is a sitcom writer, social media influencer, brand architect, entrepreneur, and award-winning baker.​
https://www.moneymakingconversations.com
https://www.youtube.com/MoneyMakingConversations
https://www.facebook.com/MoneyMakingConversations/
https://twitter.com/MoneyMakingConv