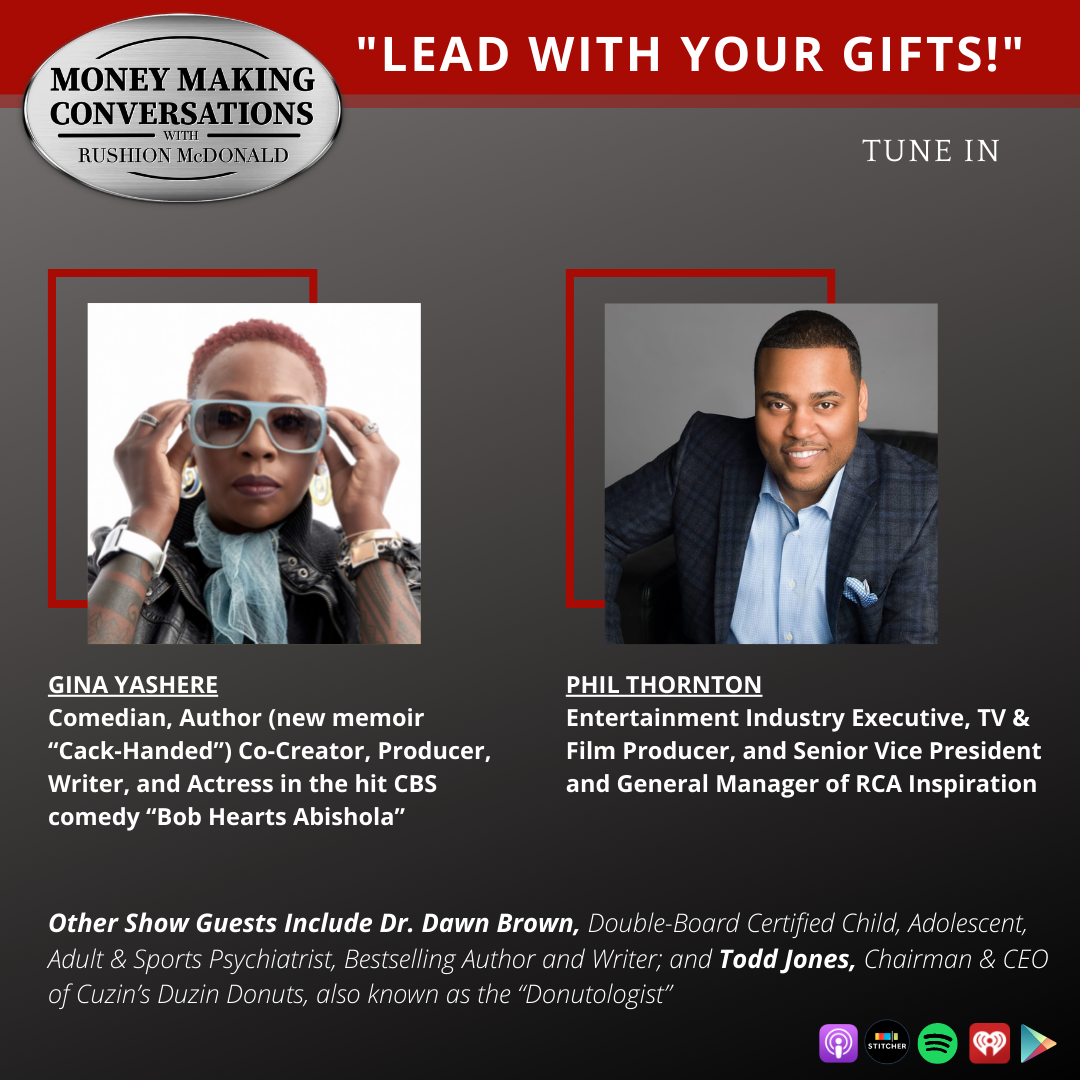 Gina Yashere is releasing her first book, the memoir Cack-Handed. The British comedian of Nigerian heritage is the co-creator, co-executive producer, writer, and actress on the CBS hit series Bob Hearts Abishola. Her book Cack-Handed chronicles her odyssey to get to America and break into Hollywood in this lively and humorous memoir. Gina Yash-ER-RAY has appeared on countless television shows both in the UK and the US. In the US, she was the first and only British comic to perform on Def Comedy Jam.
Phil Thornton is a Music Industry Executive, Television Producer, Senior Vice President, and General Manager of RCA Inspiration; RCA Inspiration is the #1 label in Gospel music! Home to Kirk Franklin, Fred Hammond, The Walls Group, Le'Andria Johnson & more! June is Black Music Month, and Phil Thornton is a National Museum of African American Music (NMAAM) Board Member.
Dr. Dawn Brown is a double-board certified child, adolescent, adult, and sports Psychiatrist. She is a pioneer of the Mental Health Movement, and a nationally recognized two-time #1 best-selling author, Forbes writer, ADHD coach, mental health expert, and public speaker. We are going to discuss how to prioritize your mental health and the stigmas regarding mental health.
Todd Jones has been in the donut-making Game for over 45 years. He started Cuzin's Duzin 26 years ago. He has a Mini-Donut shop in Downtown Brooklyn NY. He will be franchising the concept by the end of 2021
​The Money Making Conversations talk show is about entrepreneurship and entertainment. The interviews give the consumer and business owners access to Celebrities, CEOs, Entrepreneurs, and Industry Decision Makers. They provide relatable information to the listener about career and financial planning, entrepreneurship, motivation, leadership, overcoming the odds, and how to live a balanced life. Listen to Money Making Conversations on Apple Podcasts, iHeartRadio, Stitcher, Spreaker, Spotify, Castbox, and more.
Rushion McDonald is a two-time Emmy Award-winning and three-time NAACP Image Award-winning television and film, producer. He is a sitcom writer, social media influencer, brand architect, entrepreneur, and award-winning baker.​
https://www.moneymakingconversations.com
https://www.youtube.com/MoneyMakingConversations
https://www.facebook.com/MoneyMakingConversations/
https://twitter.com/MoneyMakingConv