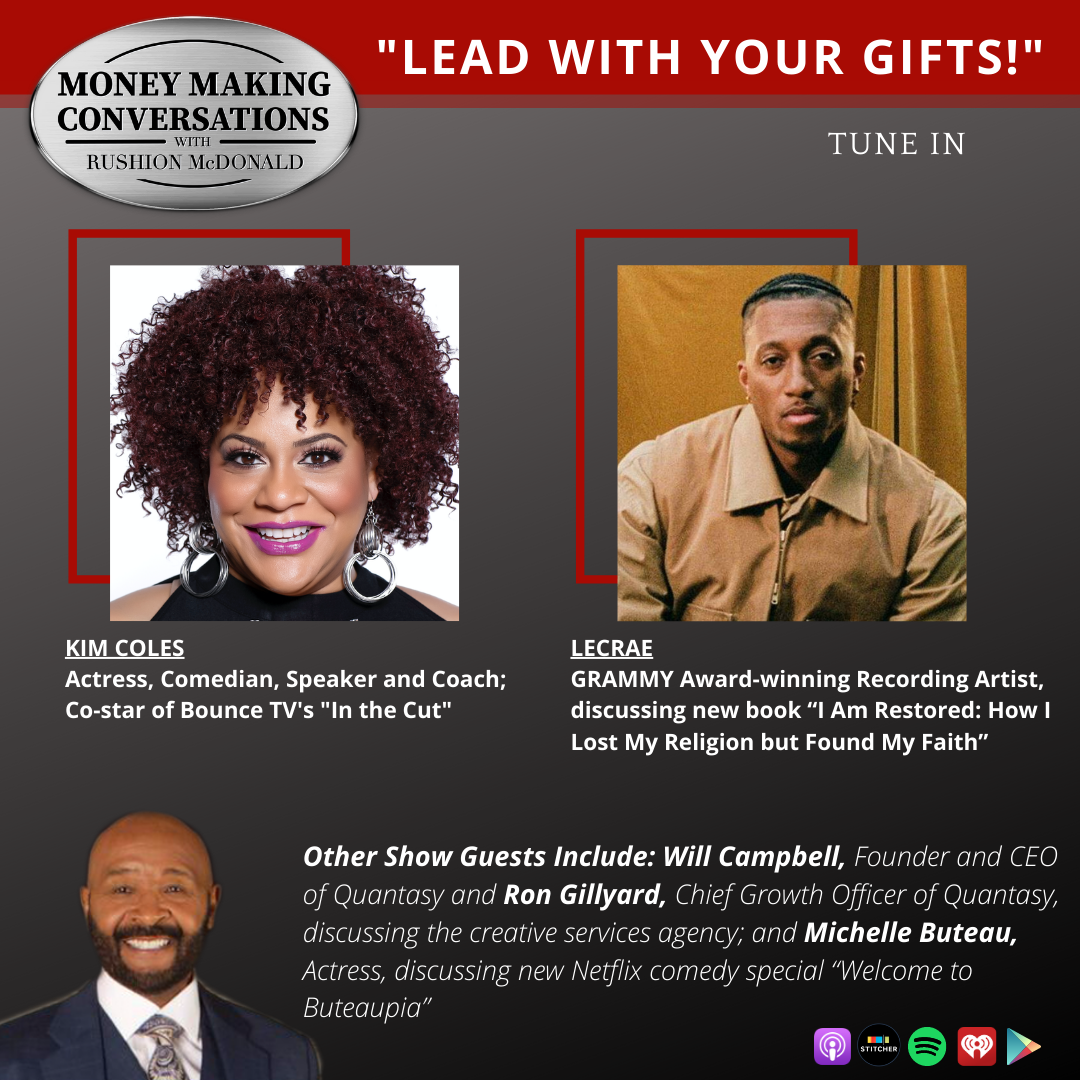 Rushion welcomes Lecrae- GRAMMY Award-winning Recording Artist, Activist, and Author, discussing his new book "I Am Restored: How I Lost My Religion but Found My Faith"; Kim Coles- Actress, Comedian, Speaker, and Coach; Co-star of Bounce TV's "In the Cut"; Will Campbell, Founder, and CEO of Quantasy and Ron Gillyard, GRAMMY-winning music producer and Chief Growth Officer of Quantasy, discussing the creative services agency and Michelle Buteau- Stand-up Comedian and Actress, discussing new Netflix comedy special "Welcome to Buteaupia."
My next guest LeCrae is recognized as the first artist to have an album hit the charts at number one for both the Billboard 200 and the Gospel chart simultaneously. His ninth album and accompanying documentary, Restoration, features artists across all genres, including John Legend, Kirk Franklin, and YK Osiris. His work is fueled by building bridges, changing narratives, empowering the disenfranchised, and restoring the dignity of those on the margins. In his new book, I Am Restored: How I Lost My Religion but Found My Faith. He shares how he found the courage to stop ignoring his trauma and instead begin working through it, step by step. Please welcome to Money Making Conversations Lecrae.
My next guest Kim Coles is a renowned TV veteran, comedian, host, motivational speaker, and coach is currently back on TV and making us laugh on Wednesday nights, appearing on the sitcom "In The Cut," on Bounce TV, joining the long-running show now airing season 7. She also encourages others as a business and life coach, with programs like her KimUnity Mastermind. KimUnity Mastermind is a monthly Business and Life coaching group membership that gives high-quality training with support, fun, and accountability on building an expert brand, writing books, goal setting, self-care, and more! Please welcome to Money Making Conversations Kim Coles.
My next guest Ron Gillyard is a trusted marketing and media executive who has advanced the initiatives of companies and individuals in the technology, marketing, and music industries for over 25 years. He is a forward-thinking strategist, Gillyard has been able to consistently drive revenue growth, market penetration, and creative development for his clients. On the show with Ron is Will Campbell, the Co-Founder, and CEO at Quantasy, LLC. Will's more than twenty-year career can be most easily summarized by the quote, "If you want to come up with new answers, you have to ask new questions." It is with this vision that he's co-founded and led the growth of the agency to what now amounts to more than 60 people as one fully integrated, cultural marketing force. Please welcome to Money Making Conversations, Chief Growth Officer of Quantasy & Associates, where he is also a Partner with Co-Founder and CEO at Quantasy, LLC, Ron Gillyard, and Will Campbell.
My next guest Michelle Buteau is an 18 year veteran in the stand-up comedy game. Michelle is no stranger to Netflix subscribers. The Netflix films "Someone Great" and "Always Be My Maybe," and Netflix series "Russian Doll" and "Tales of the City," and in 2020, she continued appearances included hosting the Netflix reality competition series "The Circle" which is renewed for a second season. She is talented and is starring in her new Netflix stand-up comedy special "Michelle Buteau: Welcome to Buteaupia."
​The Money Making Conversations talk show is about entrepreneurship and entertainment. The interviews give the consumer and business owners access to Celebrities, CEOs, Entrepreneurs, and Industry Decision Makers. They provide relatable information to the listener about career and financial planning, entrepreneurship, motivation, leadership, overcoming the odds, and how to live a balanced life. Listen to Money Making Conversations on Apple Podcasts, iHeartRadio, Stitcher, Spreaker, Spotify, Castbox, and more.
Rushion McDonald is a two-time Emmy Award-winning and three-time NAACP Image Award-winning television and film, producer. He is a sitcom writer, social media influencer, brand architect, entrepreneur, and award-winning baker.​
https://www.moneymakingconversations.com
https://www.youtube.com/MoneyMakingConversations
https://www.facebook.com/MoneyMakingConversations/
https://twitter.com/MoneyMakingConv